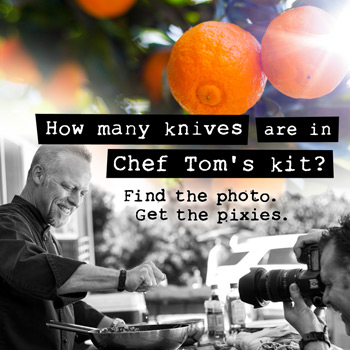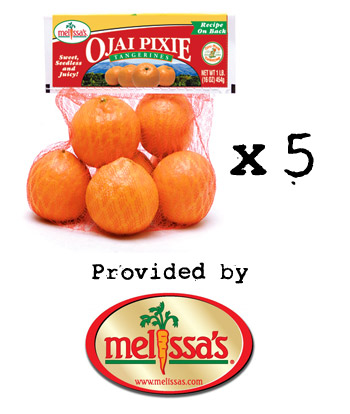 Find the photo. Get the Pixies!
In honor of our latest feature with Tom Fraker (corporate executive chef at Melissa's Produce), we're offering 5 lb. cases of delicious Ojai Pixie Tangerines to 3 people who can correctly answer the question below. On Friday 6/22, we'll take all the correct answers and randomly choose the winners!
How's it work?
Vist chefsinsight.com/tom and find the photo that answers the question, "How many knives are in Chef Tom's kit?" It could be at the top of the page, the bottom, or anywhere in between (but it's definitely in there!) It's kind of like Where's Waldo… but instead of a tall guy wearing a peppermint stick shirt, you're trying to find a photo of knives.
Then fill out the form below: [contact-form-7 id="4412″ title="Find the Photo Pixie Contest"]
FINE PRINT
U.S. residents only (sorry, world). Winners will be drawn randomly on Friday, June 21st using the (appropriately named) random number generating website random.org. Winners will be notified via email at the address they provided at entry (so we don't recommend using asdf.com unless you want them to get your Pixies). Prizes will be shipped to winners free of charge (woo!). If you opted out of  joining our email list, we won't do anything with your email address except contact you if you're a prize winner. If you did sign up for our email list, you're awesome and you won't regret it. Unsubscribe anytime. We're not jerks. Good luck!