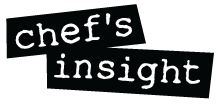 Roasted Dungeness crab salad (w/ cinderella pumpkin & fermented garlic)
2 whole Dungeness crab
1 head frisee
6 oz. fresh pumpkin, diced
Chicken stock
Shallots
1 head fermented black garlic
1/2 c. toasted hazelnuts
Olive oil
Meyer lemon
Pomegranate seeds
Chinese five-spice powder
Take two live crabs and rub them with oil and the five spice.
Roast the crabs whole on seaweed either in the oven or on hot charcoal.
Roast for 20 min. or until the crabs turn bright red.
Pick all the meat and reserve the crab fat.
In a sauce pan, sweat the shallots and the pumpkin then add chicken stock and simmer until tender puree and reserve.
In a separate sauce pot add the crab fat and fermented garlic with a 1/4 c. of chicken stock season with the meyer lemon and add 2 tbls olive oil along with a pinch of five spice.
To put the dish together, arrange the puree on the plate top with the crab and garnish with the hazelnuts, frisee, and pomegranate seeds. Using a hand blender froth the crab fat then spoon over the salad.