featuring:
Adam Baird
from:
recipe:

Habit surf 'n turf

Parmesan-crusted char slider
Cold-smoked sashimi albacore & mango salsa
Here's the plan: take the corporate exec chef from The Habit Burger Grill (a favorite fast casual spot) and have him create a fine dining meal with their everyday ingredients. Chef Adam says yes (he'll even cook at his house!) and The Habit brass give the OK, too. Let's do this already! We love a challenge.
First stop: 'grocery shopping.'
We meet at their Santa Ana location, Main Street. Chef makes an ingredient list and we gather the goods, piling them into a big clear tray that we're stealing for the day…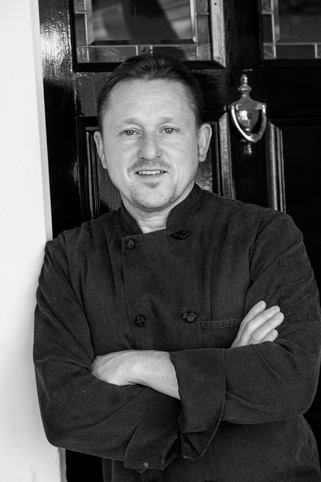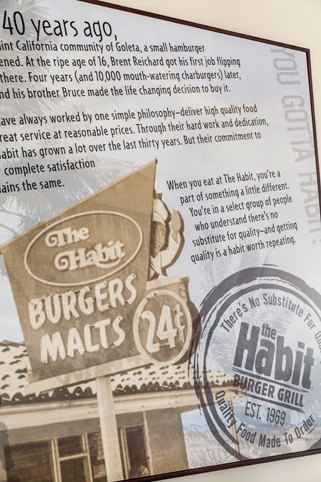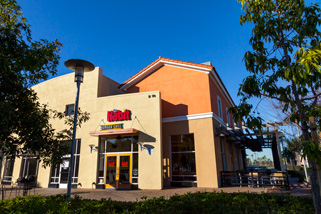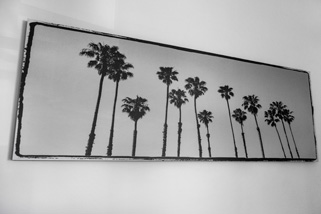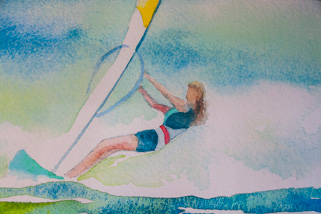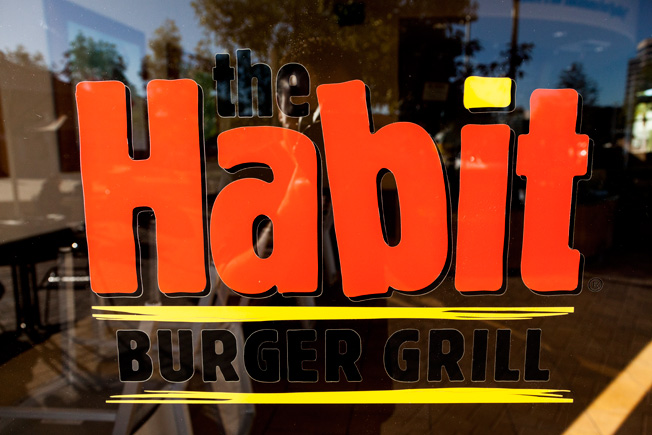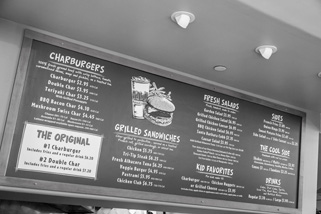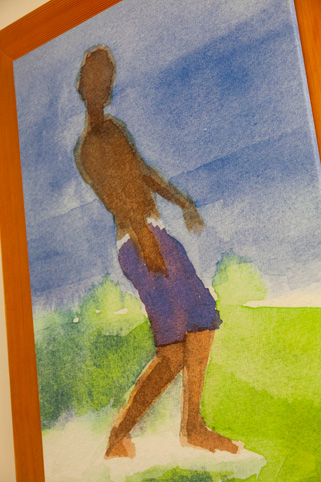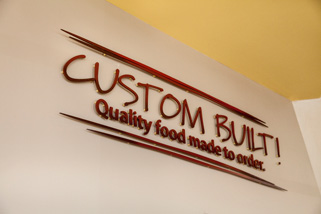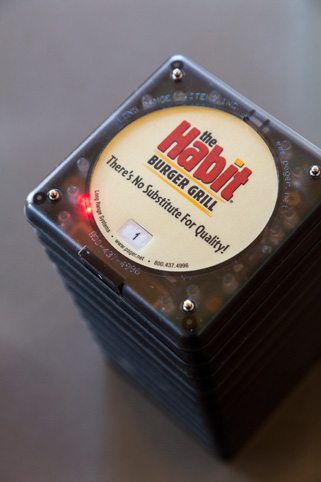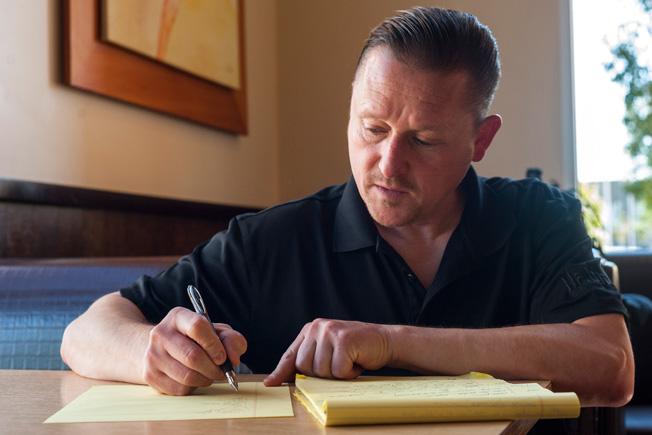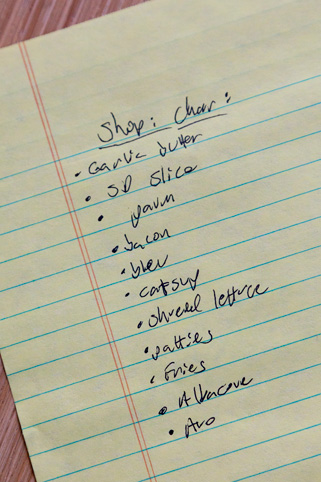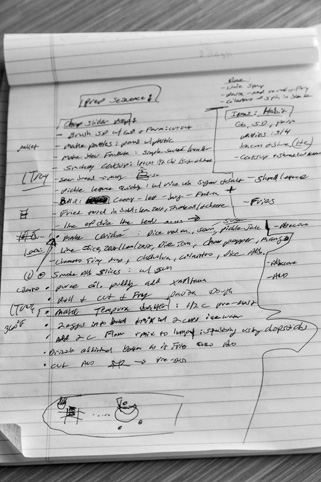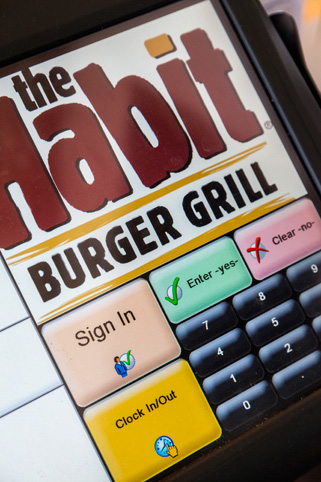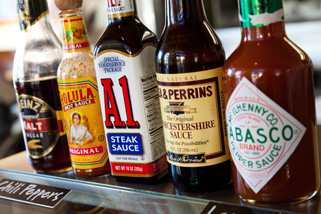 When did food capture you? Food captured me, the typical story, with my grandmother. She used to cook traditional Australian dishes at home, but actually, I got really interested when I started washing dishes in an Italian restaurant in high school and through college. The grandmothers would come in and they did everything from scratch. I wrote the recipes down and still use some of them today. It was neat to see that family-minded approach to cooking, the use of great ingredients and old recipes.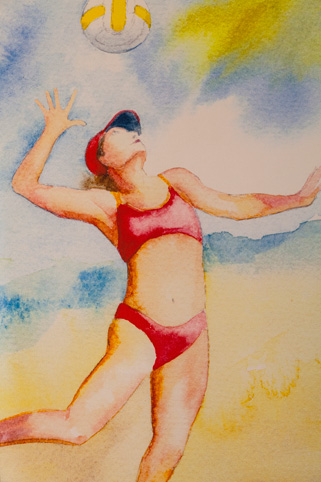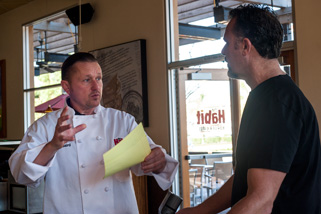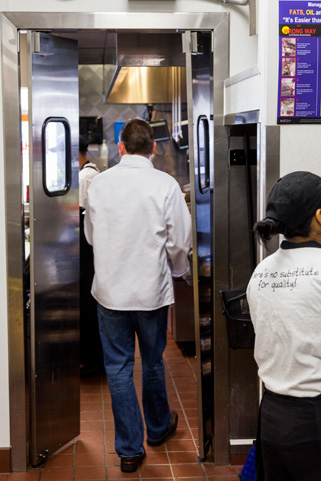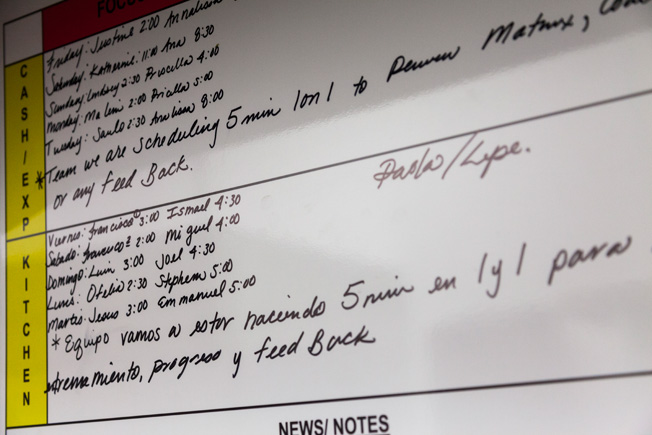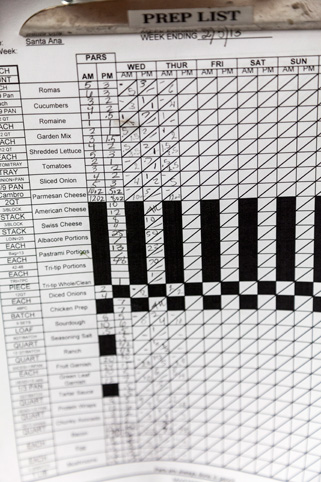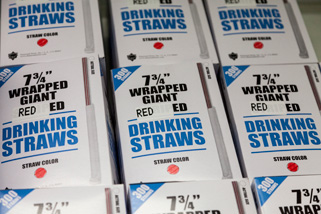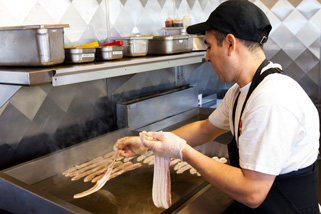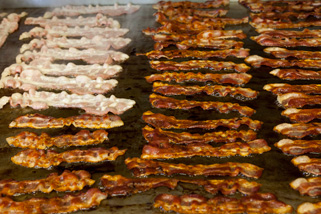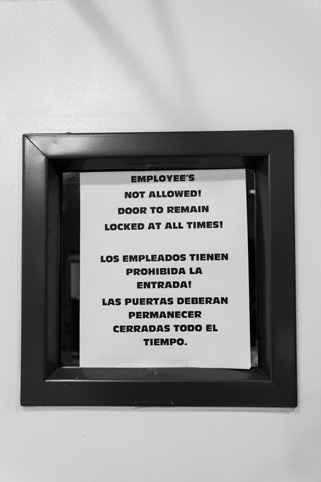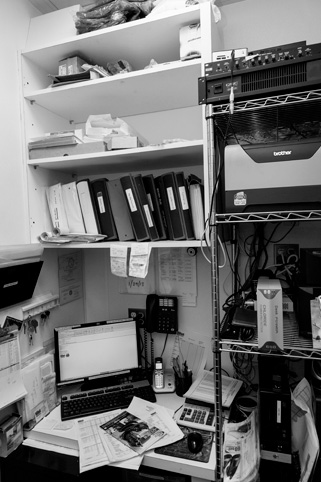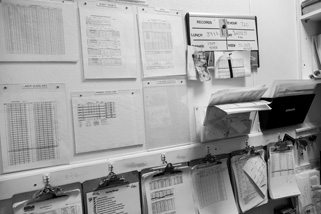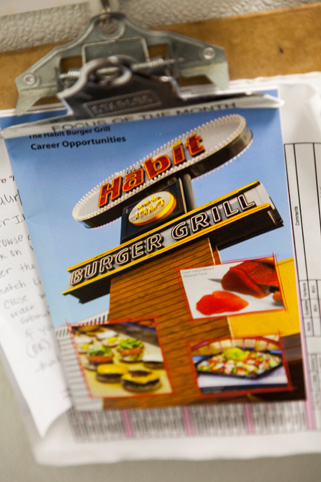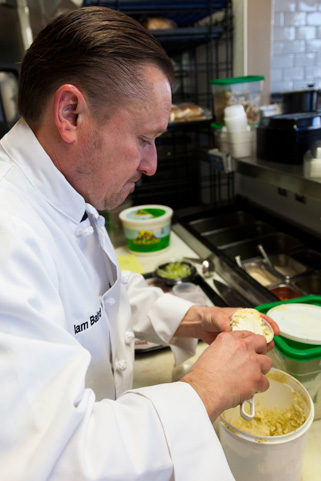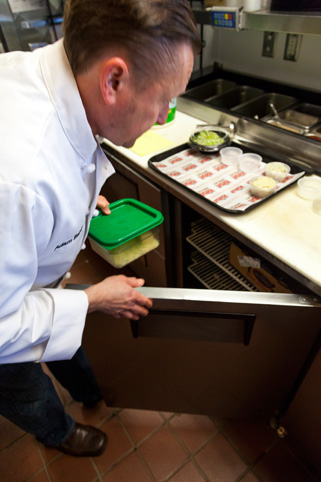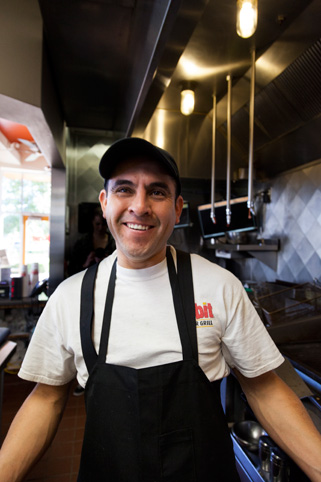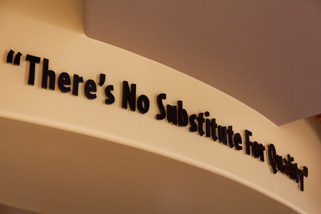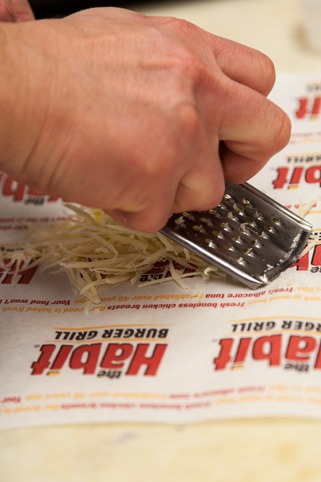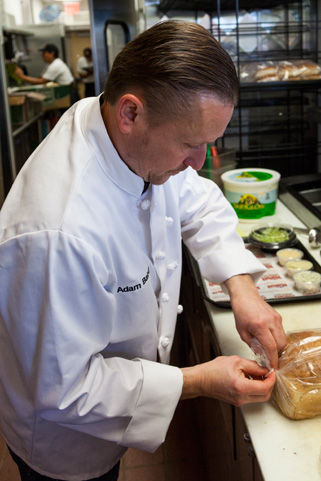 What is so cool about an open kitchen? I've opened a few of them… when I was at Greystone, the Wine Spectator restaurant, and then Napa Rose. Really, I think it's a show, it's a great show when it's done right. It shows that there's nothing to hide, but it also makes the kitchen crew and the chefs and everybody work that much more professionally and clean and quieter. It's a totally different ambiance than a closed kitchen, which can be quite loud with a lot of banging. So you have to be mindful of more than just what you're preparing, that people are watching you, your sanitation, so many other things. It's a total show. That's what I love. It's fun.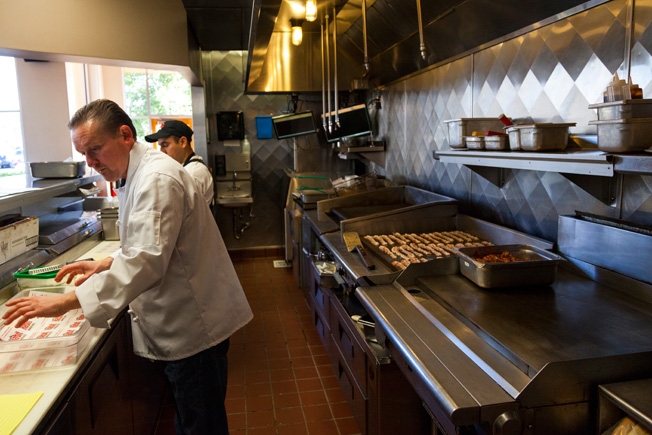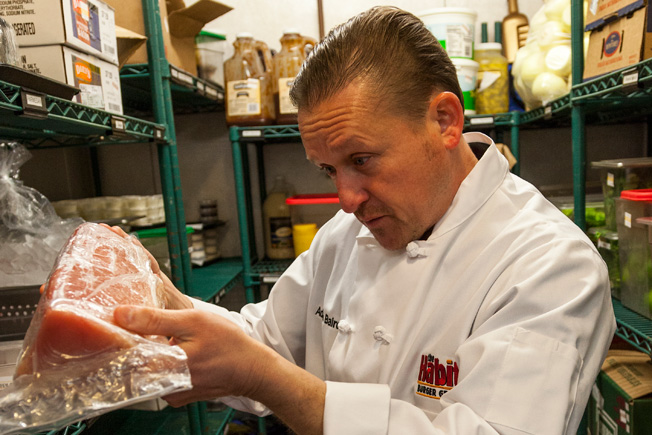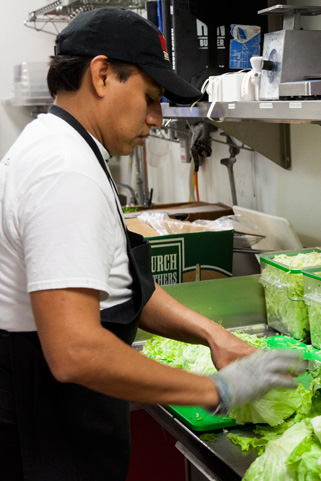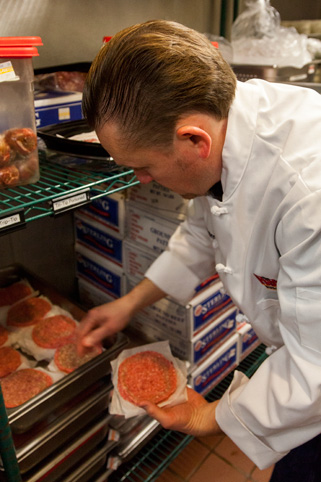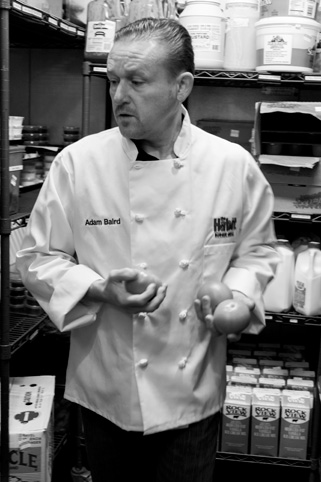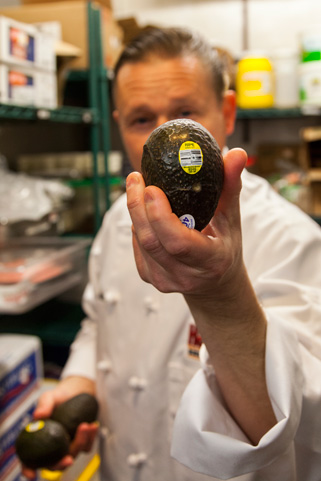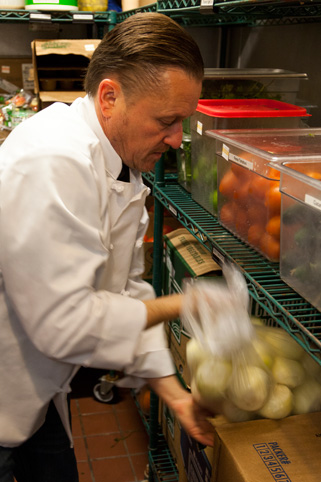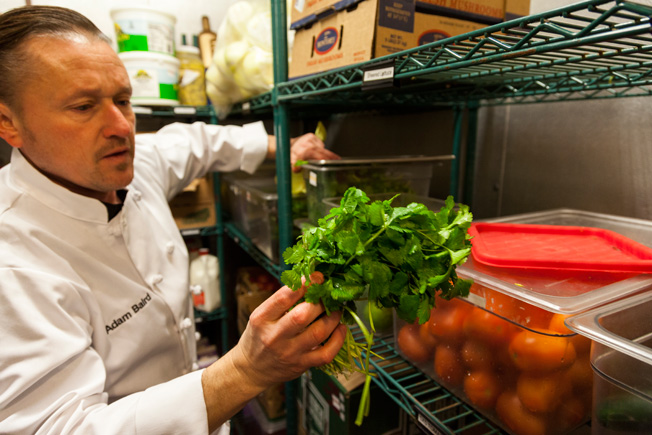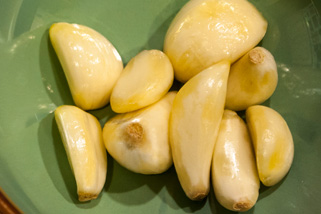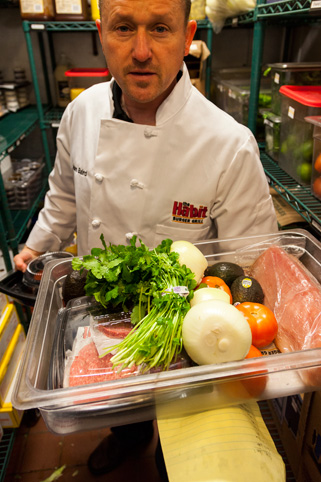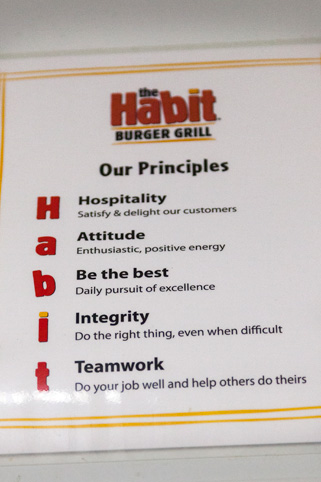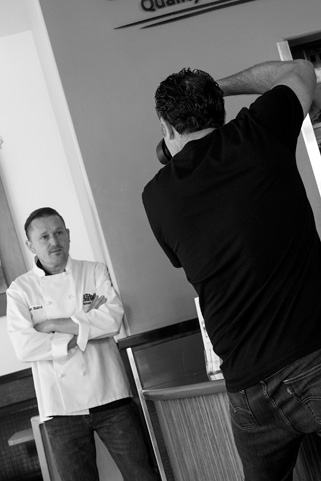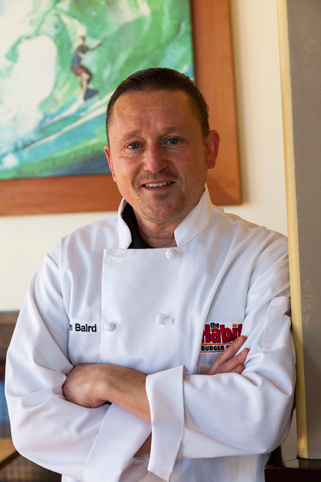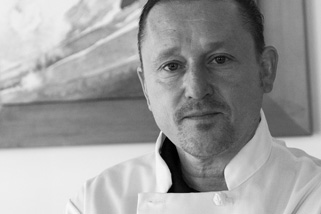 How is it that an executive chef of high end restaurants now creates new menu items for The Habit? It's an interesting divergence but my prior experience was with our CEO, who I love working with, so I had a great opportunity to come here and work with this group. It's a different job in some contexts, but what I love about The Habit is that there's a lot more culinary expertise involved than people may think and we're going to play with the menu a little bit. We're not going to do massive changes, we're testing some things now. It has to be a real home run to come into play, but it's fun to create and help develop the brand. It's a new adventure, so, we'll see where it takes us.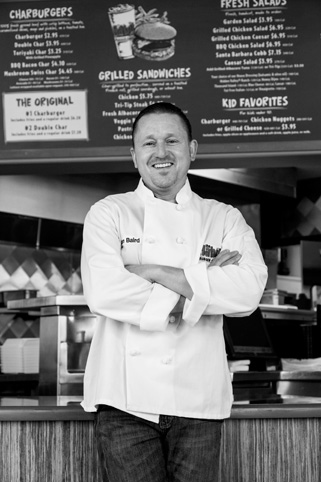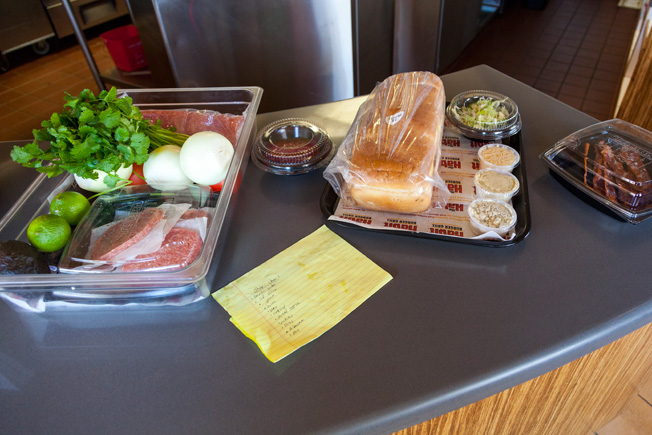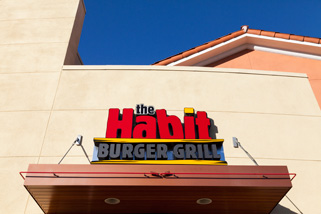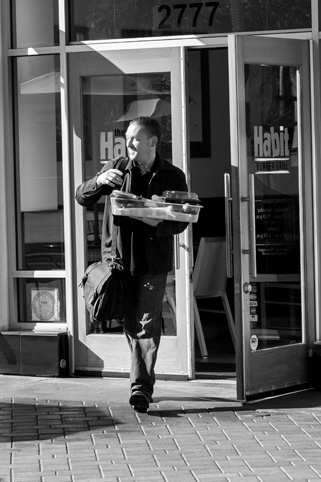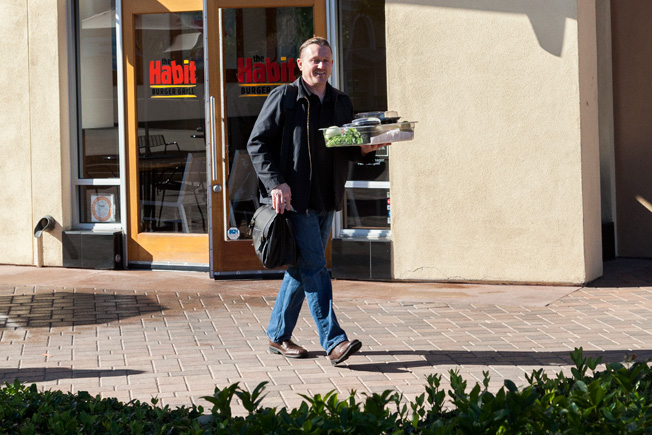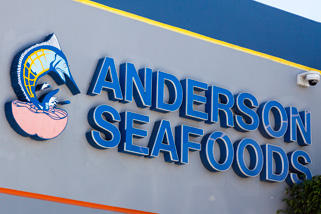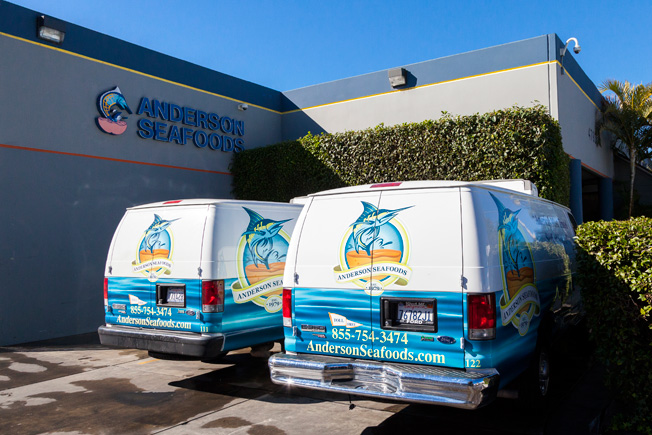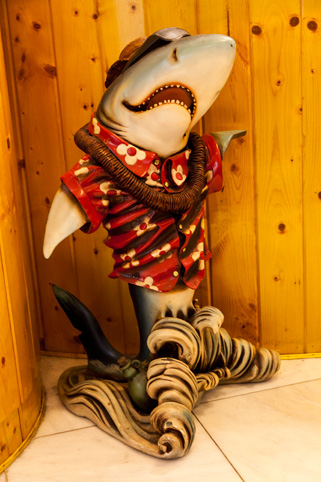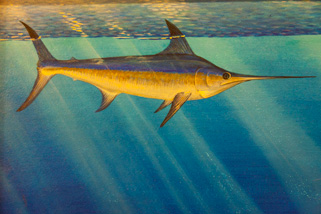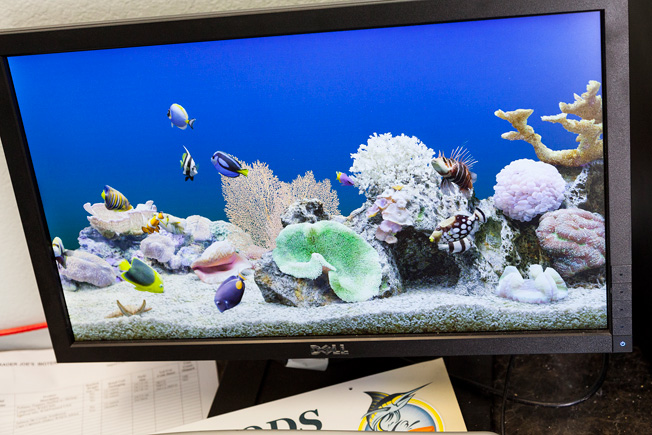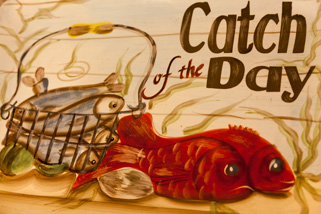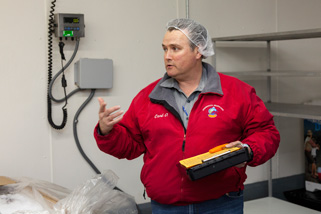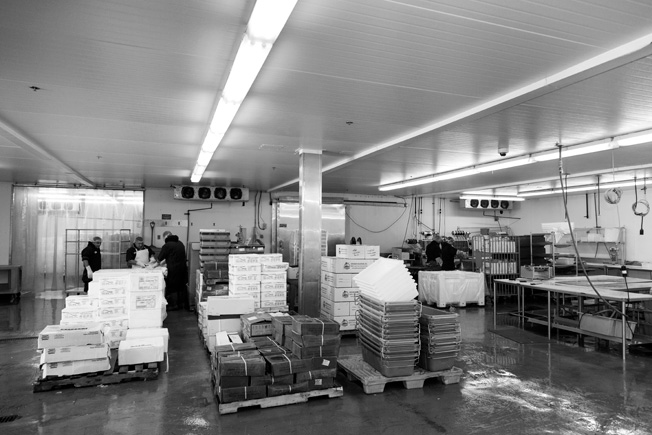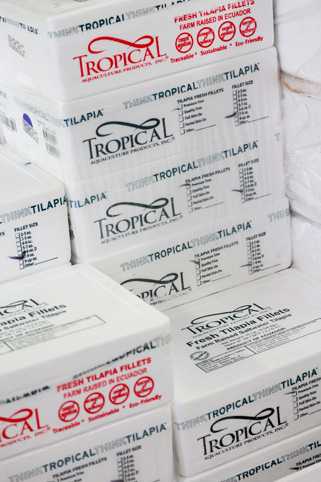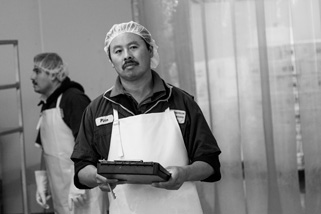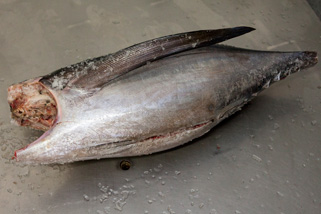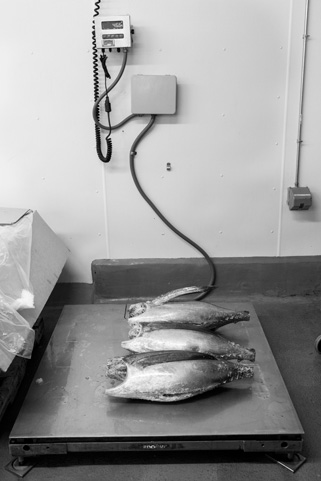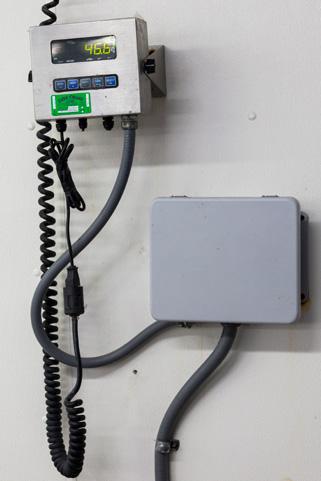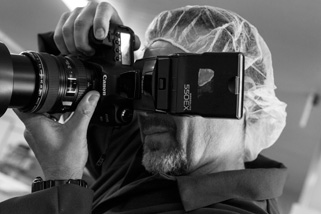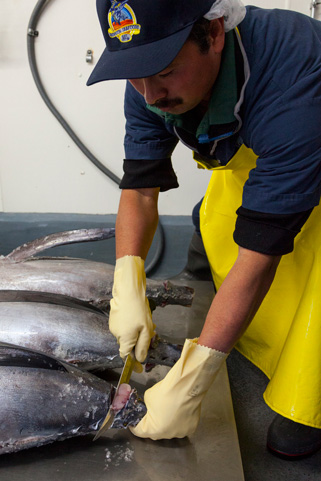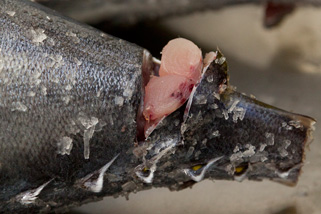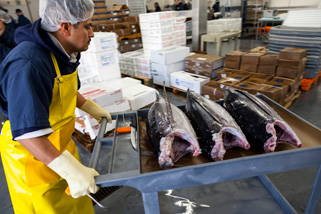 You're going to love this one. Does bathroom cleanliness reflect on the kitchen? [Laughing] I think it does. It reflects on any business. The first thing I'll do is go into the bathroom of a business and see what's going on in there. You can go to the bathroom in the general manager's office and basically know how well the restaurant's run. But definitely in a food establishment, it's important. If you're not maintaining that then who knows what's going on elsewhere. I ask it because Habit has always got a clean one. That's my pet peeve. That's the goal.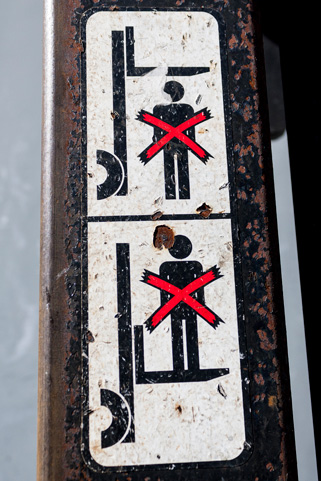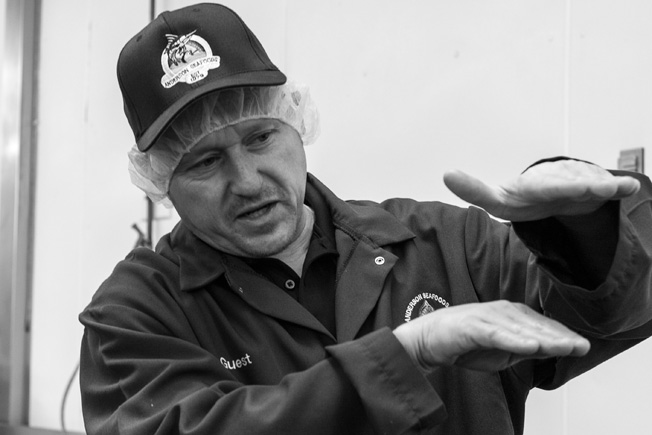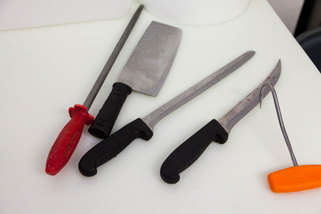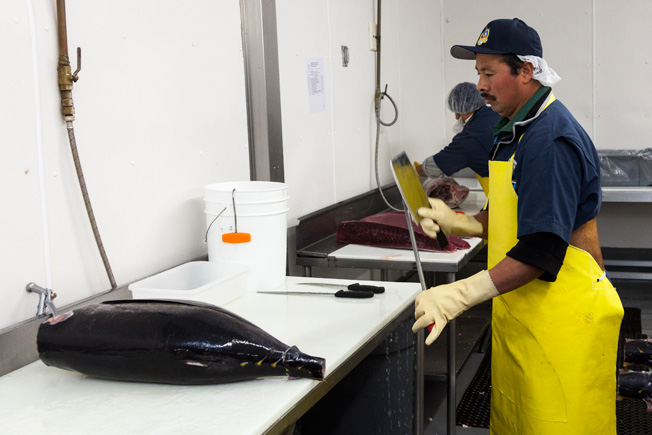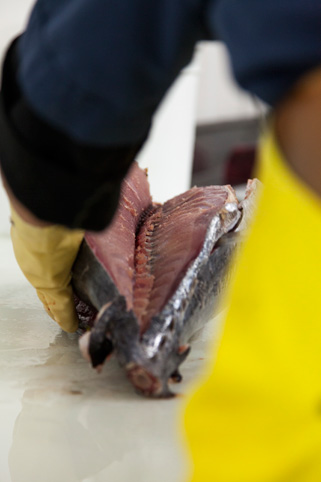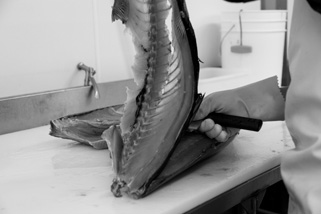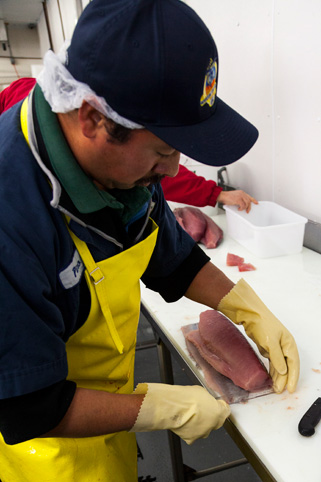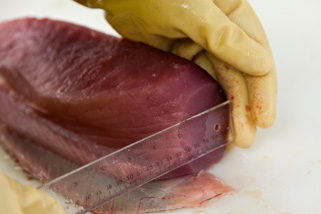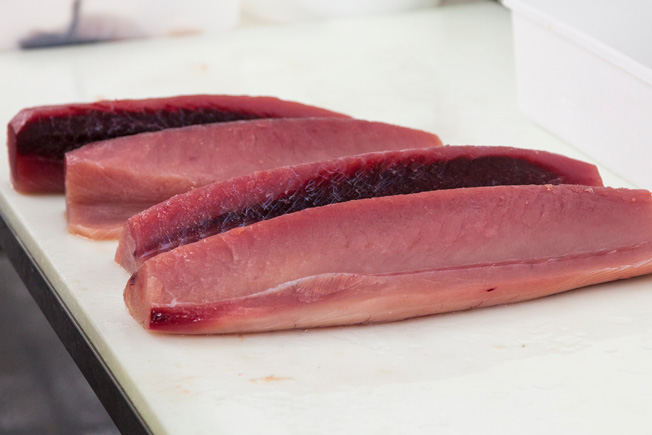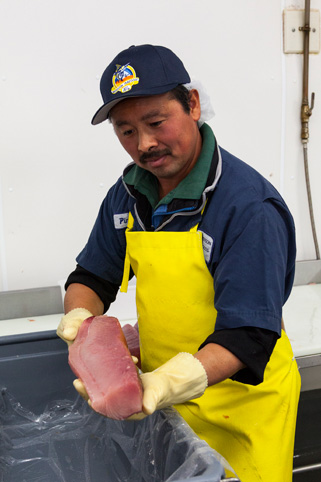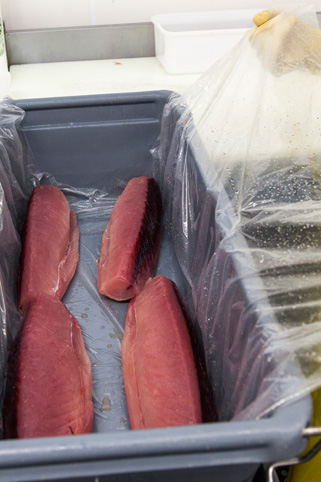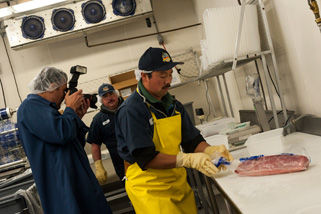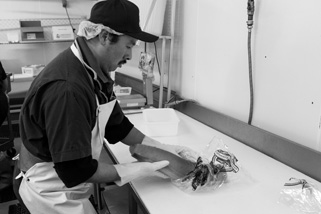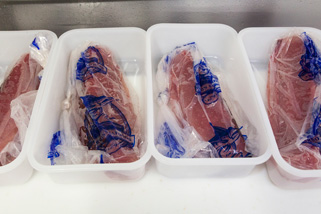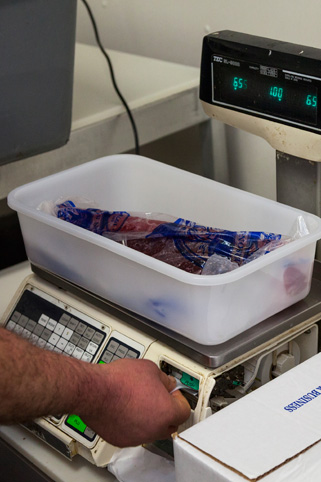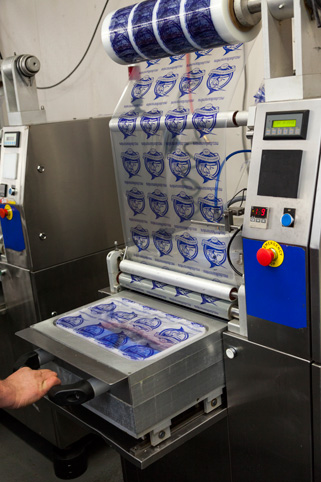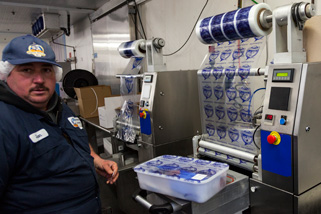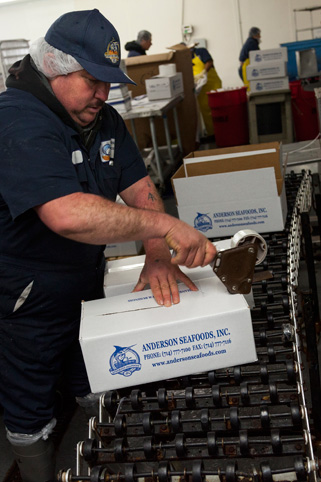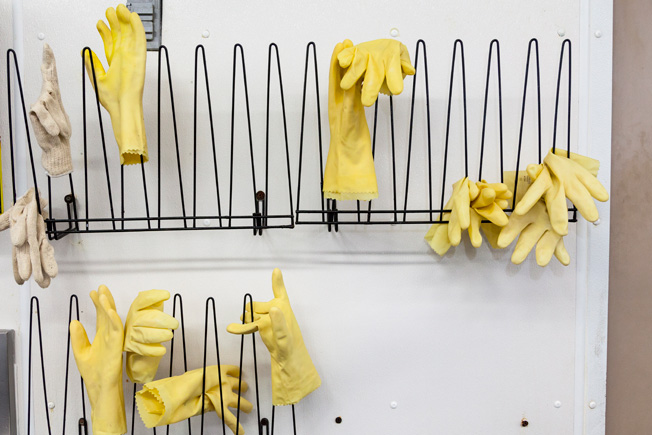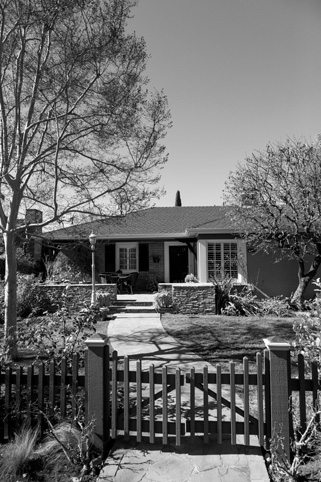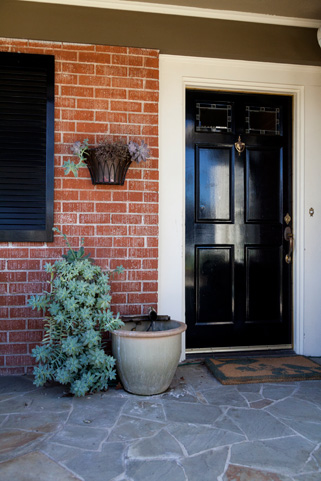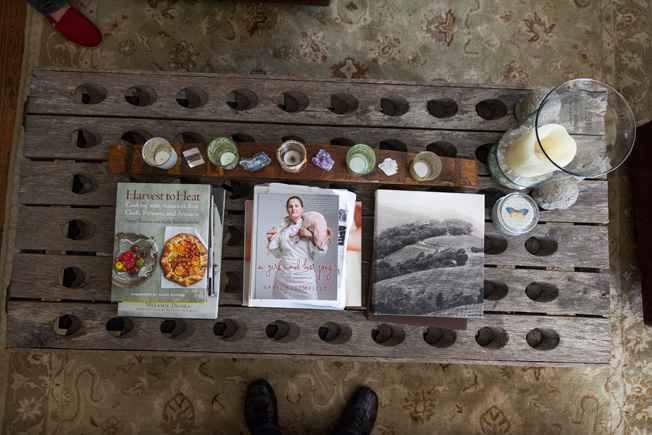 the recipe:
Habit Surf 'n Turf (1st half)
Parmesan crusted char 'slider' w/ caramelized onions, bacon, gorgonzola & smoky catsup + duck fat fries
Serves 4
Slider (see below)
Parmesan sourdough "buns" (see below)
Garnish (see below)
Smokey catsup (see below)
Duck fat fries (see below)
Season the slider meat and place onto Char broiler/grill or in a sauté pan. Cook to desired temperature. Break each piece of bacon in half, warm onions. Top the patty with bacon halves and then with 2 tbsp. warmed caramelized onions and 1 tbsp. crumbled bleu cheese. Place under broiler 10 seconds.
Drizzle a film of hot oil onto a hot griddle or griddle pan 350 °F or sauté pan (med high). Place the small toast rounds cheese size down and do not touch, allow the cheese to develop a golden crust 1-2 minutes, use spatula to check, flip toast and toast 30 seconds on the non-cheese side. Hold warm.
Drizzle 1/2 oz. of smoky catsup on the non-cheese toasted rounds and spread. Make burger by placing burger and garnish onto the bottom and top with second round. Cheese side out.
Heat fryer to 360 °F. Cook fries until golden brown. In a bowl add in truffle oil and lemon zest, stir mixture. Drain fries well, add fries into bowl with oil and toss well , until shiny and add truffle salt and toss again. Serve in a paper lined fry holder.
Slider
1 lb. ground beef, 80/20
1/2 small red onion, peeled and finely minced
1 tbsp. Worcestershire sauce
1 tsp. A-1 Sauce
Salt, pepper, garlic salt to taste
In a bowl combine all ingredients and using hands squeeze and blend meat to incorporate seasoning. Mixing tip: Allow meat to sit at room temp 15 minutes, also combine all ingredients in bowl first except meat and whisk to blend all items, then add meat and mix.
Taste tip: pin. 1/2 oz. of well mixed meat and cook in a pan on both sides until cooked through. Check the taste and adjust as needed.
Make 4 slider patties and shape with hands. You can use a scale to get 4 oz. patties or a 4 oz. ice cream scoop. Refrigerate until use.
Parmesan sourdough "buns"
4 ea. large 5 in. sourdough loaf slices, cut into 2 in. rounds
1/2 stick butter, unsalted, softened
1/2 c. parmesan reggiano cheese, grated
Using a small biscuit cutter 3 in. round, punch out 2 rounds from each slice for 8 total mini buns
Brush each round with soft butter using a spatula, careful not to tear rounds. Spread the grated parmesan onto a half sheet tray, press one side of the round onto cheese to create a crust. Reserve in sealed container.
Garnish (caramelized onions, crisp bacon & bleu cheese crumble)
1 ea. white onion, medium sized, halved and sliced into thin slices
4 ea. bacon slices, cooked crisp, reserve bacon fat
2 tbsp. bacon fat, reserved from above
4 tbsp. bleu cheese crumbles
Heat a sauté pan on medium, add in bacon fat and sliced onions, increase heat slightly to medium high, cook turning until lightly brown, 5 minutes. Season with salt and pepper, reduce heat to medium and cook until deeply browned turning as needed, 20 minutes. Scrape into a plastic container and reserve.
Smokey catsup
Makes 1 cup, more than needed
3/4 c. catsup
1/4 c. brown sugar, dark
2 ea. chipotle in adobe sauce (canned chipotle)
1/2 tsp. cinnamon
1/2 tsp. cumin, toasted and ground
1/2 tsp. black pepper, fresh ground
Combine all items into a heavy bottomed pot. Using a wire whisk, heat item bringing up to a boil and whisk. Turn off and remove from heat, cool 10 minutes and using a rubber spatula scrape into a bar blender, puree on high and smooth. Place into a plastic squeeze bottle.
Duck fat fries
2-3 ea. large whole potatoes, Russet or Kennebec
Small fryer with duck fat or un-hydrogenated soy bean or canola oil
Black truffle sea salt
White truffle oil
Zest of 1 lemon
Peel potatoes and rinse. Working quickly square off potatoes and cut into 1 in. planks, cut these planks into 1/2 in. french fries. Submerge in cold water.
Heat the fryer or oil to 300 F. Rinse potatoes and drain well. Place the fries into fryer and gently shake the basket.
Cook until fries are just turning lightly browned, drain well and lay fries out across a 1/2 sheet tray. Allow fries to cool to room temp and place tray into freezer, 1 hour minimum.
Habit Surf 'n Turf (2nd half)
Cold smoked sashimi albacore & mango salsa in tempura avocado shell w/ charred tomato ceviche vinaigrette, cilantro pudding & spicy cholula essence
Serves 4
Albacore and Mango Salsa (see below)
Tempura avocado (see below)
Avocado pasta chips (see below)
Ceviche "vinaigrette" (see below)
Cilantro pudding (see below)
Spicy Cholula essense (see below)
To Fry: drain and dry avocado, toss in flour, add to the tempura batter and submerge, Using a fork pick up the avocado and slide into 360 °F fryer, repeat and fry until lightly browned 45 seconds. Drain.
Place a 2 oz circle of ceviche vinaigrette onto plate. Stir the albacore mixture place a mounded spoon into the avocado cup. Place the cup onto the center of the vinaigrette. Place 2 fried avocado chips into each side of the albacore mixture.
Using squeeze bottle place 3 dots of cilantro pudding around dressing and drizzle the Cholula syrup over and around.
Albacore and mango salsa
1 ea. lemon, lime and orange; zest removed & juiced, strained & combined
2 tbsp. sugar
1 tbsp. garlic, finely minced
1 tbsp. Cholula hot sauce
1 tsp red chile flake
1 tsp ancho chile powder
1 tsp Spanish smoked paprika, sweet
1/2 small red onion, peeled and finely minced
1/4 c. Clamato tomato juice
1/4 c. tomato puree
1 tbsp. pickled jalapeno, diced
1 ea. mango, ripe, peeled, medium diced
1 ea. tomato medium, seeded and diced medium
2 tbsp. green onions, thinly sliced
1 bunch cilantro
1 lb. albacore, bloodline removed, sashimi quality, diced in 1/2 in. cubes
Salt and pepper to taste
Zest citrus, place into SS bowl and juice citrus and strain juice into same bowl.
Add sugar and whisk until sugar dissolves and is shiny. Add in garlic, all spices and onion. Allow onions to sit and pickle 5 minutes.
Add in all ingredients except albacore. Mix and refrigerate until 30 minutes before serving, albacore reserved separately.
30 minutes before service, add in albacore so that it "cooks", mix well. Cover the bowl with plastic wrap tightly and using a hand smoking gun (wood of preference) place smoking gun tube into bowl, fill bowl with smoke. Let sit 10 minutes, fill bowl again with smoke. Place over an ice bowl and reserve for plating.
Tempura avocado
2 ea. avocado 48 count or medium sized
2 ea. eggs
2 c. ice cold water
1.5 c. AP flour
1/2 c. corn starch
Cut avocados in half, remove seed. Scoop out each half using a soup spoon. Place avocado onto cutting board. Cut off 1/4 in. from each end, place trimmings into bowl and toss with lime juice. Trim the bottom of avocado just slightly to flatten. There will be 4 "cups" that sit flat with seed hole facing up.
Place avocado cups into ice water until service to prevent oxidation.
Tempura batter: In a bowl whisk together eggs and water until combined, add in all flour and using a pair of chop sticks, stab the batter stirring as little as possible until a lumpy batter forms. Mixture should not be smooth.
Avocado pasta chips
Reserved avocado trimmings from above, tossed in lime juice
2 egg yolks + 1 whole egg
1/2 c. + additional AP flour
1 tsp. salt
Place trimmings immediately in small food processor, add in eggs and puree until smooth, add in flour and salt and pulse to form a smooth dough, add flour as needed. Remove and wrap and allow to rest 30 minutes.
Lightly flour the work surface, unwrap dough, cut dough in half. Roll out dough in the shape of a rectangle until very thin, 1/8 inch. Cut dough into tortilla "chips."
Fry chips in batches at 350 °F until crisp and season with salt.
Ceviche "vinaigrette"
2 ea tomatoes, medium, charred, seeded
3 ea. garlic cloves, sliced thinly
1/4 c. canola oil
1/2 tsp. cumin powder
1 tbsp. sugar
1 tbsp. cider vinegar
1 tbsp. hot sauce
1/4 c. Clamato
1/2 bunch cilantro, chopped
1 tbsp. lime juice
1 tsp. xanthan gum
Salt and pepper to taste
Halve tomatoes and de-seed. Place under a broiler skin side up and broil until blackened, or use a blow torch on all sides of tomatoes to char. Place tomatoes, oil and sliced garlic into a 300 °F oven and roast 20 minutes. Allow to cool to warm and scrape into a bar blender.
Add all remaining ingredients except xanthan gum into blender. Pulse and puree until smooth, add gum into the vortex or center as blender is running and blend on high 30 seconds to thicken.
Cilantro pudding
2 ea bunches cilantro, blanched
1/4 c. spring water
1 tbsp. sugar
Zest of 1 lime and juice
Salt and pepper
1 tsp. xanthan gum
Blanche cilantro in boiling salted water for 7-10 seconds until bright green, drain and dip into ice water to cool completely. Drain cilantro, and squeeze into balls to remove water. Using a very sharp knife rough chop cilantro and place into a bar blender.
All ingredients except gum, puree until smooth, if needed add water at 1 tbsp. at a time to get smooth puree. Add gum into vortex and allow 30 seconds to thicken, strain into a squeeze bottle and refrigerate.
Spicy Cholula essense
1/4 c. lime juice
Zest of 1 lime
1/4 c. spring water
1/4 c. Cholula hot sauce
2 tbsp. honey
1 tbsp. Sugar
Salt and black pepper
Combine all ingredients into a non-stick pan, bring up to a rapid boil, simmer until a syrup forms that drizzles of a spoon in a thin ribbon. Season and pour into a plastic squeeze bottle. Cool completely and syrup will thicken.

wine pairing
w/ Organic Wine Exchange + guest wine expert
Alice Feiring says: Carignan is a powerful grape and not far from the Mediterranean it picks up wonderfully complex flavors. It won't compete with this particular spicy burger, but it will match it head on.
2009 Domaine Deux Anes, Premier Pas $16 @ OWE

Alice has been published in most of the glossies in this country as well as the New York Times. She is the author of two books: The Battle for Wine and Love (Harcourt) and Naked Wine (Perseus Books). When not on the road learning about wine, Alice is working on her personal writing, rereading Letting Go or Hudson River Bracketed, and dreaming about a cellar full of Domaine Romanée Conti. You can find Alice on Twitter at @alicefeiring, or her blog The Feiring Line.