featuring:
Bernard Guillas
from:
recipe:

Fennel pollen pistachio Alaskan halibut + more
5 South and exit 14a to CA-75 S/San Diego–Coronado Bridge. Turn right onto C with another right on 1st and you're at the farmers market. We shoot Chef Bernard shopping for fresh produce (up close, personal) and having some fun, then we're back on the 5, off at La Jolla Pkwy and on to the Marine Room. Look for the bright white neon sign over a dark door and a gold handrail that splits the stairs.
We follow chef into & through the kitchen that is rockin' with dinner prep. Holy sh.. this is going to be fun shooting in here. The chopping, the aromas, the visuals are awesome. Excuse me, pardon me, sorry. Gotta catch every angle.
When they say this restaurant is on the beach, they mean ON the beach. At high tide, I bet the sea actually kisses the glass!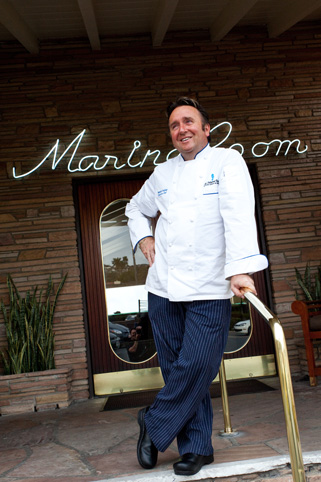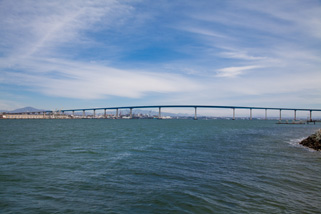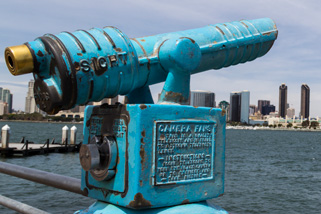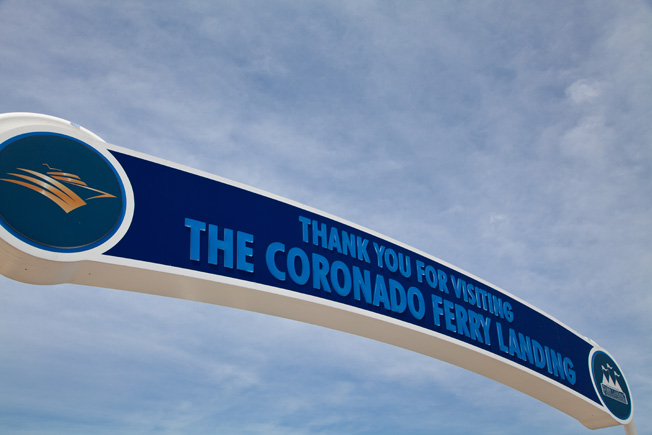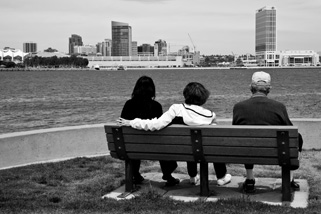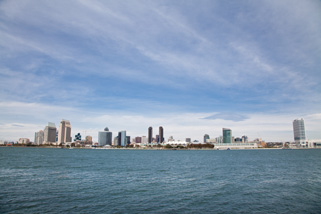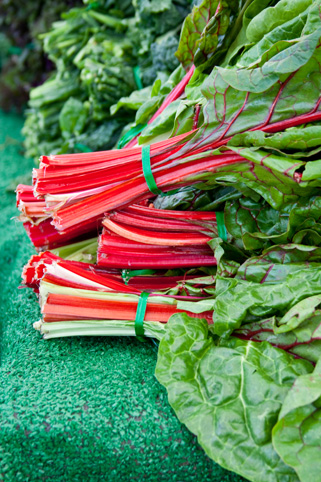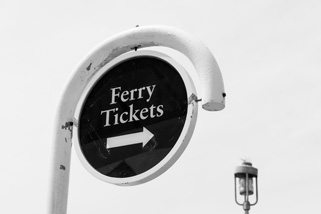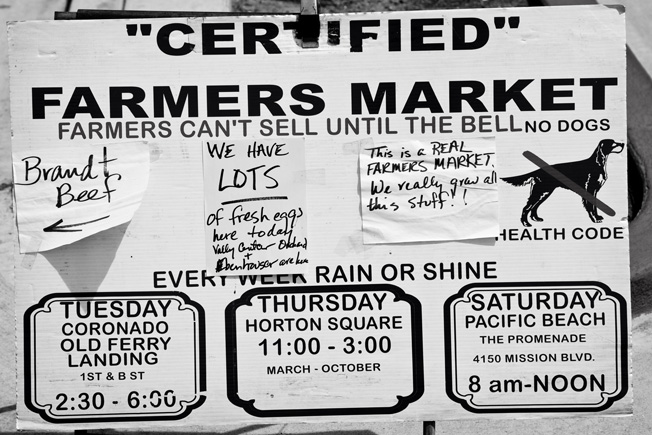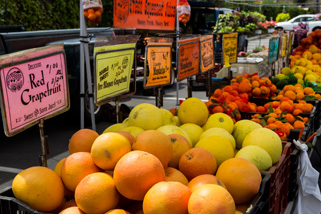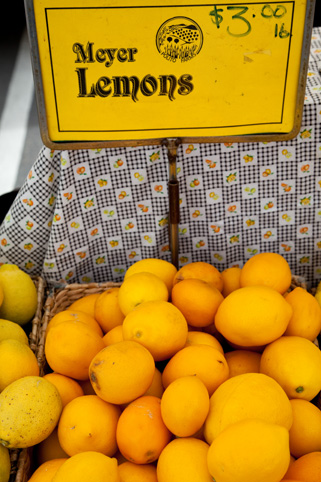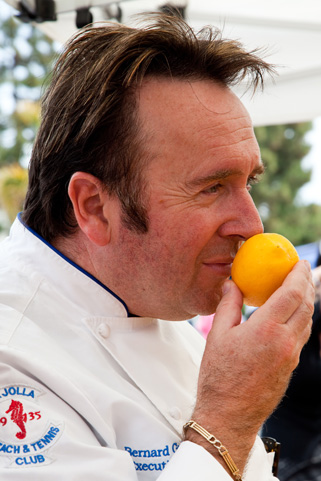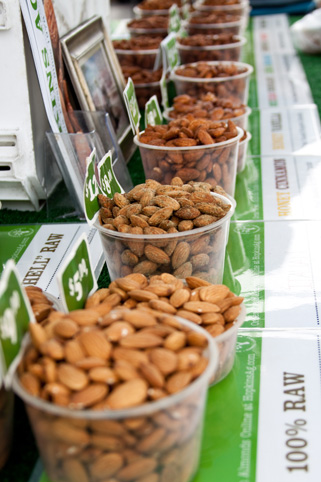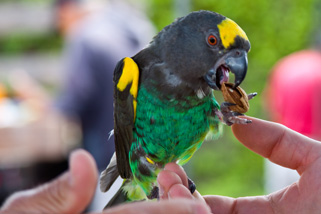 How important is it to be connected to your local farms? Oh boy, I look at my local farms as the heart and soul of my cooking. Without the farmers and fisherman you do not have a restaurant, which is why it is very important to be part of the community and really support the farming community. The farmers work very, very hard to give this amazing product. It might not look that sexy, but when you cut that lemon open and squeeze it's juice, the fragrance is amazing and the flavor that pours out of that citrus is beautiful.
In San Diego there are 45 farmers markets per month. I always say that if you shop the farmers market, it may be a little more expensive but you will eat what you purchase as opposed to the larger market. Is it really good for you? Organic and natural? Most of the (larger market) stuff is not, so if you can eat well and support your local community, it will feed your soul as well, and you will be healthy. It is also a perfect platform to take the kids. They can taste the strawberries, raspberries and blueberries, then, what happens next, is they connect to the source of great taste.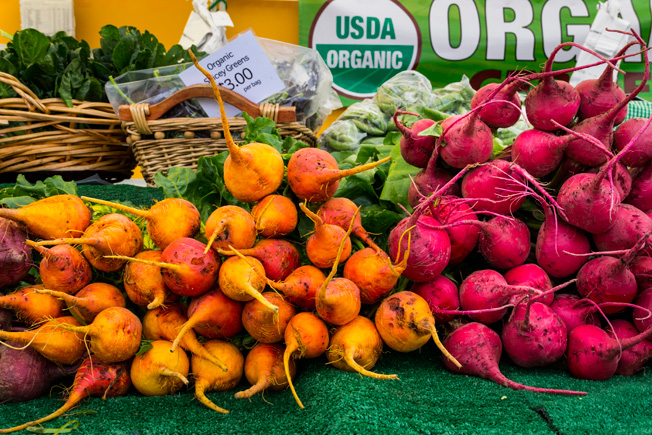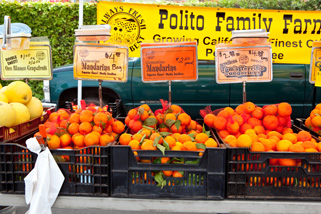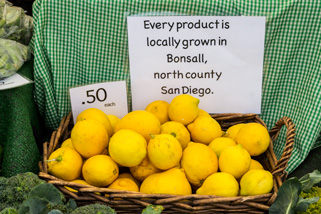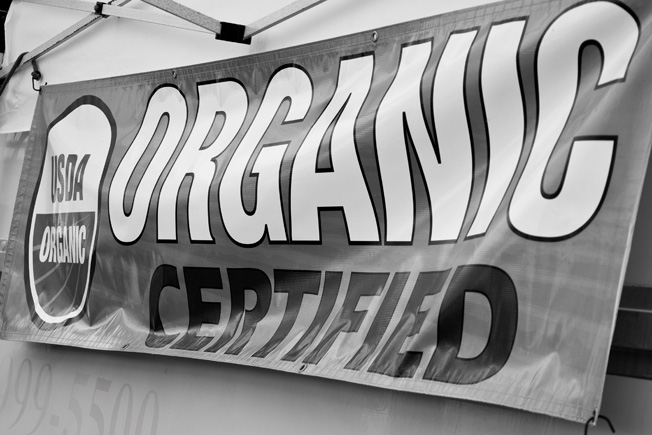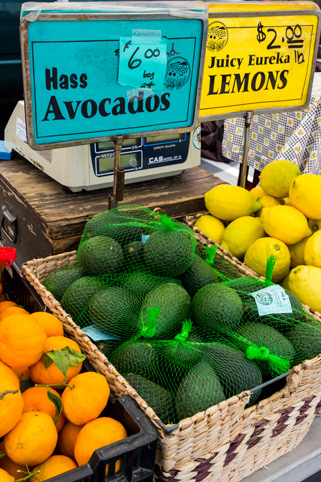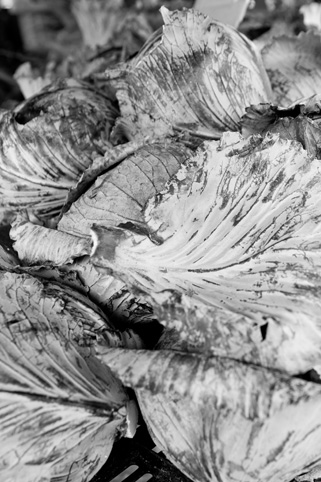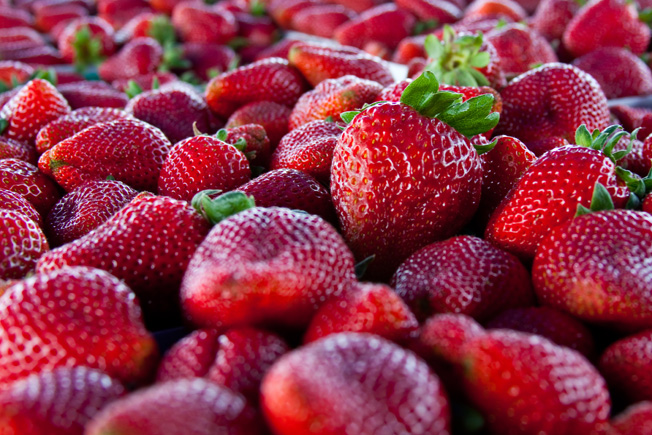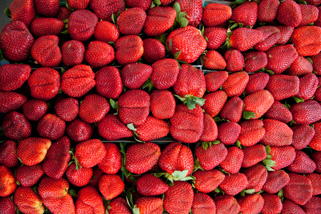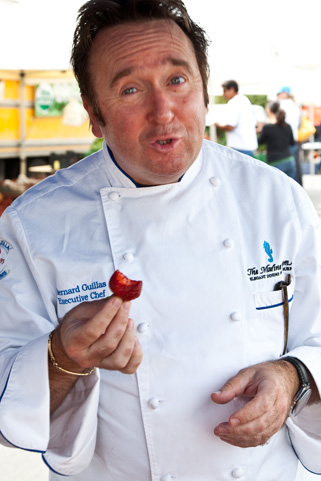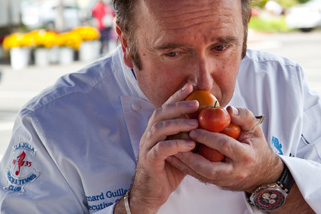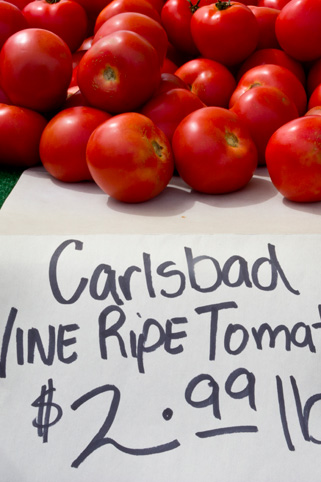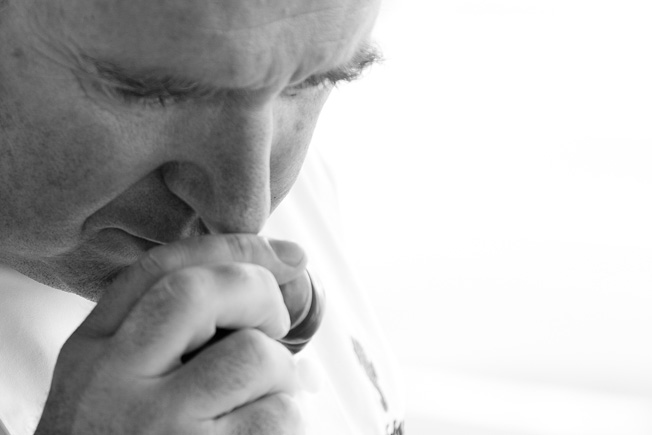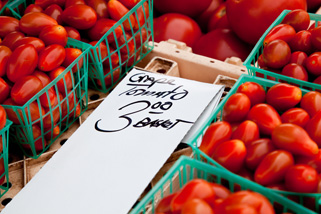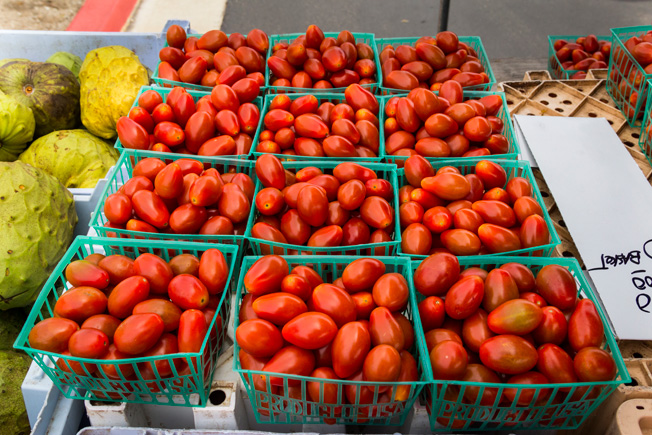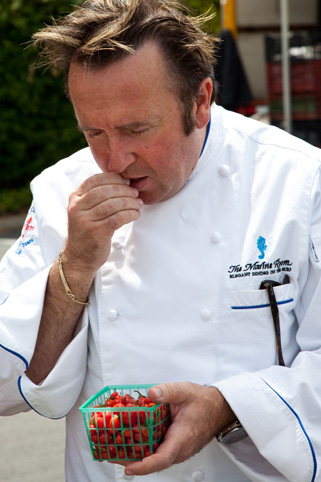 Do you take risks in your cooking? I take only calculated risks. It means you have to make sure your dishes, your preparations, have to be well balanced. You know, sometimes we think the more ingredients we put on the plate the better it's going to be, but you know… fusion cuisine can become confusion cuisine, so you have to calculate your risk and make sure it is very well executed.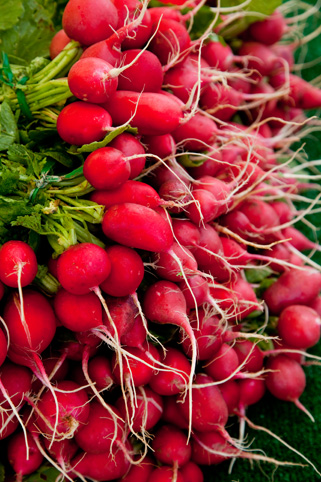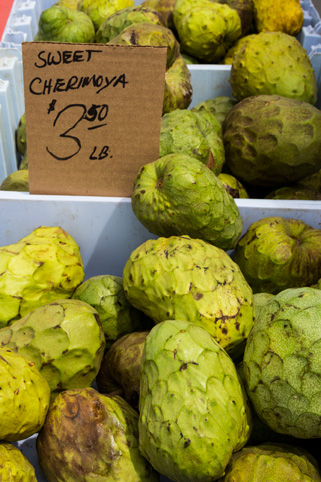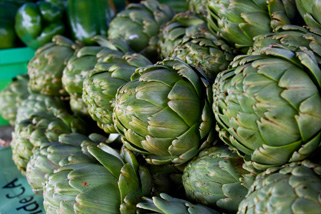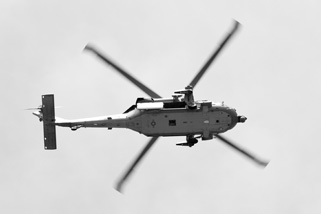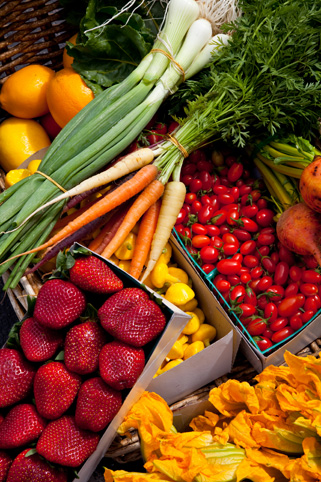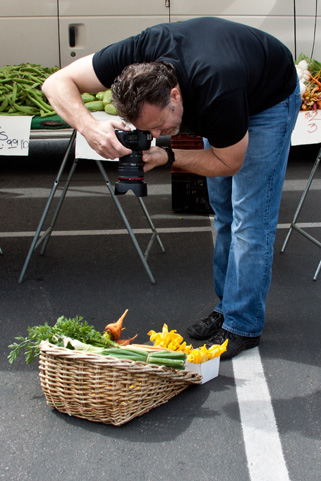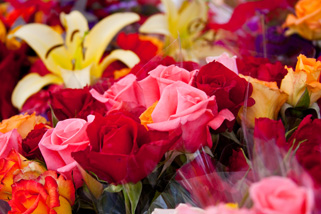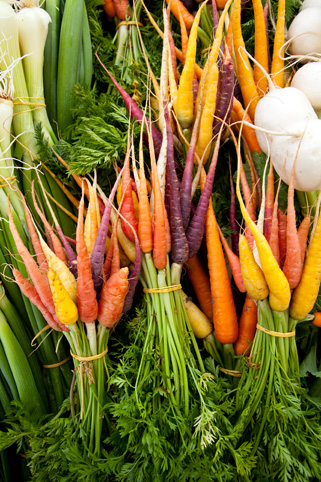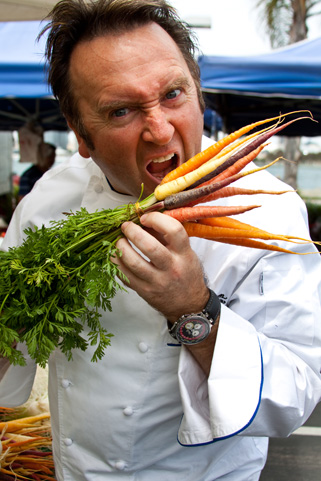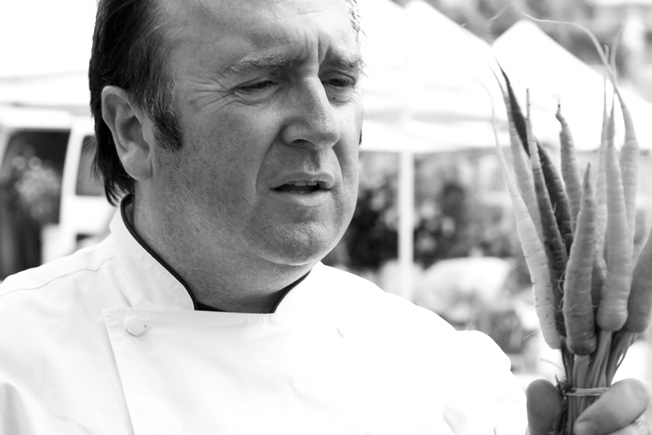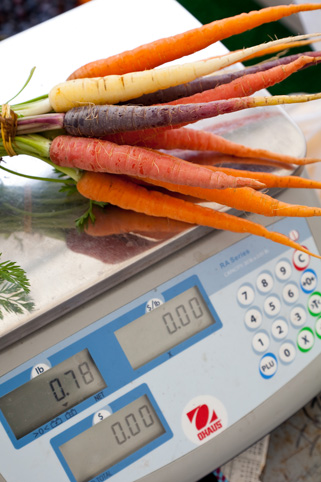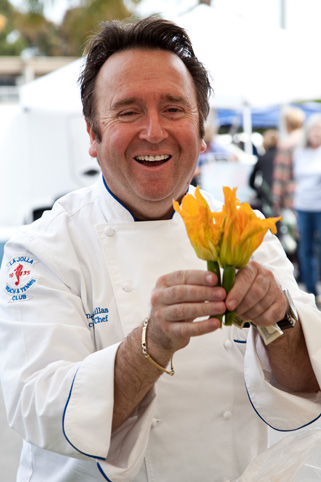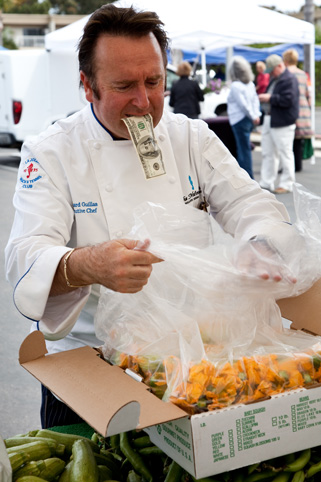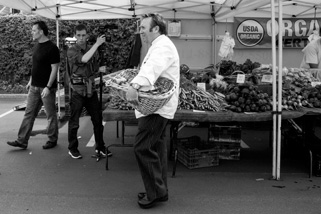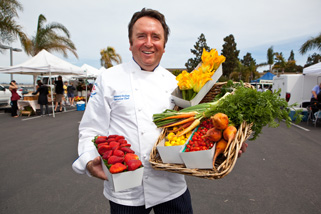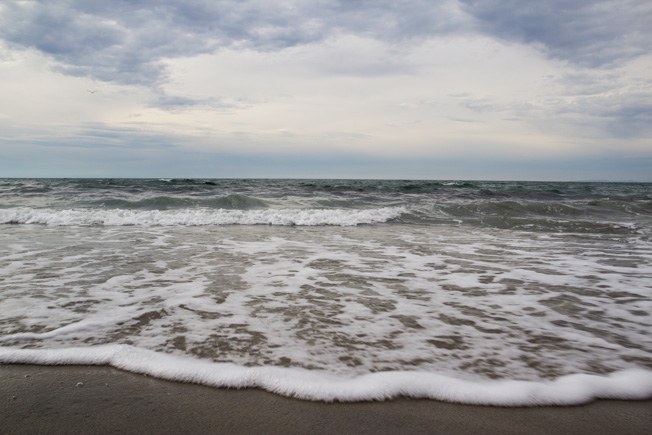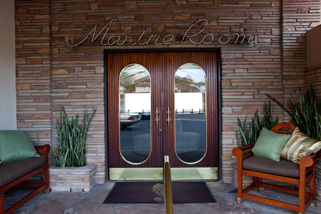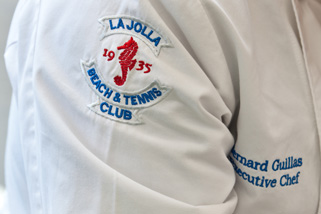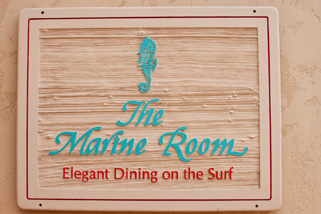 When did food capture you? I was captured by food right after I was captured by my grandmother. My grandmother is the root of my madness. I mean, I was born on an island smaller than Jersey (the Channel Island) between France and England. I was shipped by my parents to my grandma when I was a year old, then for 7 years I saw how cooking and the table and gathering was a part of life. We would cook only what was in season, we would go into the garden and harvest what was available. At that point, even as a little child, I would always be cooking with grandma.
The best thing I loved to do was cooking crepes. I had an uncle that was a baker, an uncle that was a butcher, no candlestick makers, I swear theres none of those [laughing] and the rest of my family were farmers and fisherman. So it was really easy for me me to get into the field. I did an apprenticeship and realized this was natural to me. This became my career and I love every single minute of it. I would not change a single thing, not one single thing, it has been a great journey.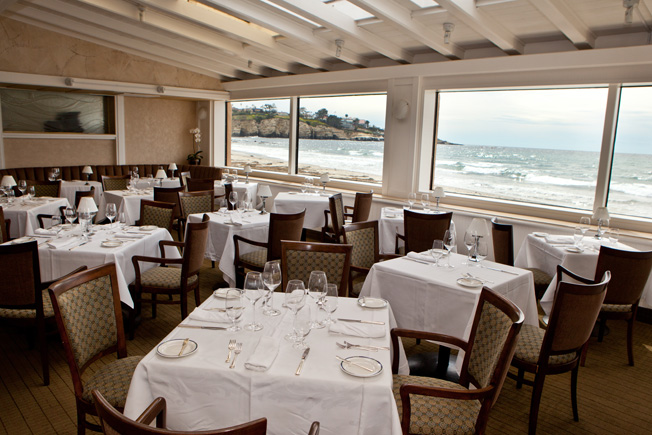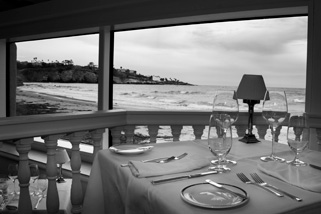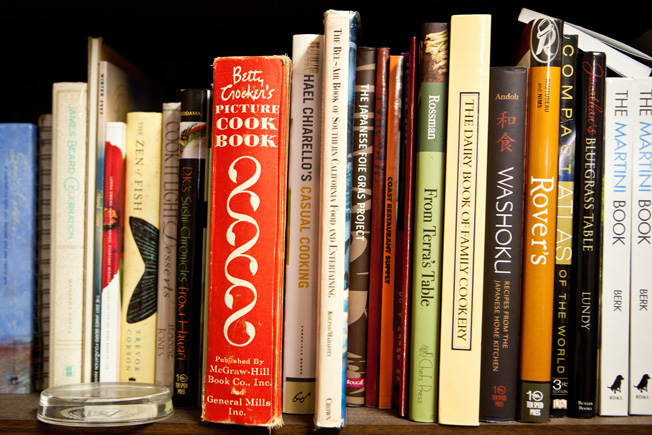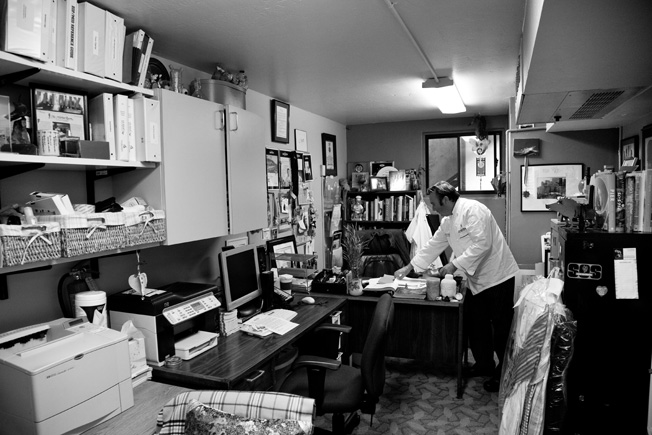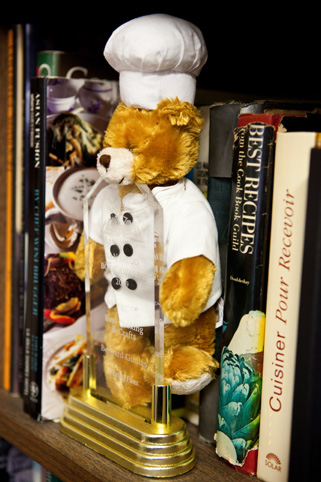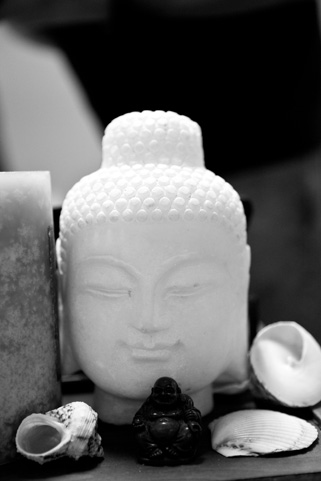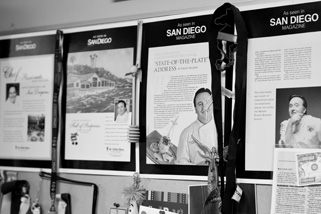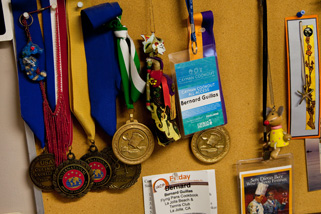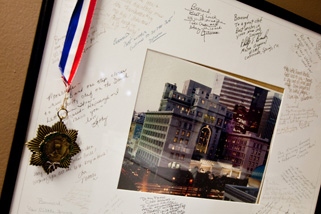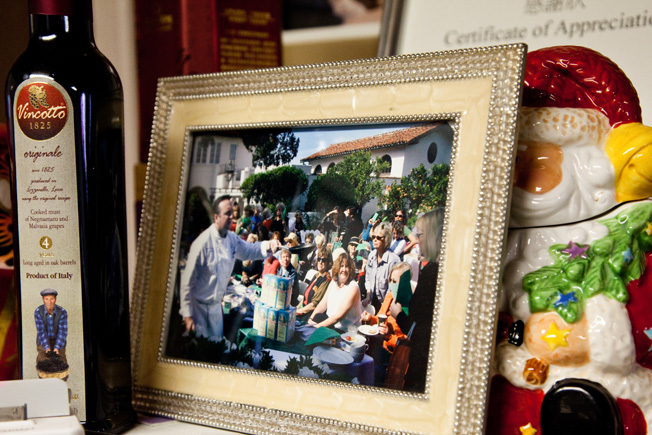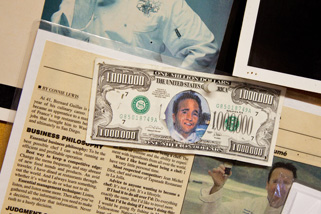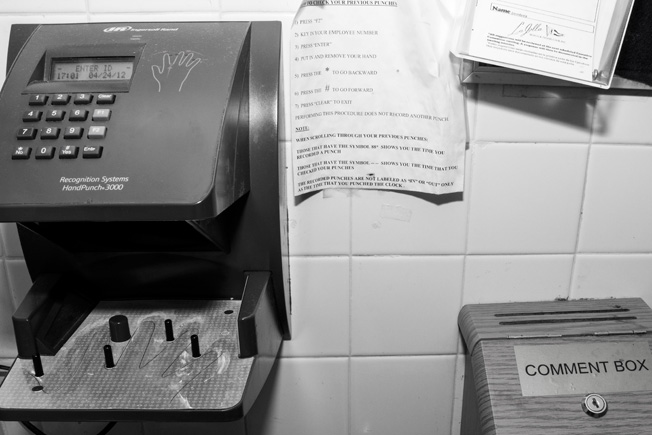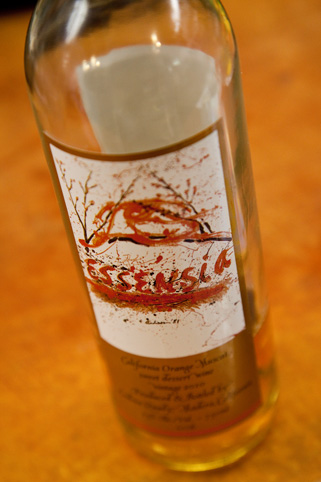 When did you discover that food had power? When I was an apprentice because you could tell food was having such an impact on the guests. The way you prepare your food, the way you present the food, it becomes an experience. When you come to the Marine Room for example, we create a new journey, a new expectation. You create some new traditions, people want to come back to the Marine Room. Our food is designed, our food is fun and in season. It's not only my food, it's me and Chef Ron Oliver, my chef de cuisine, we are in partnership when it comes to the creativity.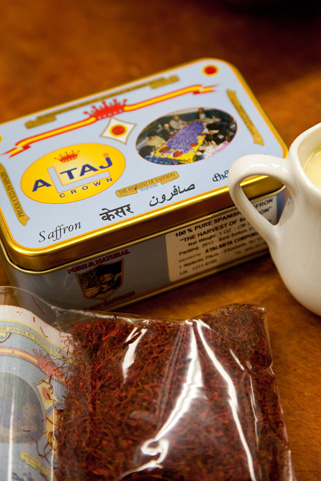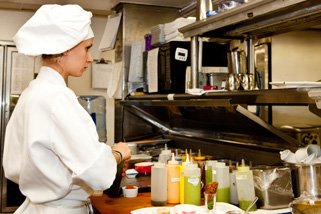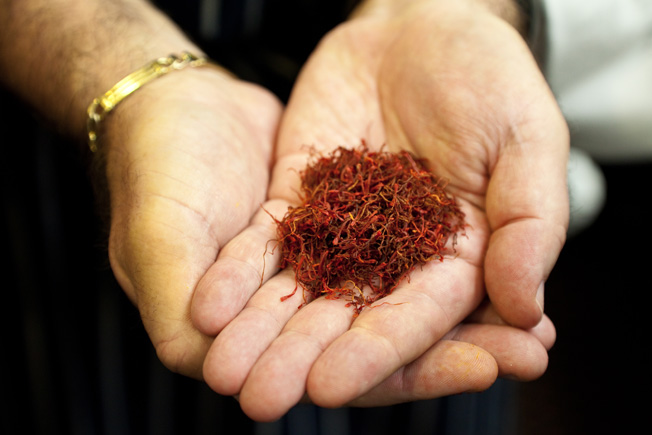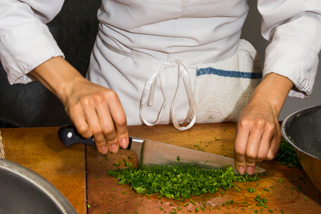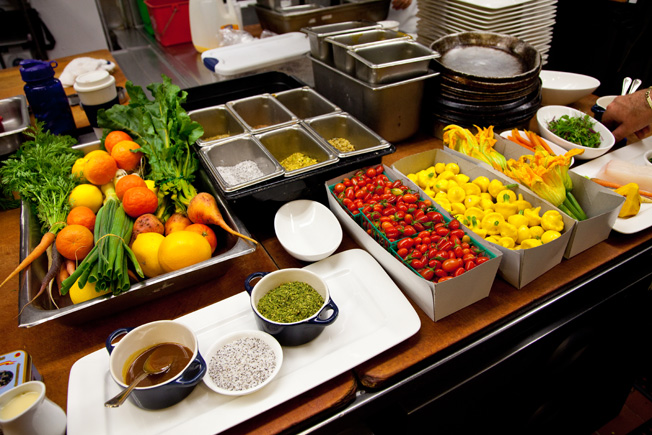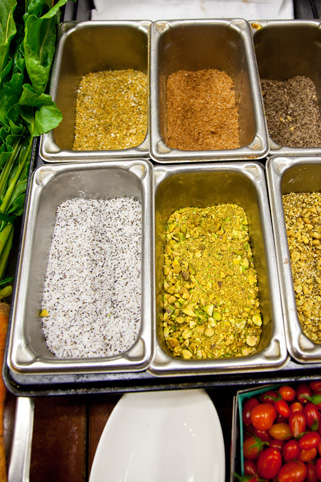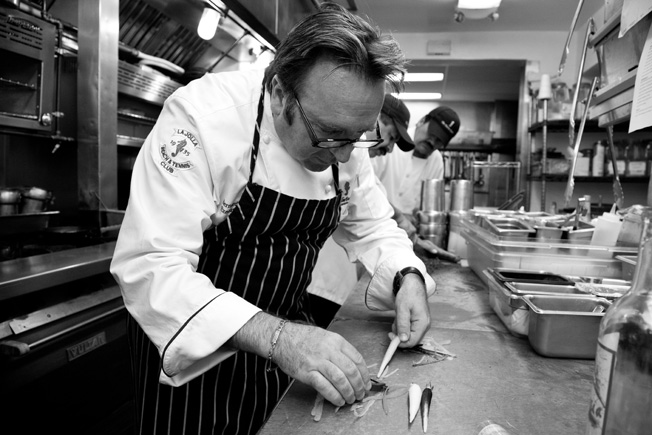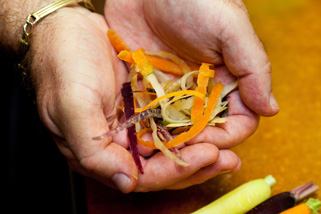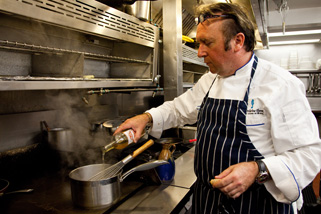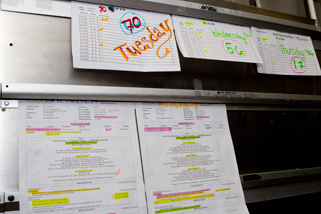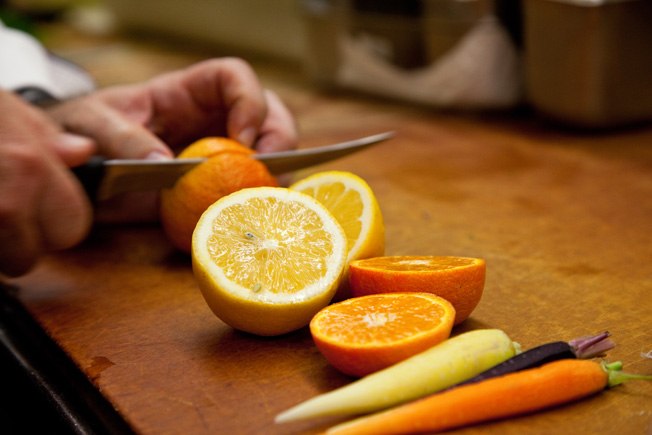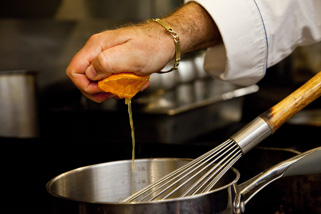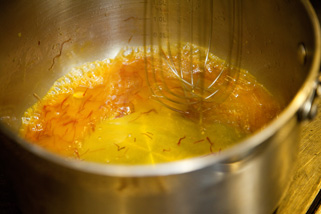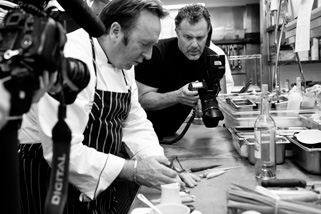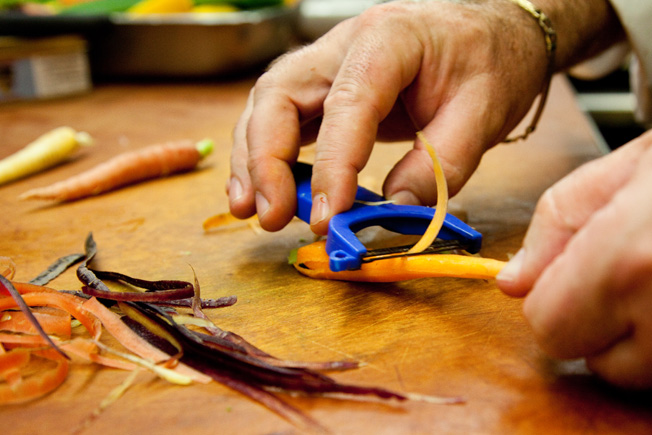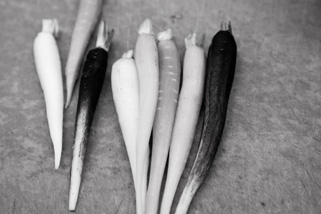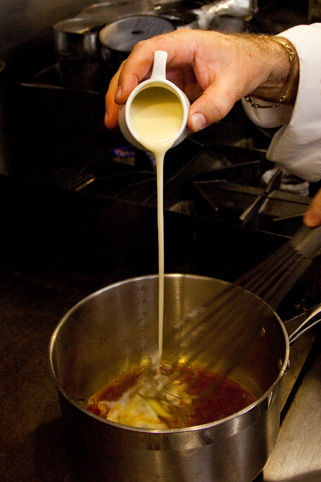 What does it take to run a kitchen? Compassion, understanding, and patience. To be a really good communicator and lead by example. The most important thing to remember is to understand that this is not about individuals, it is a team, a culinary team. It means that when you come in the morning you are part of the staff, that's what it is all about and it's a lot of fun, I tell you. I have three kitchens with 55 cooks in my kitchen, so I have 55 children [laughing]. They are all very different and they all need my help somehow and it's great. They help me out as well. I travel the world because I have such a good culinary team.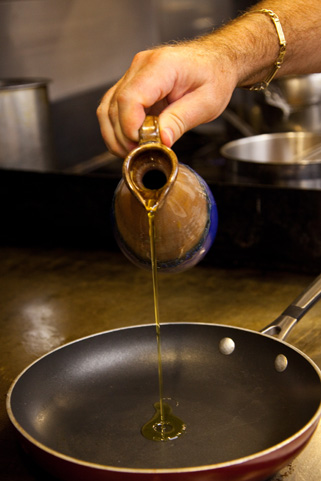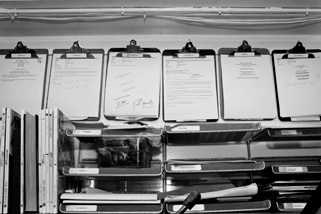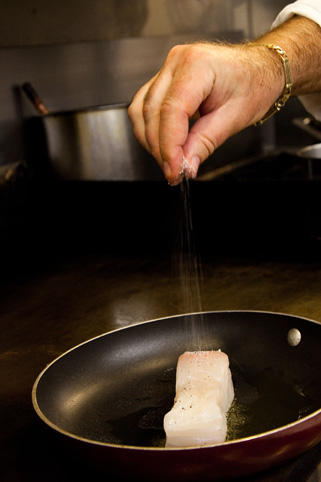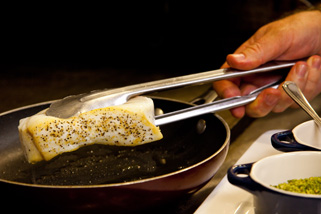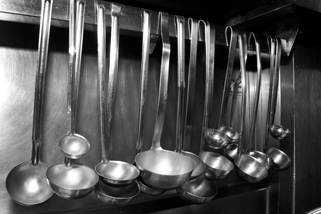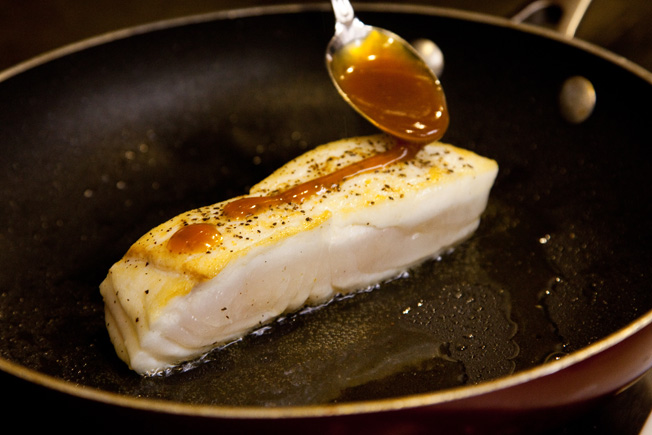 the recipe:
Fennel Pollen Pistachio Crusted Alaskan Halibut
For the presentation:
12 steamed baby patty pans
12 roasted cherry tomatoes
12 steamed baby carrots
4 tempura fried zucchini flowers
1 sm. heirloom melon, peeled, seeded, thinly sliced
1/2 c. arugula sprouts tossed with 1 tsp. olive oil, salt & pepper
4 edible flowers
Serves 4
Spoon risotto (see below) in 2" ring in center of large serving plate.
Place halibut (see below) beside.
Spoon sauce (see below) on to plate.
Garnish with vegetables, melon, arugula sprouts and edible flowers.
Carrot Corn Risotto
2 c. carrot juice
2 tbsp. olive oil
2/3 c. Arborio rice
1/4 c. minced shallots
1 tsp. minced garlic
1/2 c. white wine
1 c. sweet corn kernels
1 tsp. minced ginger
1 tbsp. mascarpone
1/4 c. grated parmesan cheese
Sea salt and freshly ground white pepper to taste
Bring carrot juice to a boil but do not reduce.
Add olive oil to large sauce pan over medium heat.
Add shallots and garlic. Cook 1 min. without browning.
Stir in rice. Cook an additional min. stirring often until oil is absorbed by rice.
Add wine. Cook until liquid is absorbed.
Stir in 1/3 of carrot juice. Cook until absorbed.
Repeat process using 1/3 c. carrot juice at a time.
Remove from heat. Fold in remaining ingredients. Season to taste.
Halibut
1/2 c. shelled pistachios
1/4 c. sliced almonds
1 tsp. fennel pollen
1/2 tsp. Madras curry
1 tbsp. minced chives
1 tbsp. toasted white sesame seeds
2 tbsp. grapeseed oil
4 6-oz. Alaskan halibut fillet, boneless, skinless
Sea salt and freshly ground black pepper to taste
Preheat oven to 375°F.
Add pistachios, almonds, fennel pollen, curry, chives and sesame seeds to food processor. Pulse to chop. Transfer to bowl. Set aside.
Add oil to large oven-proof skillet over medium high heat.
Season halibut with salt and pepper. Lay in skillet, flesh side down. Sear 2 min. Flip over.
Generously coat top of each halibut with apricot glaze. Sprinkle with pistachio mixture.
Transfer to oven. Cook 3 min. or until slightly underdone.
Glaze
1 lb. apricots
2 tbsp. brandy
1 tbsp. white wine vinegar
3 tbsp. brown sugar
2 tbsp. grated ginger
2 tbsp. chopped shallots
Sea salt and freshly ground black pepper to taste
Chop apricots, discarding pits. Add to sauce pan with remaining ingredients over medium heat. Bring to simmer.
Cook 15 min. or until thick and syrupy, stirring often.
Transfer to blender. Puree until smooth.
Strain through coarse sieve.
Season with salt and pepper.
Saffon Kaffir Lime Leaf Butter
2 shallots, minced
1/2 c. white wine
1/4 c. rice vinegar
Generous pinch saffron
2 kaffir lime leaves
1 sprig fresh thyme
2 tsp. heavy cream
2 sticks unsalted butter
Sea salt and freshly ground black pepper to taste
In saucepan at medium heat cook shallots, white wine, vinegar, saffron, kaffir lime leaf and thyme.
Reduce by 2/3. Add cream. Bring to boil. Reduce heat to simmer.
Slowly whisk in butter until fully incorporated.
Season to taste with sea salt and freshly ground black pepper.
Let stand 5 min. to infuse lime leaves.
Strain through fine sieve. Set aside.
Ocean Trilogy (bonus recipe)
Vanilla Lobster, Ahi Tartare, Pompano Sashimi, Spanish Trout Caviar, Sesame Cone, Uni Dressing. Plate is garnished with saffron and chile aiolis
Chef Bernard says:
The trilogy recipe is very involved and you need to use a sous vide machine to prepare the lobster. Give them the overview as a guideline and send them to the Marine Room to taste the dish for themselves, as this dish is a signature of the restaurant. That would be fantastic. Here is the link to our website: http://marineroom.com
Bob says:
You heard the chef... get over there!
Vanilla Lobster
Lobster tail wrapped in leek, seasoned with vanilla bean, lemon zest, salt and togarashi. Cooked sous vide style, 190° for 7-8 min. Sliced into medallion. Set atop finely diced yellow beet.
Ahi Tartare
Finely diced Ahi Tuna mixed with uni vinaigrette, chopped chives. Served in sesame cone with micro greens. Topped with Petrossian trout caviar. Pompano – Sliced thin sushi style. Seasoned with horseradish oil. Sliced and served atop lemon myrtle watercress cream.
Uni Dressing
Uni blended with chick peas, sesame oil and lemon juice. Lemon Myrtle Watercress Cream – emulsion of yuzu juice, rice vinegar, shallots, hazelnuts, crème fraiche and watercress leaves and lemon myrtle oil.
Spanish Trout Roe
From Petrossian, mild flavor
Sesame Cone
Miso sesame tuile, shaped into a cone, filled with micro greens then steamed finely diced lobster tail seasoned with champagne vinaigrette. Topped with Trout caviar.
Lemon Myrtle
Essential oil blended with parsley flavored grapeseed oil. Lemon myrtle is intense, refreshing and very, very lemony; known for being "more lemony than lemon". The lemon myrtle used is cultivated not wild
Decadent Chocolate Dome (bonus recipe)
For presentation:
6 slices oranges
6 1 oz. shot glasses filled with pomegranate mojito
18 griotte cherries
6 chocolate sticks
6 mint sprigs
1/2 c. mango coulis in squeeze bottle
1/2 c. raspberry coulis in squeeze bottle
Place chocolate bomb (see below) in center of chilled serving plate.
Place orange slice on to plate. Top with shot glass.
Garnish with griotte cherries, chocolate sticks, mint sprigs and mango and raspberry coulis.
Chocolate Mousse
1 c. cold heavy cream
5 oz. finely chopped Valrhona 70% dark chocolate

2 tbsp. diced unsalted butter
3 large eggs, separated

2 tbsp. granulated sugar
2 tbsp. Myer's dark rum
Whip cream to soft peaks. Refrigerate.
Combine the chocolate and butter in the top of a double boiler over medium heat.
Stir frequently until fully melted and well combined.
Remove from heat. Cool to 98˚F. Check by testing on bottom lip. It should feel just warm.
Stir in egg yolks.
In a medium bowl, whip egg whites to fluffy.
Sprinkle sugar to egg whites. Beat until soft peaks form.
Fold in whipped cream and Meyer's dark rum. Fold in 1/3 of the egg whites until well incorporated. Fold in the remaining whites.
Fill 2/3 of 3 oz. dome mold with chocolate mousse.
Freeze 3 hours until frozen solid.
Gianduja Mixture
3 oz. Gianduja chocolate, melted
2.5 oz. praline paste
1 oz. hazelnut oil
2 oz. royaltine
Melt Gianduja, praline paste and hazelnut oil together in top of double boiler over low heat. Stirring constantly with wooden spoon until melted and well combined.
Remove from heat. Add royaltine. Stir until well combined.
Fill each dome mold with Gianduja mixture.
Freeze 3 hours.
Unmold. Transfer to wire rack set over baking sheet to catch chocolate ganache drip.
Chocolate Ganache
1/2 c. heavy cream
1 tbsp. unsalted butter
7 oz. Valrhona 70% dark chocolate, coarsely chopped
Heat heavy cream and butter in saucepan over medium high heat. Bring to boil.
Place chocolate in mixing bowl. Whisk cream into chocolate. Stir until smooth.
Cool to room temperature.
Quickly ladle ganache over dome covering completely.
Refrigerate until ready to serve.
wine pairing
w/ Organic Wine Exchange + guest wine expert
Alice Feiring says: Pass the Sablonettes Petit Blanc 2011 please.  The halibut with the carrot corn risotto has so much going on, but basically it's the meatiness of the halibut that needs good attention.  The wine is is made by Christine and Joel Meynard, ultra-sweet vignerons in Loire.


Alice has been published in most of the glossies in this country as well as the New York Times. She is the author of two books: The Battle for Wine and Love (Harcourt) and Naked Wine (Perseus Books). When not on the road learning about wine, Alice is working on her personal writing, rereading Letting Go or Hudson River Bracketed, and dreaming about a cellar full of Domaine Romanée Conti. You can find Alice on Twitter at @alicefeiring, or her blog The Feiring Line.