featuring:
Gabbi Patrick
from:
recipe:

Ensalada de nopales
Logan Ave. to Baker to Fairview and turn left to 55 North to 22. Exit Glassell and turn right to the Orange Circle. There's no sign, so look for the black awning and red used brick, then follow your nose is all I'm told…
Where's that darn black awning? Just goes to show, if you want something great you gotta go find it. I drive around the circle again. 'Oh there it is, knucklehead,' and I pull around back. Imagine this… no name on the back door either! Just a really, really cool old school wooden door with a metal panel covering the peep window. 'What's the password?' crosses my mind. The faded brick wall still displays the previous owners name… something Shoes is all I can make out.
Gabbi calls and says 'let's meet at the market.' Down the street is the Old Towne Orange Farmers and Artisan Market (a mouthful in more ways than one!) and she's there shopping for the days meals. It's a cool find, With demos going on all day, outrageous produce, and chatter from all walks of life. Great to see what these artists do to create their plates.
Back to the restaurant and I'm greeted by the initial 'G' and the numbers 141. This is definitely Gabbi's. I walk in and wow! Colorful paintings, high old wood ceilings, masks on the wall, brick throughout. Very cool. 'Let's shoot!'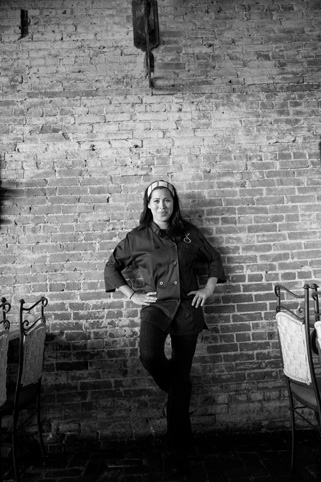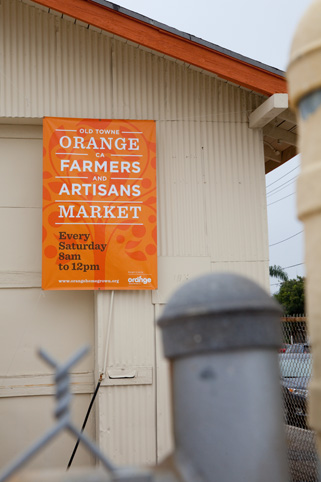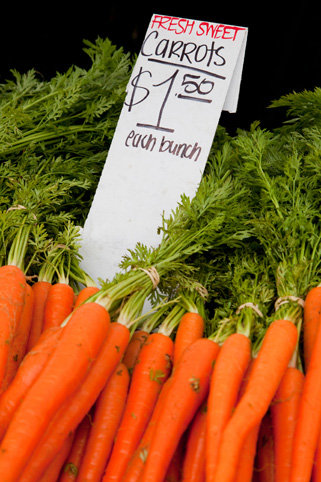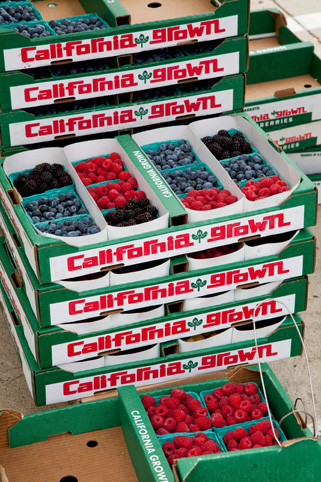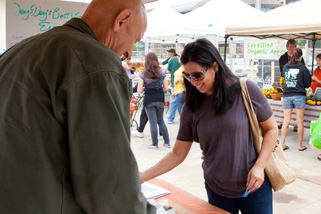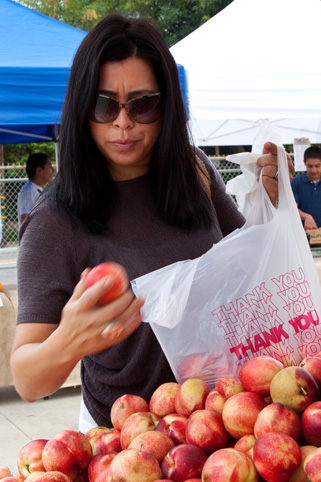 Are you a risk taker? Yes and no. I'm in between. When it comes to my food, if I love it, I will combine ingredients that I think people wouldn't normally do, especially in the Mexican cuisine. In business… I'm pretty conservative. Does that answer your question [laughs]?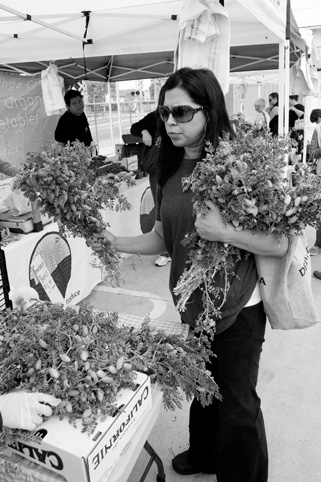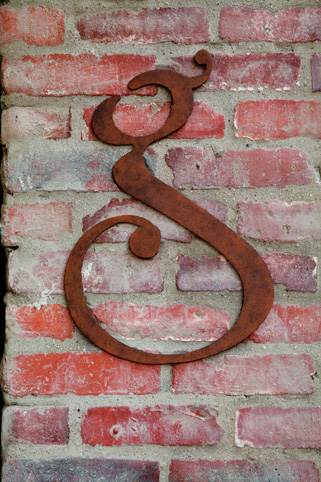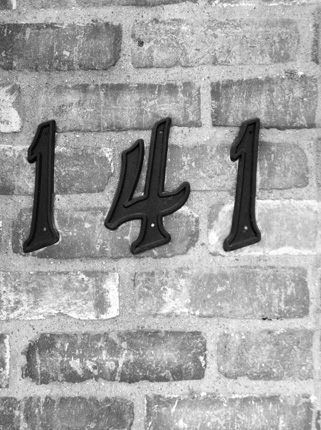 When did food capture you? When i was 22. I used to run my parents restaurant, and that is when it captured me, because it was the unknown for me. I wanted to dive into something I didn't know about.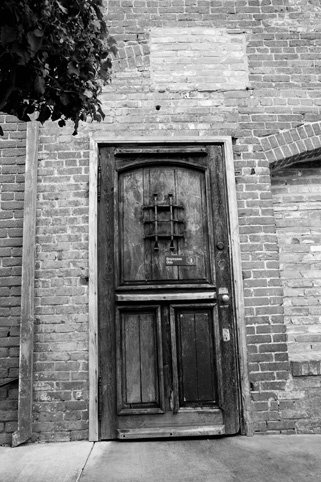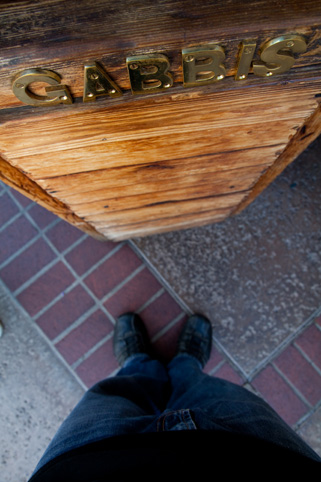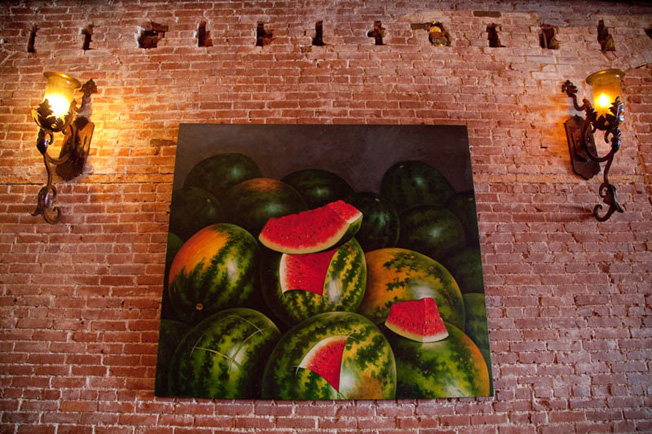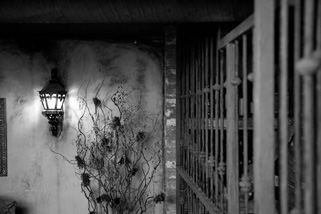 When did you know that food had power? Food always had power. Being from the Yucatán, my family always had Yucatán cuisine, so I already new the power of food when it came to the passion and the family. So I knew the power of it, but didn't understand it, so that is when I decided to go to culinary school. Which school did you attend? I went to UCLA culinary program 23 years ago. It's an extension program.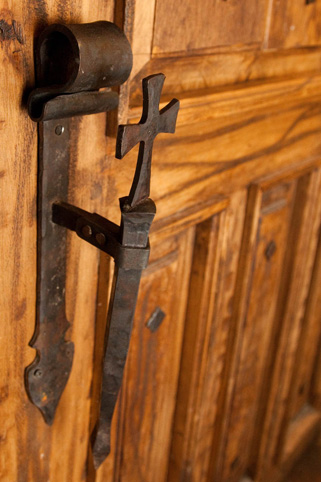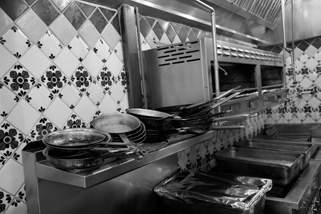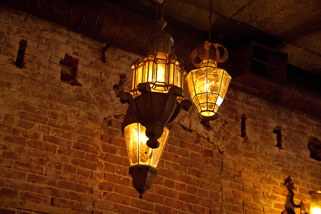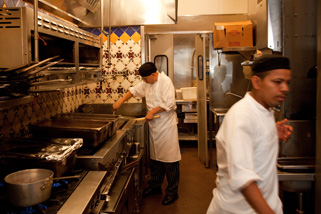 Who is he most important person in your kitchen? Besides me [laughing]? I'm working on it. There are a lot of important people that play an important role in having the kitchen be a success. There's the sauté person, people that shop the farmers market, the creative helpers, the pastry chef that combines and translates my latin flavors into desserts. Like i mentioned, everyone plays a vital role.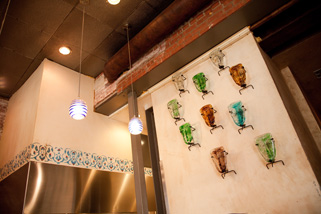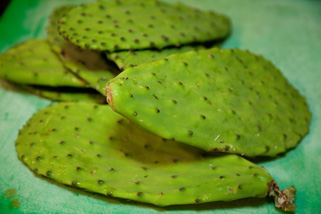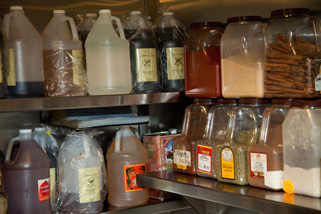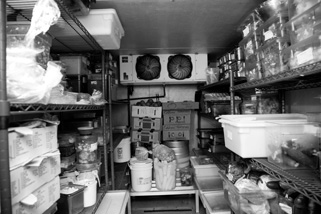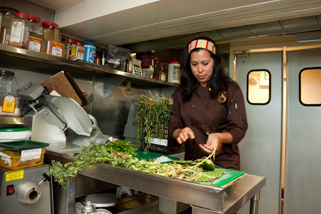 What pisses you off the most? What pisses me off is not being clean. I like all stations to be clean at all times. When I walk down my kitchen it had better look clean and organized. That is my pet peeve. [She looks at Richard, the GM] What else pisses me off? [He answers: 'Oh, I could make a long list.'] I have such a confined space that everything better be organized or it becomes chaotic and nobody can work that way.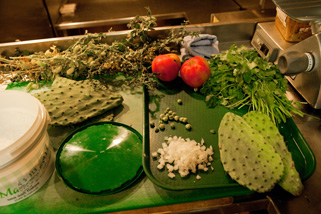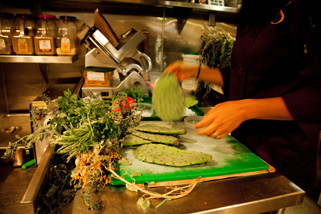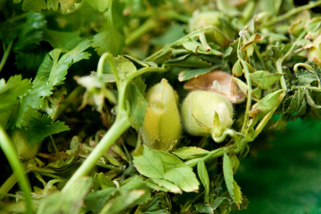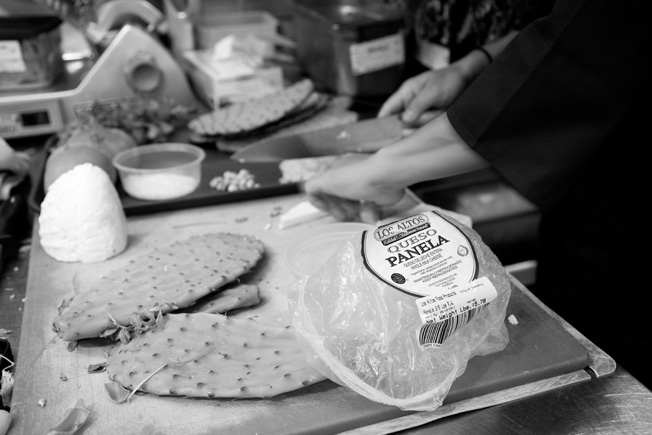 What topic would you talk about if anyone would listen? If anyone would listen [she sips her coffee], I would talk about the Mexican cuisine in this new generation. I would love to talk about the evolution of Mexican cuisine, where it is and where it needs to be. In Mexico, it's Mesoamerican cuisine and I think it's very european. I also think the Mexican cuisine is very complex. Just like French and Italian, Mexican cuisine has its chilis and rubs, there are so many flavors and what I think is a misconception with Mexican food is the tacos and burritos, but that is not what Mexican food is all about. There is so much history and tradition that Mexican cuisine can be some of the most memorable memories that people will have in there life. You mentioned new generation? Yes, I think in the 21st century we are all evolving and I think there are a lot of chefs out there, even 20 years ago, that really understood mexican cuisine. There are very few chefs that are bringing it to there customers, really teaching them what Mexican cuisine is about. That is what I try to do here at Gabbi's Mexican Kitchen, capture it.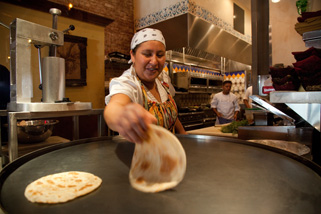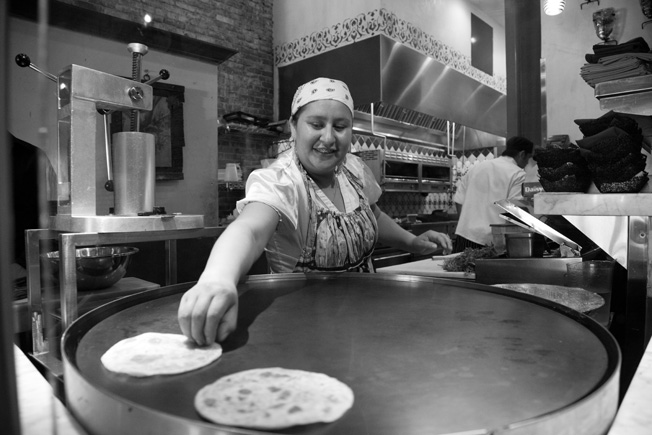 the recipe:
ensalada de nopales
5 oz. grilled nopales (recipe below)
2 tbl. cumin dressing (recipe below)
1 ea. heirloom tomato
4 oz. panela cheese (two 2 oz. slices)
1 avocado
Sea salt flakes to taste
Slice tomato into 3 1/2 inch slices, salt each slice
Layer each tomato slice with a slice of Panela cheese
Top the salad with the Grilled Nopales
Dress the salad
Dice avocado and garnish
grilled nopales
5 ea. nopales (cleaned)
1/4 c. diced cherry tomato
1/4 c. diced onions
2 tbl. cilantro, chopped
1/2 c. lime (juice)
1 ea. Serrano, diced
Clean the paddles
Brush each side with oil, then sprinkle paddle with salt and lime juice
Score the paddles lengthwise 3 times with a knife
Grilled the prepared paddles at med-low, turning them occasionally for about 15 min
Sauté onions and tomatoes, set aside
Let the grilled paddles cool, cut into strips
Combine stripped cactus paddles with onions and tomatoes, add cilantro and serrano mix
cumin dressing
1 c. olive oil
3/4 tbl. ground cumin
1/4 c. brown sugar
1/2 c. red wine vinegar
1/4 tbl. salt
3 ea. garlic
Mince garlic, place in empty bowl
Add ground cumin, brown sugar, red wine vinegar, and salt to the minced garlic
Add olive oil and gently whisk

wine pairing
w/ Organic Wine Exchange + guest wine expert
Alice Feiring says: I'd like to see a white wine with some heft and personality to carry the cumin in this dish. That's why I chose the 2011 Donkey & Goat Sluicebox White Blend.  It could go with a variety of reds.


Alice has been published in most of the glossies in this country as well as the New York Times. She is the author of two books: The Battle for Wine and Love (Harcourt) and Naked Wine (Perseus Books). When not on the road learning about wine, Alice is working on her personal writing, rereading Letting Go or Hudson River Bracketed, and dreaming about a cellar full of Domaine Romanée Conti. You can find Alice on Twitter at @alicefeiring, or her blog The Feiring Line.