featuring:
Green Feast
stats:

16 chefs + 200 guests
8 appetizers + 4 courses
Oh, and 100°
Don't worry, we'll be by the beach, I say to myself. Well you were wrong, self, it's HOT today in San Juan Capistrano. We roll up to The Ecology Center and out jumps the crew, ready for action. If you don't get a tickle in your gut you're not paying attention. Every shoot has it's unknowns and Green Feast is no different. 8 chefs making appetizers for the Eco App Off + 10 chefs for the 4-course dinner. No small feat.
Greeted by a little blue house and the smell of green, the location is unassuming. A heavy wood sign painted with neon green leads the way to the arena as more signs mark the territory. The sweat droplets start to fall as I move into the bio-dome. Excuse me, "geodesic dome." I could use one of these.
Empty and quiet, colorful and odd, The Ecology Center is beginning to grow on me. But just like the heat, there is NO escaping the table for this feast. Knives and forks stand at attention, clear glasses wait to be cooled. Fragrant herbs from the garden and meat on the grill find your nose while your ears pick up chopping in the distance and the buzz of guests arriving. Enough wandering, let's get to work. Remember to enjoy the ride.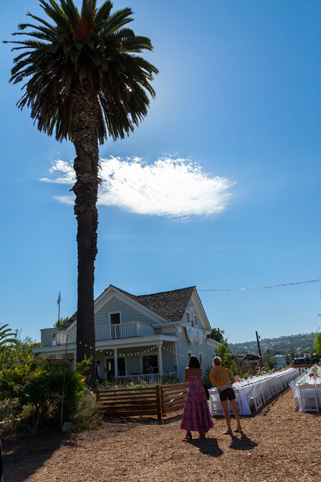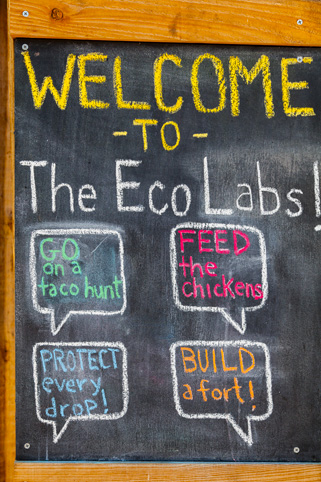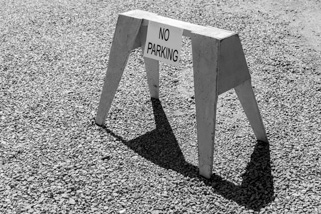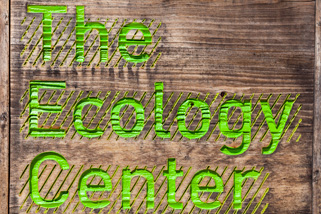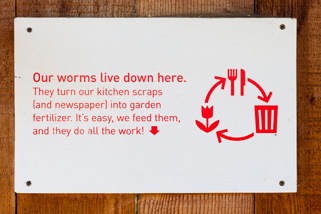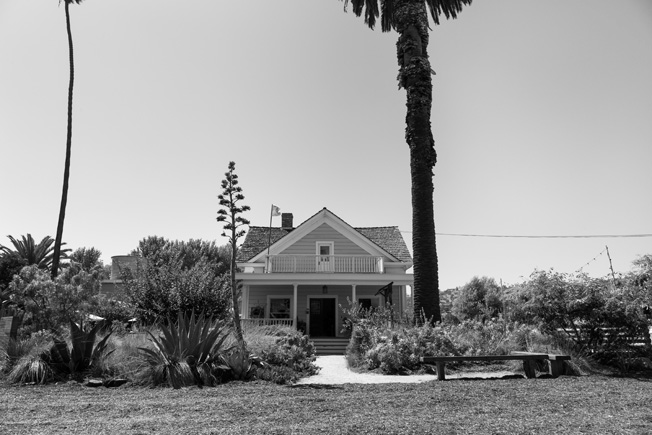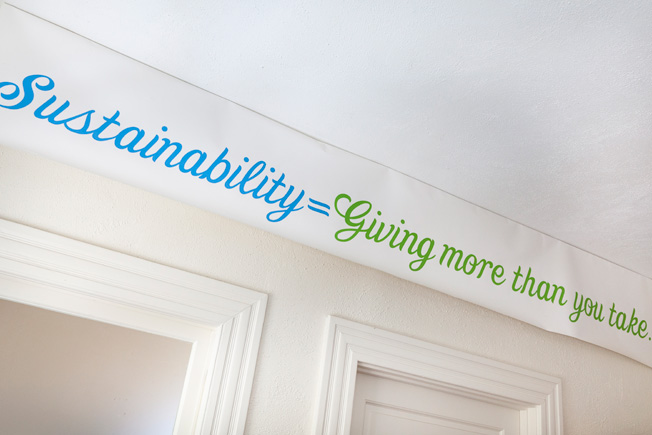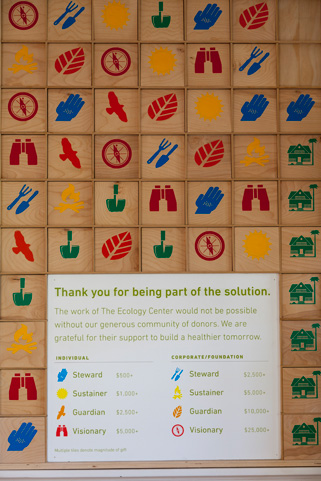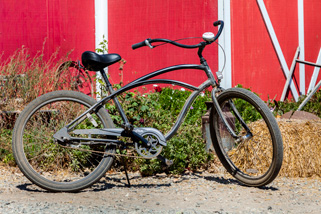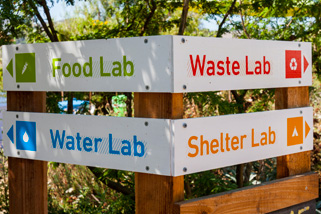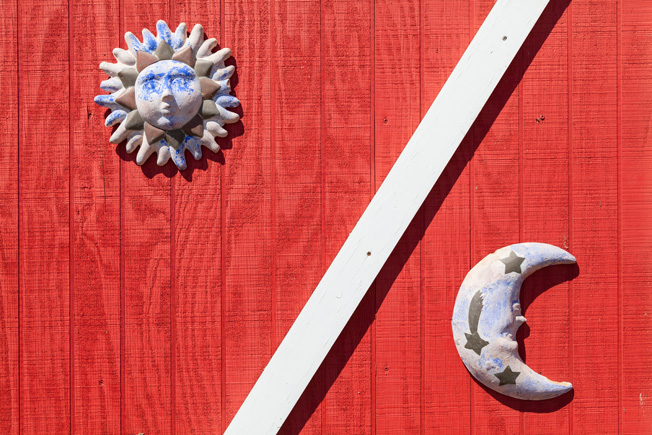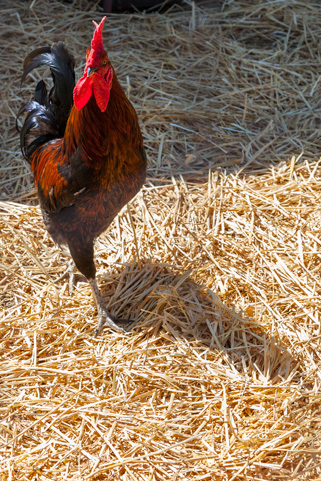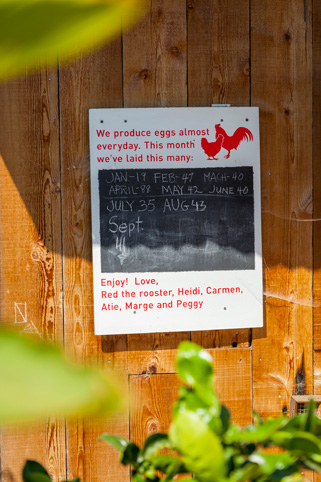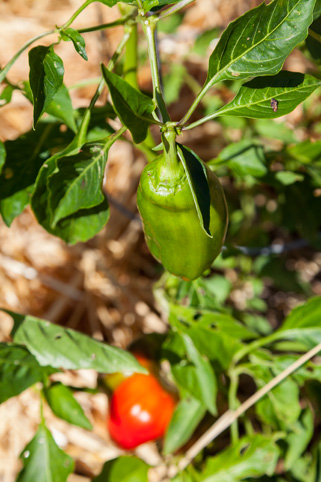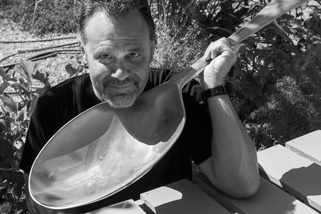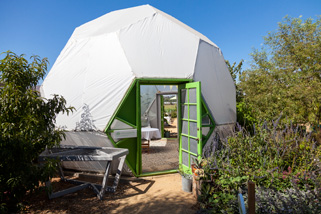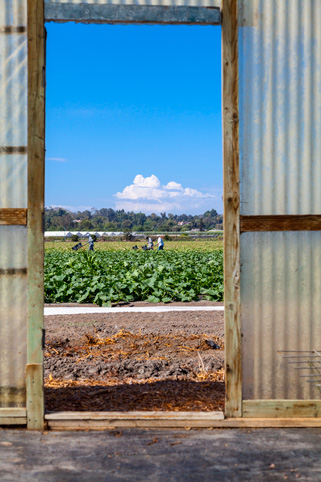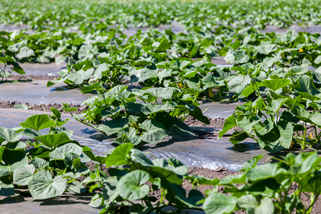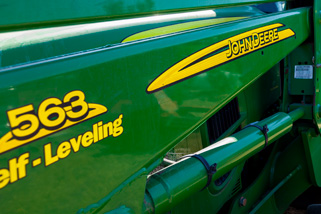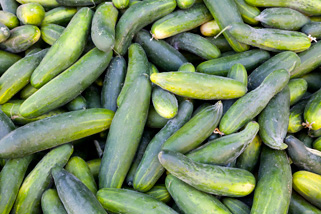 Can we get your name?
I'm Evan Marks, Executive Director of The Ecology Center. We're an eco-education center in San Juan Capistrano that believes that people can make a difference, each and every day.
You've done this before.
[Everybody laughs]
So what's the big deal about where our food comes from?
Well, food allows us to make a positive choice every single day. With Green Feast, for example, every ingredient is sourced within 250 miles, and that's a big deal. Most of our everyday food comes from 1,000 to 2,000 miles away. Think about what those systems look like; big industrial systems, transportation, moving commodity food all over the world to your plate. Does that sound very appetizing?
Not very.
Doesn't sound very good to me, either. Local food is the opposite of that. It's building relationships with local farmers, it's connecting with the people that are preparing it like all these incredible chefs. It's tasting the most exquisite, seasonal food. Seasonal is the secret.
This is tomato season and we eat as many tomatoes as we're able to, then we can them and move on. And then it's squash season, winter squash, and root season and we get into dark leafy greens. That's the wonder of food, that it moves, right? If your menu doesn't change every day, it should at least change every month.
I try to tell them four times a year, at least so we can shoot new dishes.
Four times a year is great, but there's always transition, so why not celebrate what's really seasonal and fresh. Tomatoes are abundant right now but in two, three weeks they'll start fading off.
[To Chad, shooting video] How's he look? He's sweating a little.
[Laughing] I know, it's hot right!?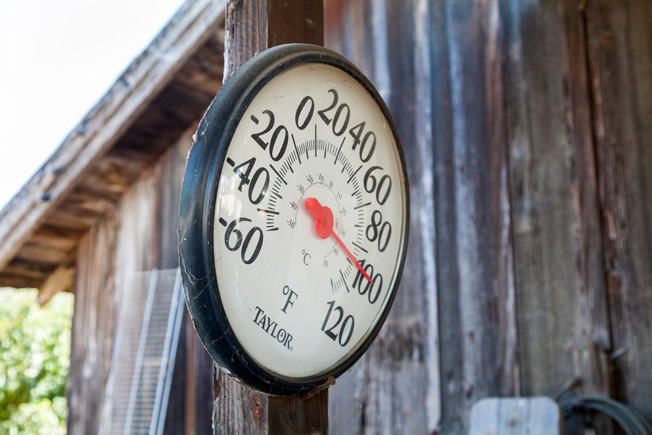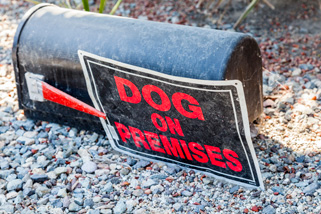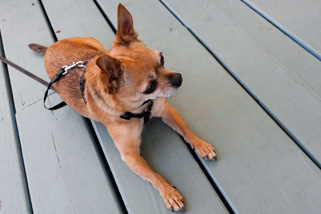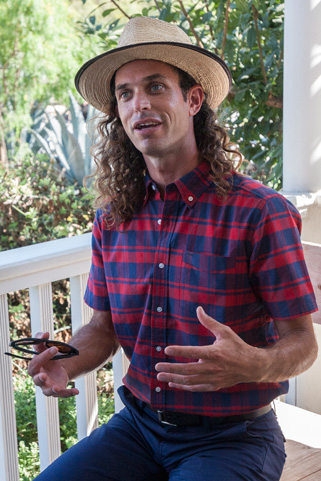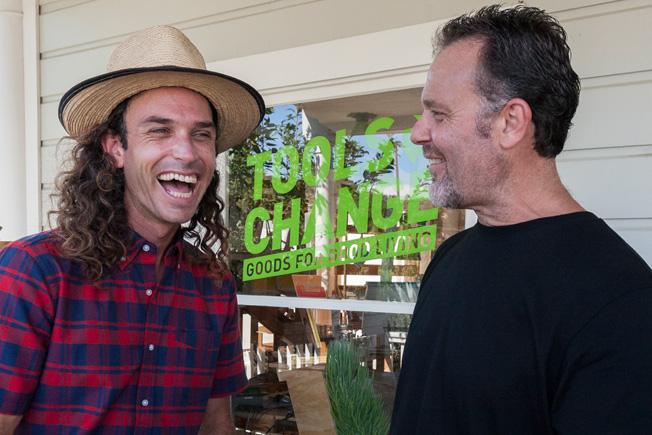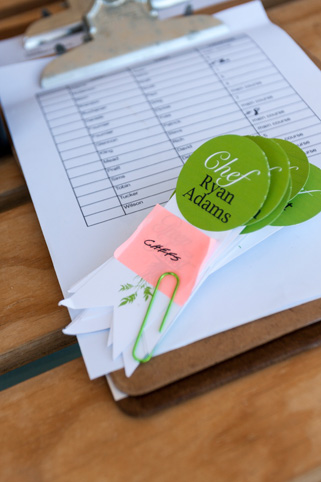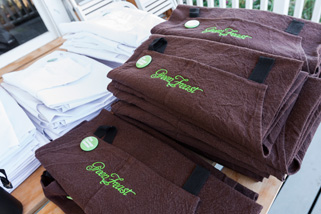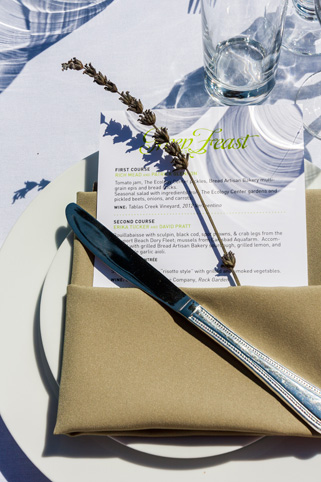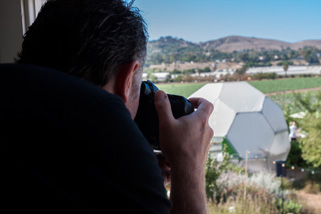 Greg Daniels
Haven Collective, Orange
What's the story of your dish?
We get rabbits from this great farmer named Cheryl at Hidden Haven Farms down in San Diego county. She brings us beautiful rabbits and we made a rillette out of the rabbit meat this time. Serving it on a spent grain crisp from our own brewery in Pasadena. We took the spent grain and dehydrated it, then sent it to my baker at OC Baking and had him make a lavash out of it. We're serving it with a little bit of Drake's Farm fromage blanc and also a local fig jam that we made.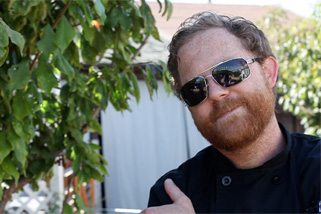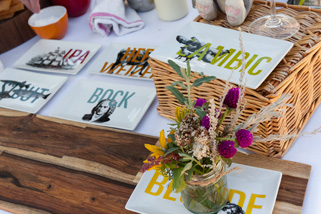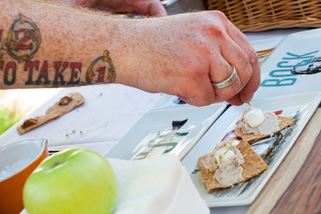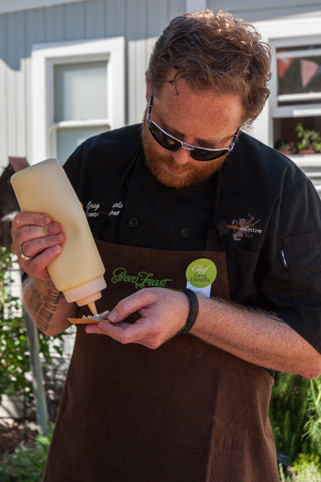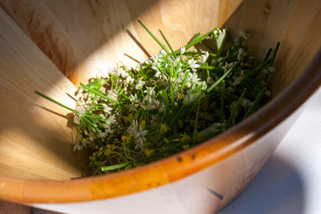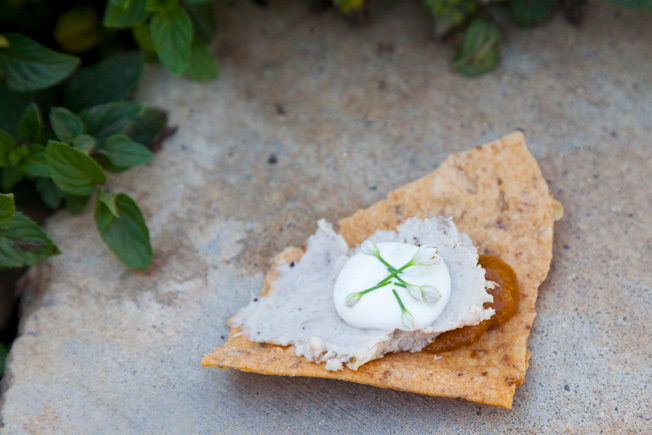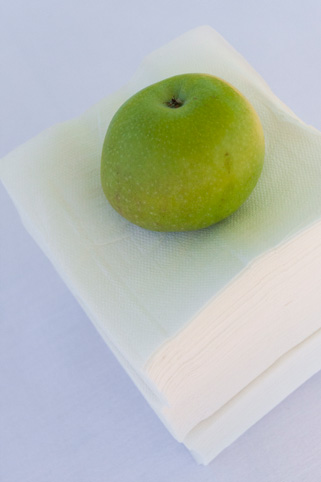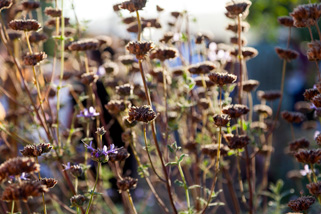 Paul Buchanan
Primal Alchemy, Long Beach
What's the story of your dish?
[Assembling his appetizers] Well I've done charcuterie for the last 3 or 4 years and built a network of local products like local pigs and I try to partner with local growers. Some of them don't even know how to raise the pigs you're asking them to make. You say you want the pigs to have a certain amount of fat and they say "what do I feed them to get like that?" So it takes a history lesson. What do the Italians do? Why are Ibérico hams so good? Why are they so expensive and revered? It's because of how they're raised and fed and how they get exercise. They get to walk between trees to get more acorns and root their food, then they come back to their pen at night.
So armed with that information the local people raising pigs like Cook Pigs Ranch create a dehesa, a swath of land where the pigs can roam, get nuts, exercise. The quality is just amazing, the fat is amazing. You're not raising a pig in 6 months like most commercial pigs. They're not ever in confinements. They eat pistachios and macadamia nuts and tortillas, actually [Laughing]. Or masa. Being well fed and taken care of, it doesn't take anything but a piece of pork, salt, and time to make a wonderful piece of charcuterie.
We're kind of bringing back a tradition that's been lost for a long time. [Pointing to his meat] This coppa is made from the shoulder and spala ham is from the front leg so it's not as fatty, it's more like a traditional ham. We're doing one with pickled radish from Long Beach. We pickle all of our own stuff and cure our own meats. Our bread is from OC Baking Company and our friend Dean Kim, who does a great job. And these are all tomatoes from my garden; last of the season. I've been doing Green Feast ever since it started, 5 years I think. It's grown to a wonderful event. Think I still have the same hat [laughing].
Looks like it.
Except I got the "no GMO" sticker on there now. I like that.
Right on.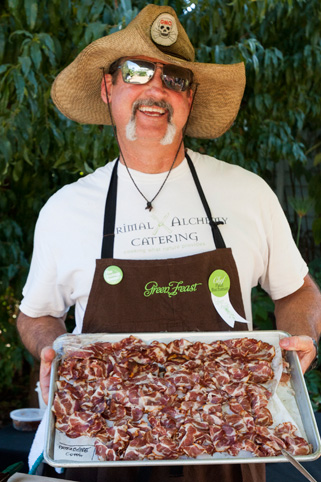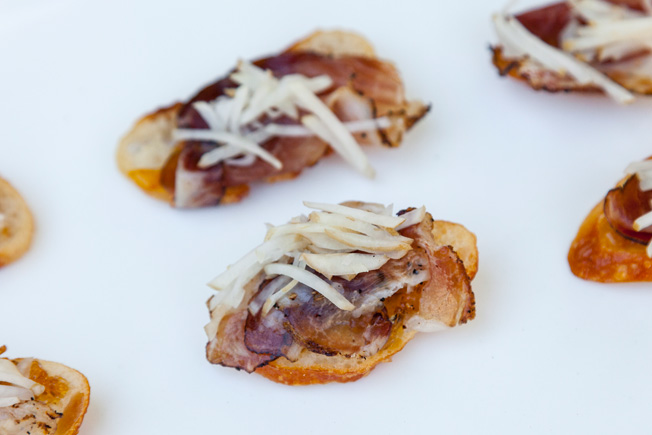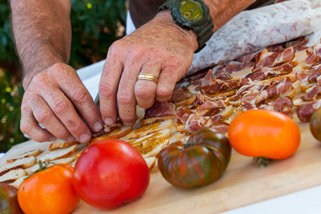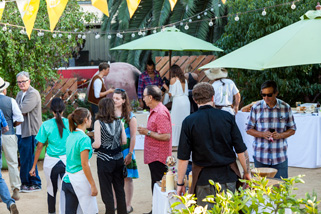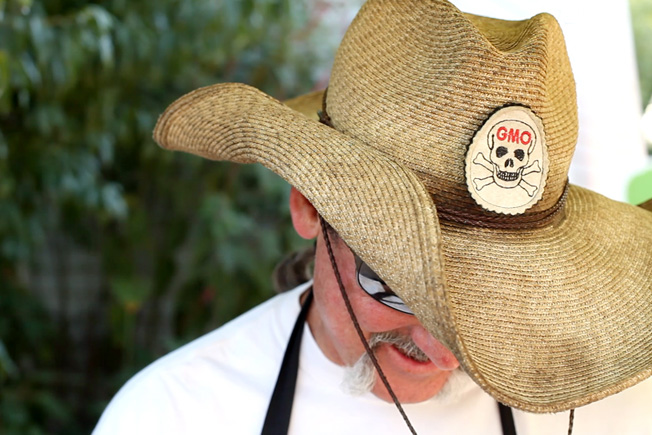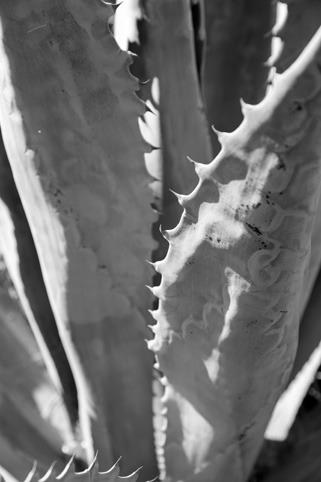 Noah Blom
Arc Restaurant, Costa Mesa
What's the story of your dish?
Pretty much everything we do emulates all sorts of animals. In this style we roasted our potatoes in duck fat, we confit the duck breasts, roast the pork overnight in a bunch of coals, mix in a little quail egg and duck egg into it and finish with a little caviar cream. Air, land, and sea is the understanding behind it. You can have one bite and taste every part of our world. Things that come up in the ground like a potato, to… sorry [He waves his hand above the table]. Can't have a fly near the food [Laughing]. Um, things that grow on top of it like chervil, things in the water like the fish eggs, and things that fly, like the duck.
And we're staying in the 250 mile radius?
Yeah our pigs our local, our ducks for sure, cream… ah, the only thing that didn't make it is the caviar. That we had to source from a little bit farther but that's better for everybody [He smiles]. A lot of love goes into those sturgeon farther away and trying to find a sturgeon off the Pacific coast 250 miles away… I don't think we want those sturgeon [All laughing].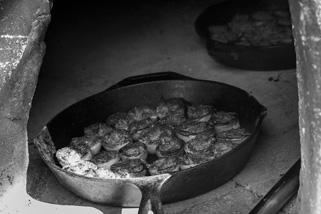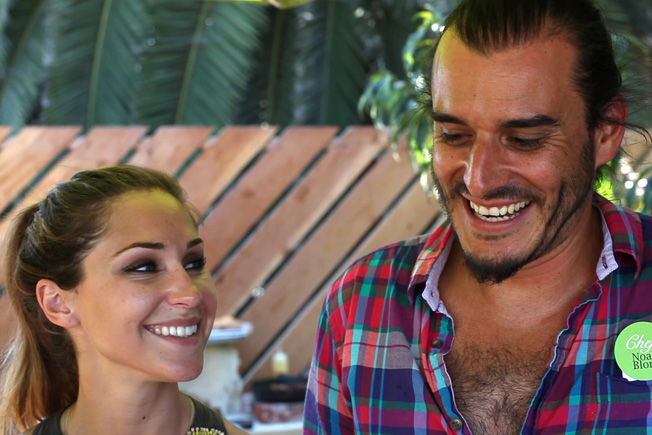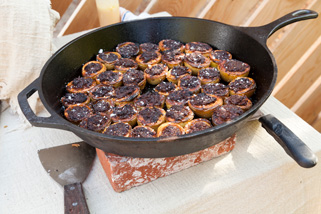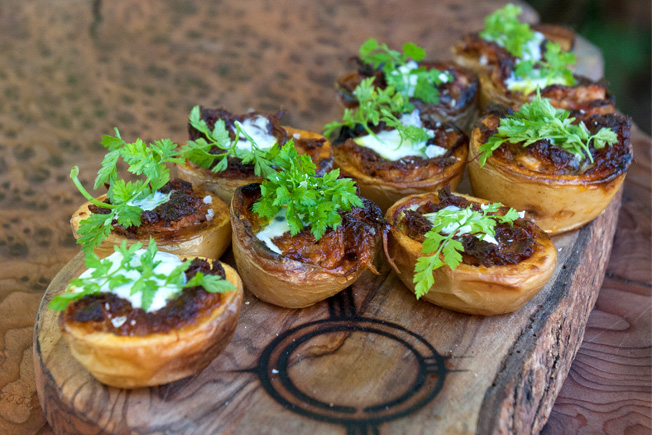 Scott Brandon
Fireside Tavern, Costa Mesa
What's the story of your dish?
We have local Kumiai oysters from Baja California. I was inspired by the barbecued oysters from a little shack in Olema, California, north of San Francisco on the Tomales Bay called Tony's. They do nothing but barbecued oysters and fried fish platters. This place is ridiculous. They serve amazing, local fresh oysters on a paper plate.
So I decided to make my own barbecue sauce using local heirloom tomatoes, onions, garlic, figs, grapefruit. Cooked it all down, low and slow. I got some beautiful cream from a local dairy and beat the shit out of it and turned it into butter. Roasted some garlic and mixed it in. We also made a bacon marmalade with Cooks Pigs bacon pork bellies that I cured for about a week and a half and smoked over cherry wood. Cooked that all down with some wonderful local onions and organic ruby red grapefruit, combined it all together, we threw it on the grill and slapped it together. That's a barbecued oyster.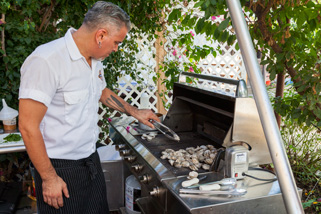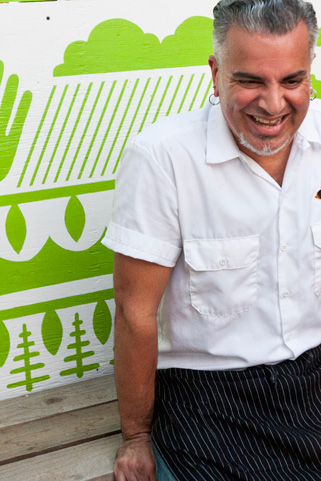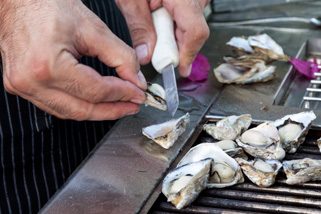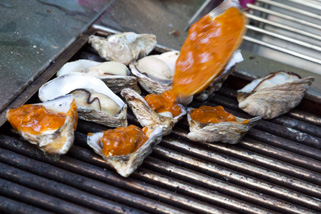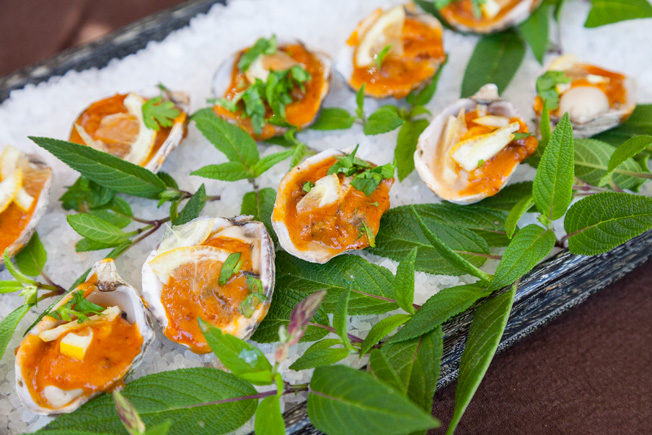 Debra Sims
Maro Wood Grill, Laguna Beach
What's the story of your dish?
We did some lettuce and tomato jam, house-made from organic tomatoes. [A couple leaves her table, one of them saying loudly, "Best in the house. Thank you."] Thank you! [To them, now back to us] And mozzarella cheese from Pomona. We used Paso Robles grass-fed beef that we grilled medium rare and cut it cold. House-made chimichurri and microgreens.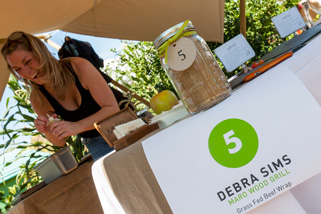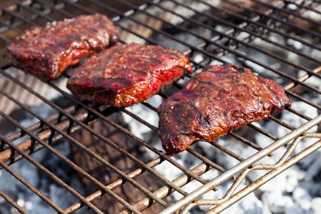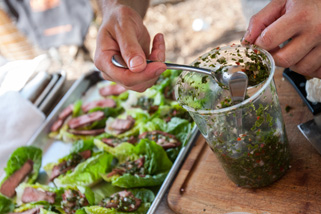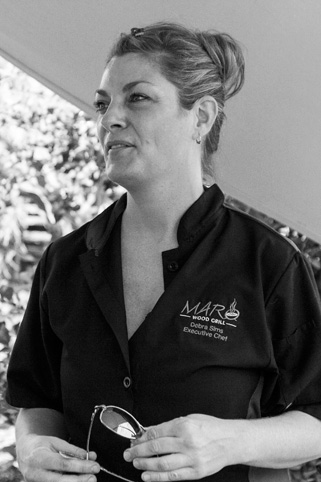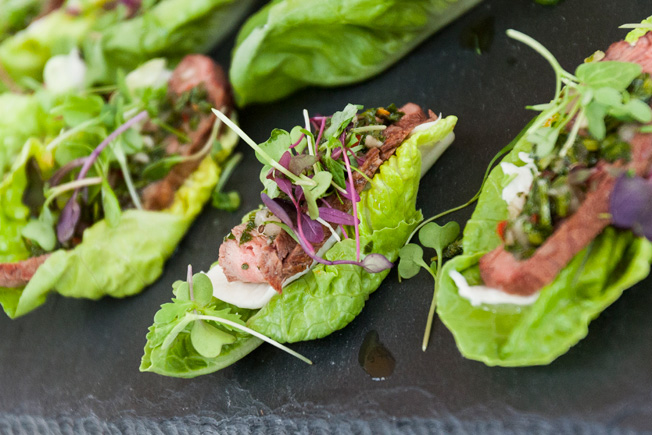 Aaron Anderson
Harlow's Fine Cuisine & Crafted Cocktails, San Juan Capistrano
What's the story of your dish?
Well we wanted to consider temperature. Wanted to make sure we had something our guests and supporters would be happy to eat so we did a cold dish knowing it'd be so hot out today. We also wanted something where we weren't using any kind of utensils and contributing to the waste in America, so this is what we did. It's a lot of ingredients that are in season now and we just brainstormed a gazpacho amarillo, or a yellow gazpacho. It has yellow tomato, yellow bell peppers, cucumbers, some Fresno chilis. We garnished it with Baja California crab, some borage blossoms, microgreens and micro flowers from Fresh Origins just north of San Diego, petite pea tendrils and micro cilantro.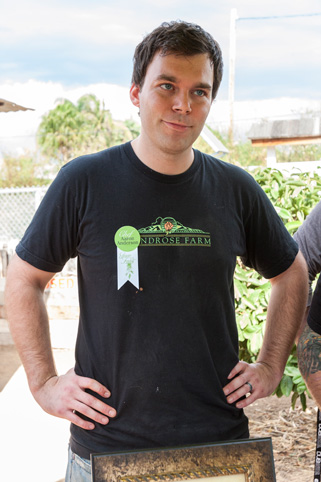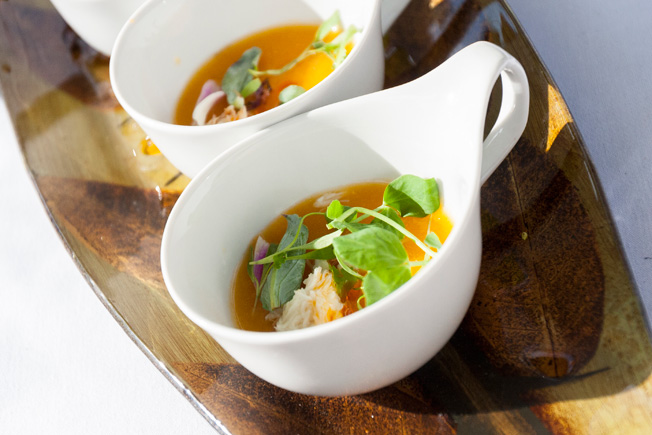 Yves Fournier
Andrei's Conscious Cuisine, Irvine
What's the story of your dish?
[Yves' apron looks like a kilt as he lifts his foot onto a fence, striking a pose]
Oh là là! What are you wearing behind that?
Well I'm French, not Scottish.
[All laughing]
So what's the story of your dish?
What we need to make for Green Feast, for my first cook-off is a beet salad. What we do always is support the farmer. These beets came from the Great Park in Irvine. We have a delivery every week to the restaurant of red, yellow, baby beets. Another farmer I love is Soledad Goats. He's not too far from the restaurant, about two hours, and every Friday they deliver some fresh goat cheese. So beets from the Great Park, goat cheese from Soledad, and organic pistachios. This is our dish tonight. It's what we do at Andrei's every day, every week. Try to support our local farmer. This is what I love to do.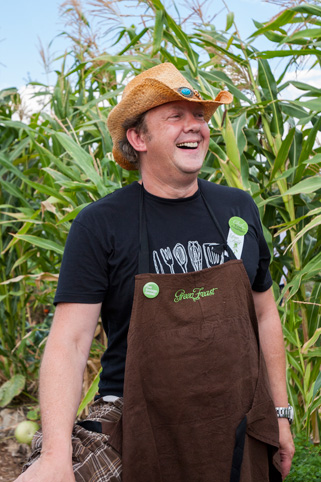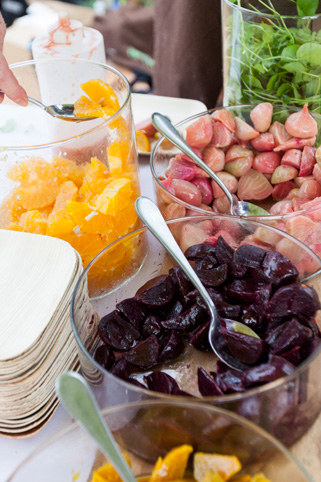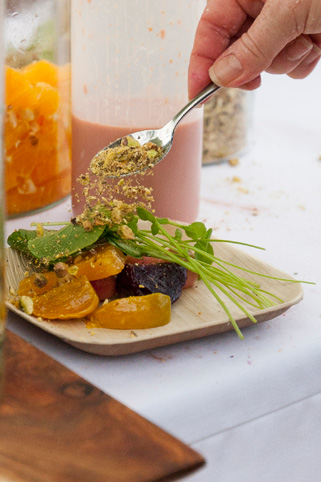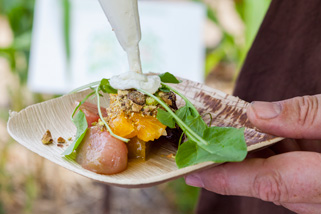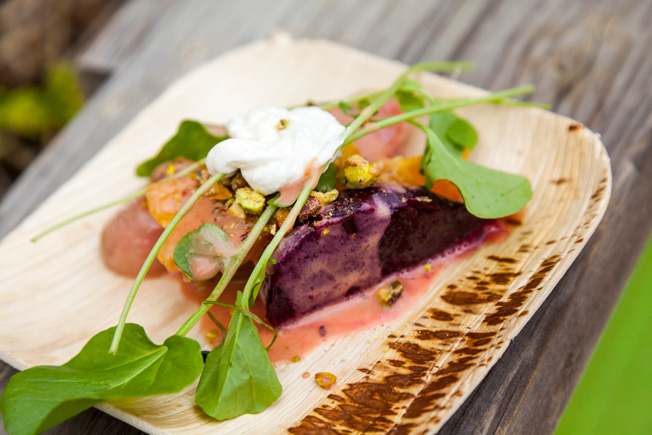 Steve Kling
Five Crowns/SideDoor, Corona del Mar
What's the story of your dish?
We actually did the same dish recently at the restaurant in it's traditional form, French steak tartare. But when I was coming up with this one I wanted to make it light and refreshing, knowing people would be eating a thousand different things today. This is such a cool event, my first time here, and I'm glad to be a part of it.
The actual dish is a riff on steak tartare. It's roasted red beets, treated with just a little bit of olive oil, salt, and pepper. We roast and then grind them, essentially, so it resembles the consistency of steak tartare. Then we put a piece of Weiser farm melon that's been melon-balled out and cut in half and placed on top to resemble a quail egg. Also some local goat cheese creme fraiche from Drake's in Ontario and local bread. It's a pretty simple little bite.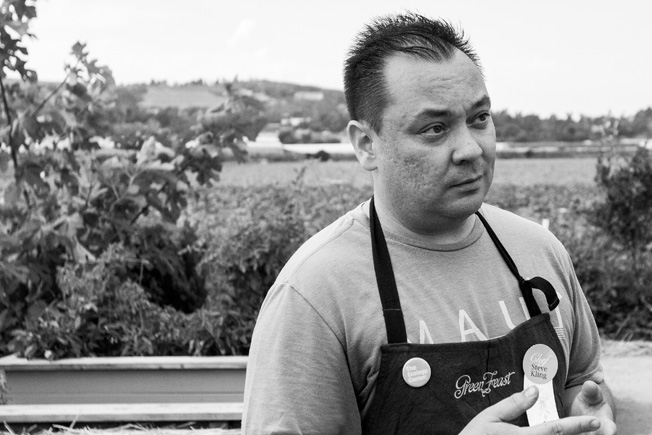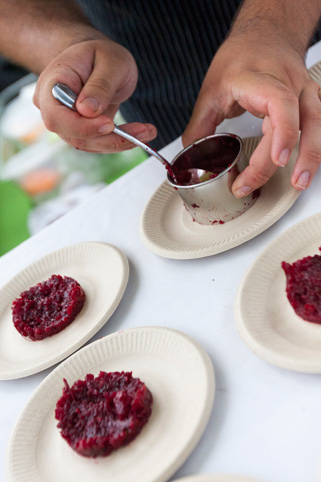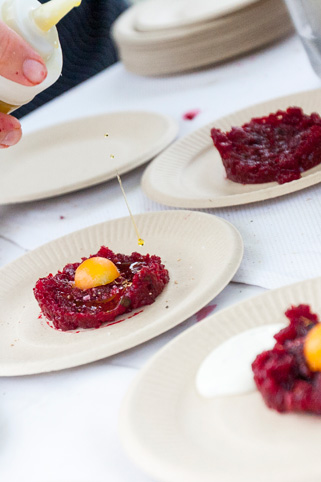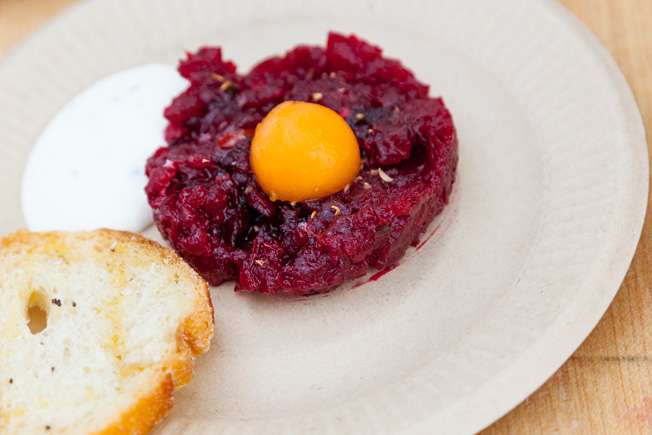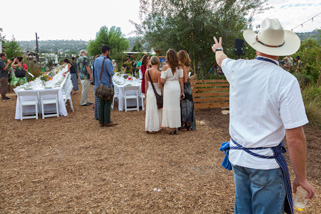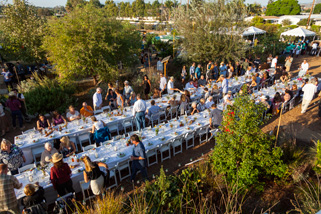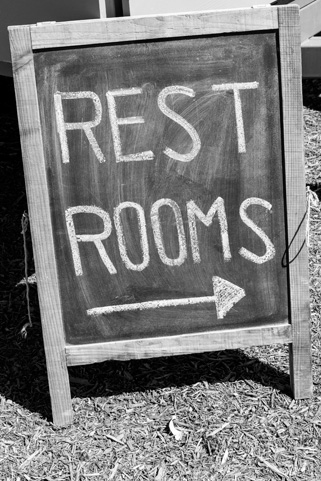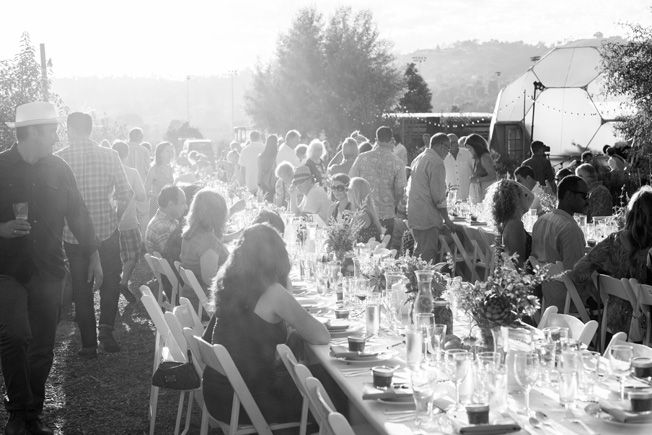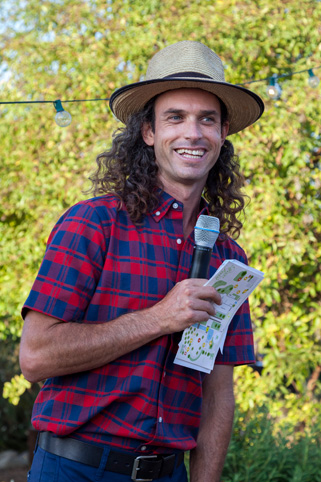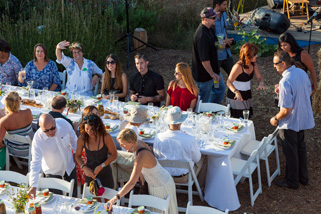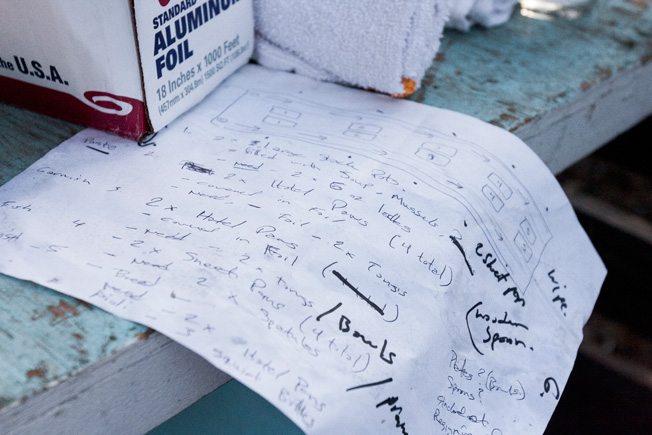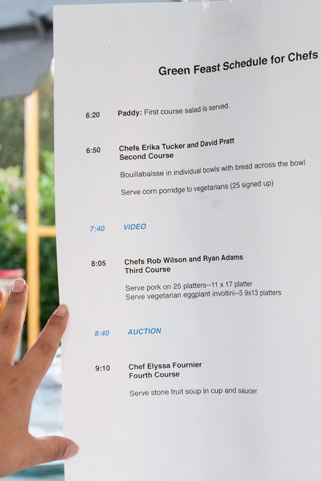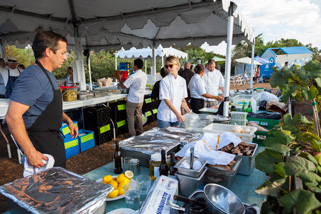 Patrick Glennon
Santa Monica Seafood, Dana Point
Matt Tobin
True Food Kitchen, Newport Beach
Rich Mead
Canyon Restaurant, Anaheim
So what's the story behind your dish?
Paddy: Well I've been a part of Green Feast every year since day one. Some of the chefs were a little "spicy" that first year and Rich said 'Dude, I need help with these guys.' So we *bang bang* got them organized quick and I became part of it on the big side. So this year—well, there's never anyone to take care of the vegetarians—so they asked me. I've been a vegan for some of my life so we're doing the food for the 25 vegans that are here tonight, and we're also doing the salad.
Rich Mead, who's not here—he's doing Alex Weiser's wedding—and Matt and myself are doing the salad. Rich has scoured the Santa Monica's farmers market for the last two weeks getting cipollini onions, cucumbers, cauliflower. We've pickled about seven different vegetables from different farmers we work with at the market and Matt got the salad from Kenter Canyon Farms, a local grower that's just loved by chefs. They make incredible mesclun, wild arugula and different things we're using today and the cucumbers and heirloom tomatoes are from South Coast Farms. The salad is actually, what we'd call in French a composée, a built up salad of many different elements. Chef Matt was foraging around, what else did you get today?
Matt: [Pointing] We got some apples from the trees about 20 feet behind you. Some oranges from the tree that's about 50 feet off to the right, which is one of the things I'm so excited about.
P: Yeah we actually made the vinaigrette from the oranges at this farm.
M: We were texting back and forth yesterday how excited we were about this event. It's things like that, not only being able to come here and please these great guests, but to work along side these talented chefs and use the food that grows so sustainably and abundantly in our own backyard. This is something I'm proud to be a part of.
P: You know, I invented the Eco App Off to try and get the local chefs, as they're making a recipe and thinking about color, flavor, cost… to also think about local, organic, and being properly sourced. If we can get the chefs that come through this event to bring back that Green Feast way of thinking, we'll have incredibly impacted our local world. Our local farmers, fishermen, and ranchers. I mean, most of the chefs here didn't know Cooks Pig Farm existed, now they'll be buying from them and getting killer pork products. Every year another chef brings to the table another beekeeper, another farmer, another fisherman, and it goes into a list that's available to any chef that wants it.
All the young modern chefs went to school and learned what I'd call tweezer techniques and foam techniques. That's great, but they didn't learn how to buy. They never met a fisherman. They buy fish pre-filleted from companies like ours, Santa Monica Seafood, and we do a great job with it but they can't work with the whole fish. Give them one and they're messed up.
We're just trying to get the chefs back to local ingredients. If you look at a Caesar salad you've got 35,000 carbon footprint miles. Imported olive oil, commodity raised lettuce, imported anchovies. We have anchovies here. Make your own, salt them yourself, be creative. Go above and your food will be better for it. Your restaurant won't be an environmental disaster like most restaurants are… with all the commodity stuff they bring in and chemicals they use to clean the dishwashers. They're complaining about a shortage of oysters and they're the ones acidifying the oceans with their dishwashers. The chemicals go down the drains and they say "there it goes to the Wizard of Oz." This event brings awareness, that's why I love being here.
I don't even know if you answered the question but that was pretty damn good! Let's go find that orange tree.