featuring:
Jamie Gwen
from:
recipe:

Farro risotto w/ truffled mushrooms
Exiting off the 73, I made a right somewhere, another right, then another. A quick left, another right, backed into a space and turned off the car (good thing, I usually forget). It's a nice place, surrounded by trees on both sides of the walkway leading up to Jamie's kitchen. The front door. Black. Home base. I knock knock knock.
"Hello. Just a second," from behind the door, probably bracing themselves for the whirlwind about to enter. Hugs with Lana and then a search for Jamie. I follow the sounds of chopping just out of view around the corner and cruise into the kitchen. Good to see you, Jamie! xoxox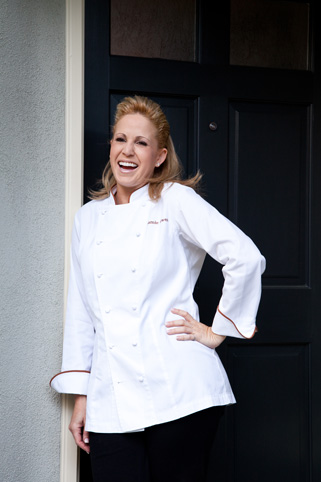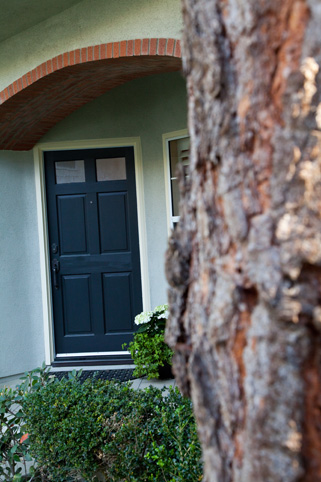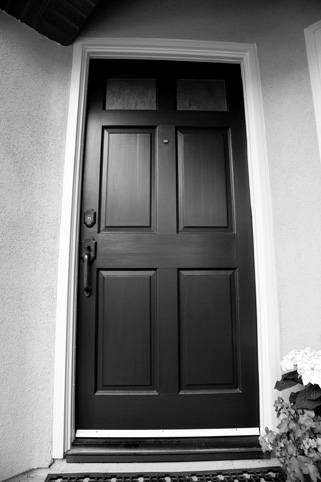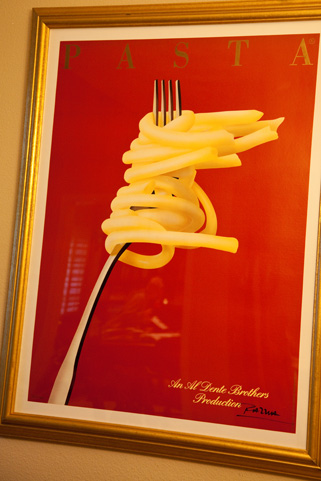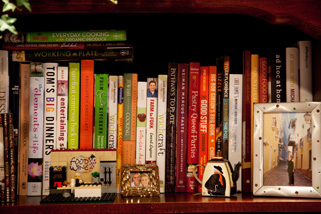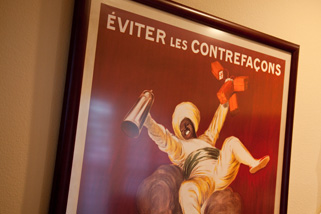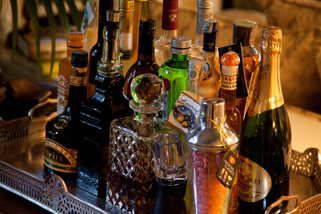 When did food capture you? As a little girl, my mother's food captured me. I remember sitting on the counter watching her cook. So I have always had a connection and I've always loved food. It has been a tremendous blessing to able to share what I love, teach what I love and convey my passion on TV and the radio. We say on the radio that "this is culinary church… and we go every Sunday morning!"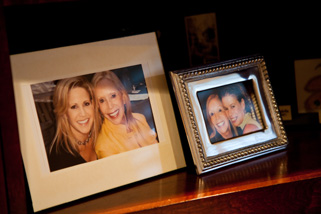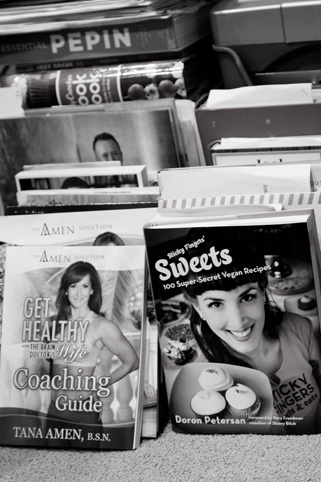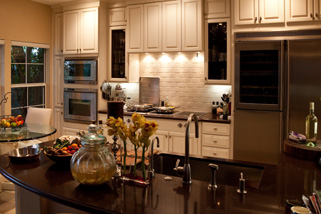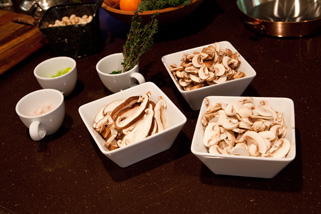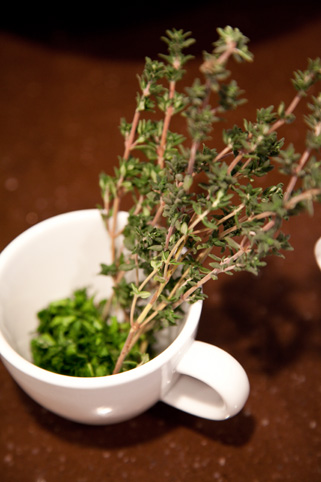 When did you know that food had power? Food has tremendous power. You're still here aren't you? They always say that a way to a man's heart is through his stomach, I believe that a way to a man's heart is through his heart… but his stomach helps! I think you can create incredible experiences and even better memories through food. I have used that as the culprit for occasions, for making memories, for gatherings of friends and family, all of them indelible. And that proves that food has power.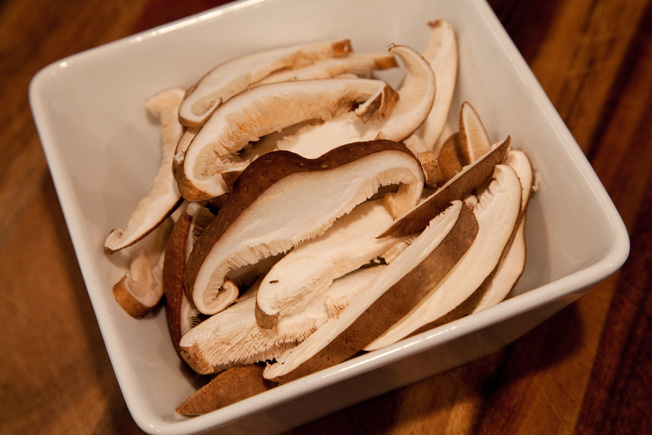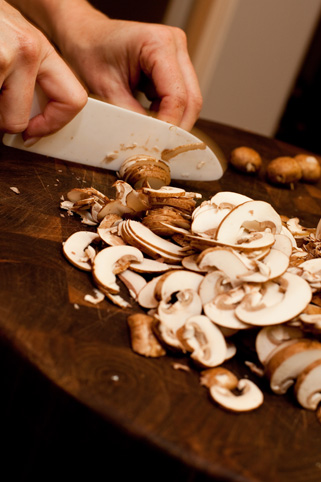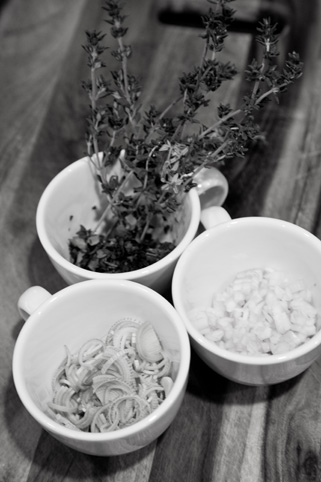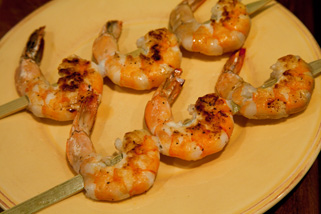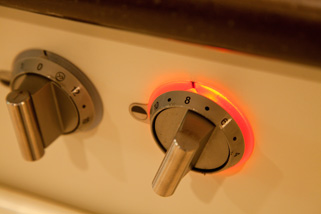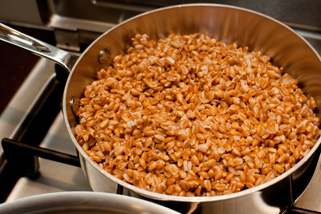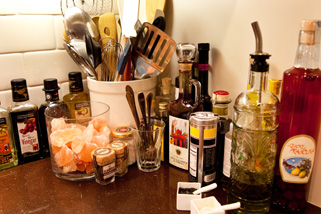 How has radio helped your career? It certainly has given me a place to babble! It's a wonderful outlet. I believe there is a freedom to radio, different than television. Having had 15 years in TV and we celebrate 12 years on the radio this year, there is a vanity and a self consciousness that lends itself to television that you don't have to worry about on the radio and I love the freedom of that. I love the self-expression. I love wondering who's out there listening and where they are or what they're doing or how they're relating to the conversation. Lana [Jamie's mom, business partner and executive producer] and I have a lot more conversation on the radio and we are getting tremendous feedback on the content. The value of what we share is really resonating and that's brilliant to me. And you can wear your bunny slippers on the radio [laughing].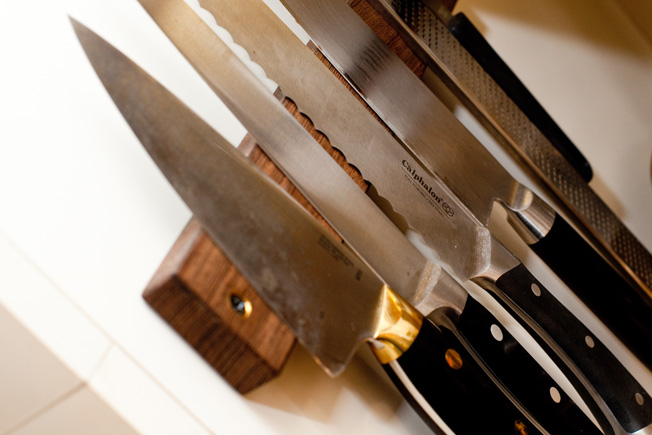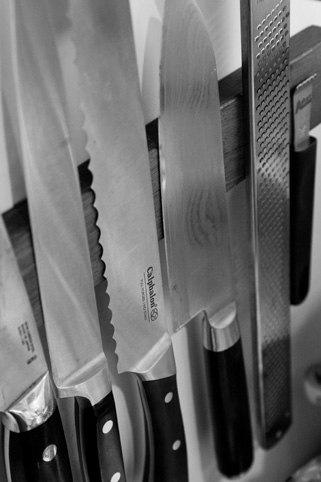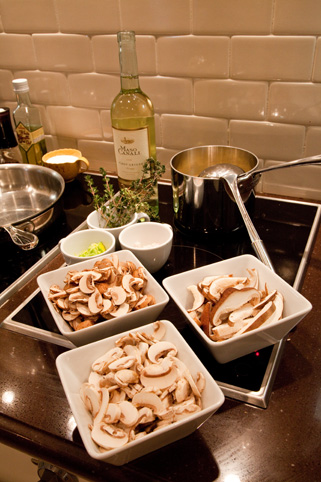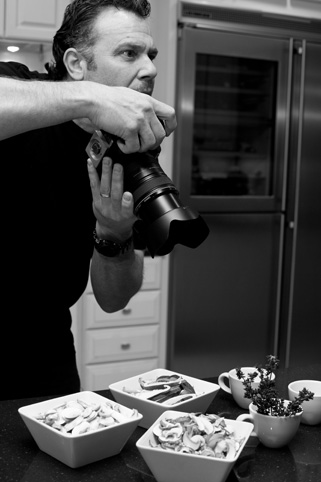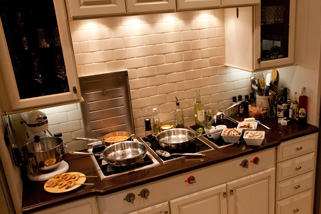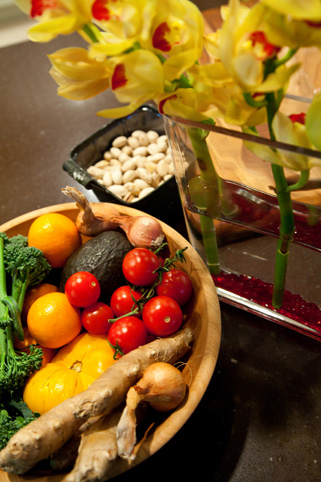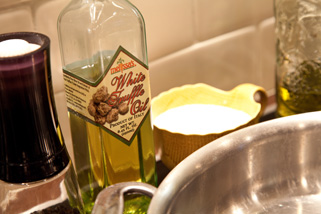 Who do you most admire in the world of cooking today? I have a tremendous fondness, and always will, for Emeril Lagasse. He was my first very real culinary mentor aside from my mom and he's been a very loyal friend. I've learned a tremendous amount from him as a person. He's always given back, he is very committed to the camaraderie of chefs and banding them all together. He has built an incredible empire based on loyalty and commitment. And he's a damn good cook. There's love in his food and that's why it tastes good.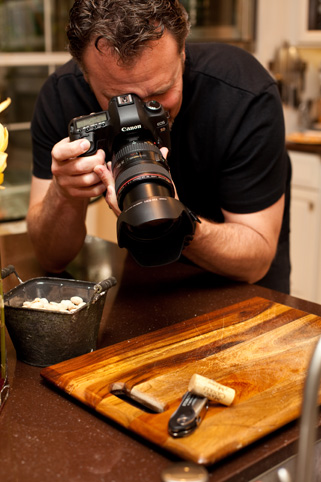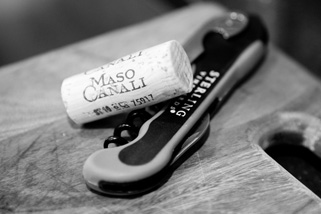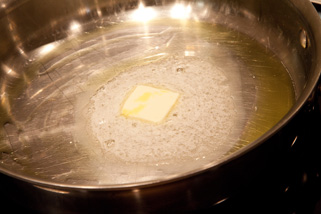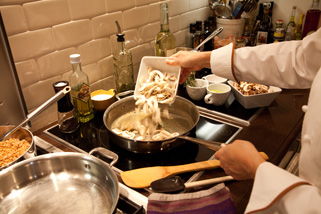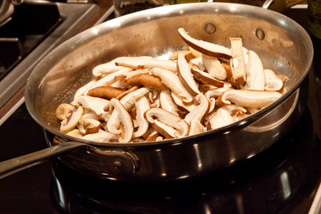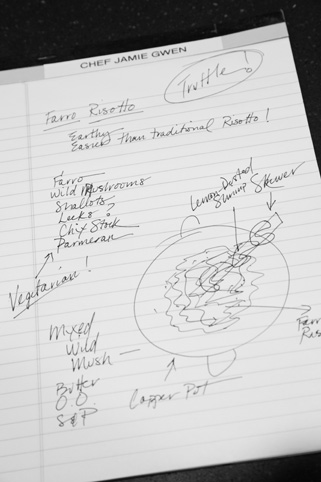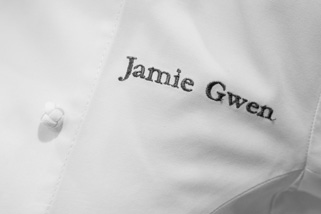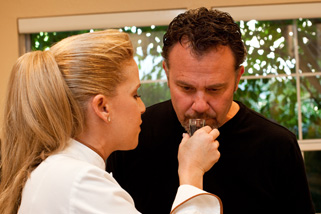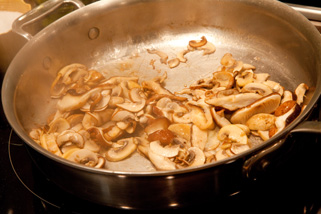 Does not having a restaurant have consequences? Yes, we have talked about brick and mortar. I would love to have something that is my own and I think it would be very valuable. I think that having a restaurant gives you roots and I hope that it will be good for business.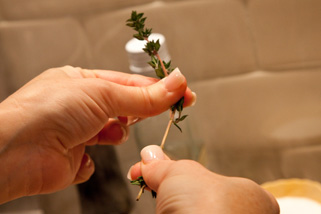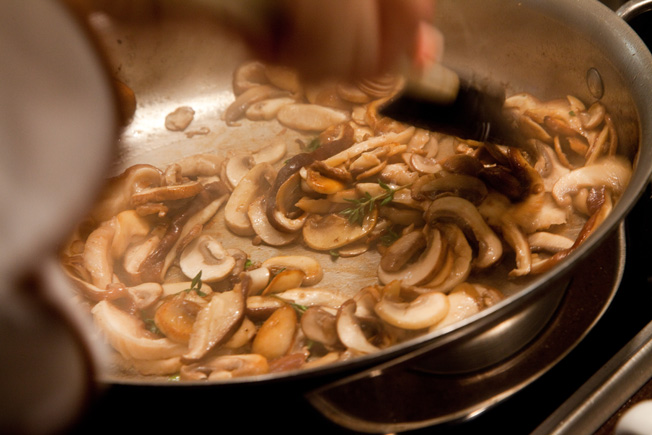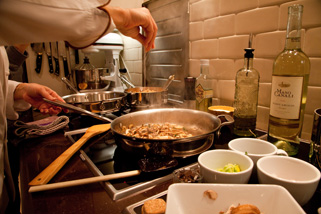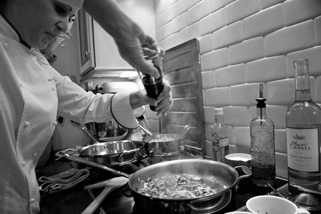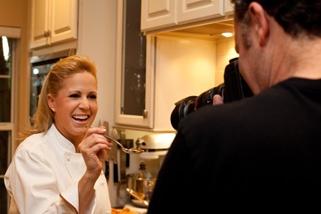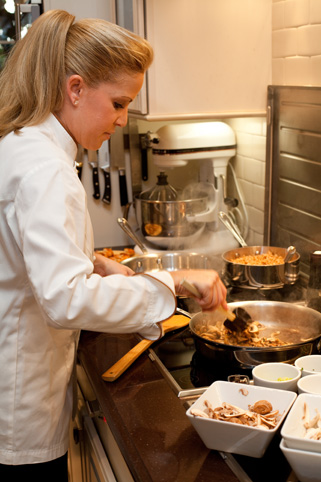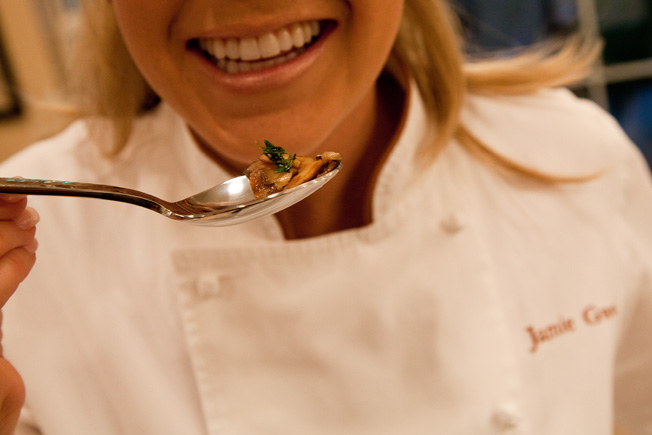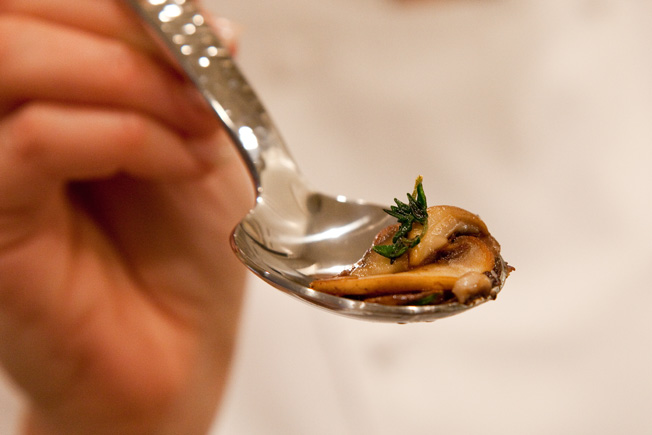 If you had 10 minutes with a top chef, what would you do? Stroll a farmers market? Take a lesson? Sit down down and discuss secret recipes? I would definitely sit down face to face and get as much as I could in the 10 minutes. I would definitely ask for secret recipes. What kind of butter, what kind of salt, the secret ingredient. Charlie Palmer puts a drop of lemon juice in most every dish you taste in any one of his dozen restaurants across the country, but you wouldn't have known that if you weren't in his kitchen. That was some of the most valuable insight I have ever learned! Just think… to have sat down with Julia Child for 10 minutes.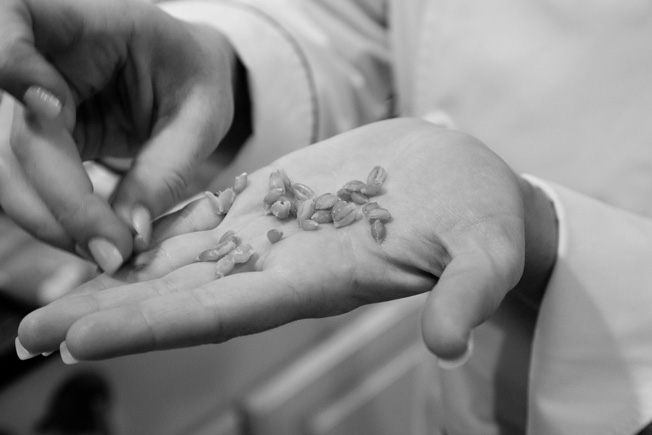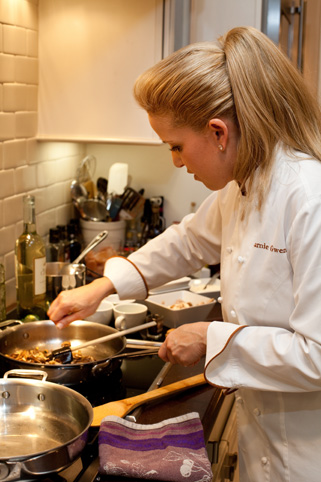 the recipe:
Creamy & quick farro risotto w/ truffled mushrooms & grana padano
Serves 4 // Jamie says: "I am slightly obsessed with farro; in salads and soups and as a delectable and healthy side dish with fish, pork or chicken. The fabulous thing about this Farro Risotto is that you don't have to stand and stir for 30 minutes to create creamy goodness... and it reheats beautifully (which traditional risotto can not say for itself!)"
1 c. farro
5 c. chicken stock
3 tbsp. unsalted butter
2 tbsp. olive oil
Kosher salt and freshly ground white pepper
1 small shallot, minced
1/2 c. dry white wine
1/3 c. freshly grated Grana Padano or Parmesan cheese
Mixed mushrooms – shitake, crimini, porcini – fresh or dried (and reconstituted) and sautéed, for garnish
Truffle oil
Freshly chopped chives or parsley
Soak the farro in cold water to cover for 20 minutes. Drain and combine with the chicken stock in a medium, heavy saucepan. Bring to a boil over high heat, then cover and reduce the heat to a simmer. Cook until just tender, about 15 to 20 minutes. Drain the farro over a bowl so that you can reserve what's left of the cooking liquid, and set both aside.
Rinse the saucepan and add 2 tbsp. of butter and 1 tbsp. of olive oil over medium heat. Add the shallot and cook until translucent, about 3 minutes. Add the wine and simmer until reduced by half, another 5 minutes or so. Add the farro and cook for 2 minutes, stirring occasionally, until heated through. Fold in the Parmesan, adding enough of the reserved chicken stock to get a slightly creamy consistency. Fold in more Parmesan and season with salt and pepper.
In a separate sauté pan, using the remaining butter and oil, sauté the mushrooms over high heat until tender and caramelized on the outside. Season with salt and pepper once the mushrooms are cooked.
Spoon the risotto into bowls or onto plates and top with mushrooms and a drizzle of truffle oil. Garnish with parsley or chives and serve. Or, cover and reheat gently before serving, adding more liquid as necessary.
Recipe Courtesy of Jamie Gwen, 2012 chefjamie.com

wine pairing
w/ Organic Wine Exchange + guest wine expert
Alice Feiring says: Hard to resist going to Tuscany for this. Try the 2011 Casina di Cornia Rosso Toscano or splurge up and go with the Chianti. Just beautiful wines and marry especially well with the mushroom meatiness in the dish.


Alice has been published in most of the glossies in this country as well as the New York Times. She is the author of two books: The Battle for Wine and Love (Harcourt) and Naked Wine (Perseus Books). When not on the road learning about wine, Alice is working on her personal writing, rereading Letting Go or Hudson River Bracketed, and dreaming about a cellar full of Domaine Romanée Conti. You can find Alice on Twitter at @alicefeiring, or her blog The Feiring Line.