featuring:
Jason Quinn
from:
recipe:

Crispy pig head torchon
Exiting 4th street, we turn left and head towards beautiful downtown Santa Ana. Find a great spot directly across from Playground and the first thing you see is that cool façade—the sign literally bending around the building. We enter… a nice space, open, with lots of windows that wrap around too.
There's a lot to look at once you're inside. Hand-written notes scribbled on the walls over the bar. "We don't serve ketchup" is humorous. They even pay tribute to their produce company, Melissa's. There is a line drawing of a cow, sectioned off with cuts like a paint by number kit, and a zillion shiny taps and more chalk fill the bar wall.
Hand shakes with Jason, let the show begin.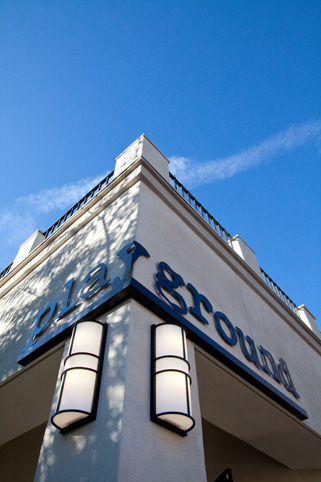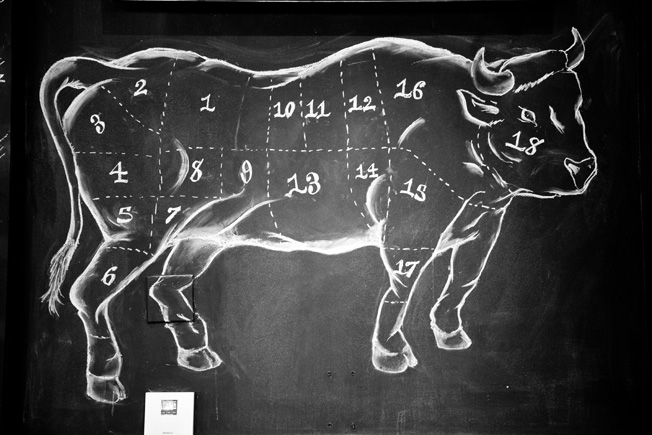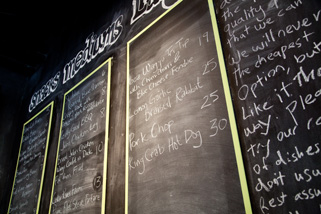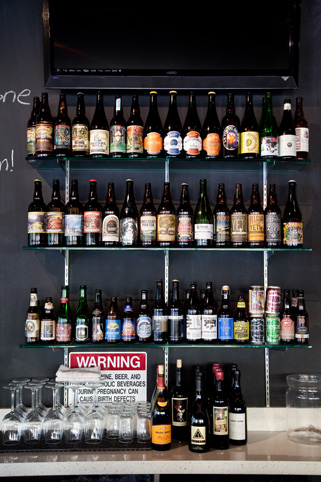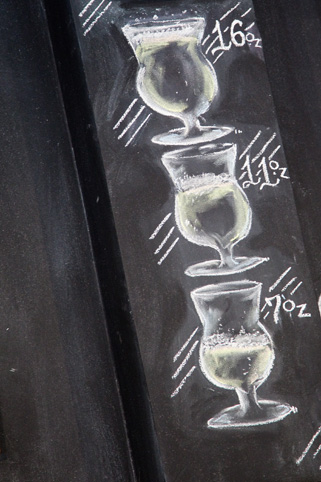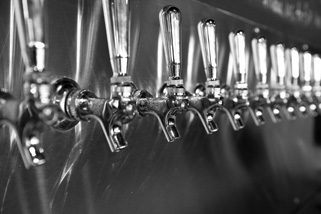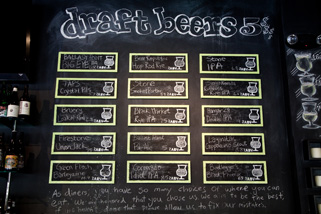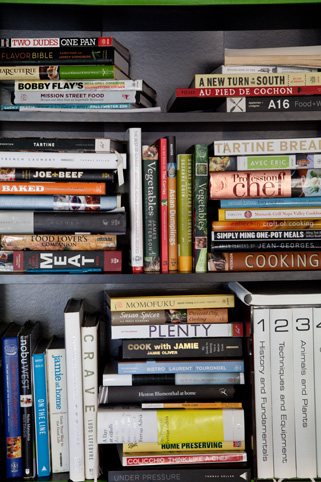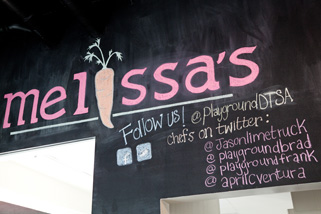 Are you a risk taker? I tell the home cooks all the time that cooking is not hard, you just can't be scared of anything. The worse thing that can happen is you're going to over salt or burn something, you may even get a little sick if you undercook, but it's not the end of the world. Absolutely we are risk takers. We change our menu everyday. [Jason looks at his phone] It's 10:10 on a Friday and we don't know what our menu is tonight yet. There will be something that happens and we don't know. I say that's pretty risky. I like to challenge people. I will bring in a product that we never worked with before and say whoever comes up with the best dish gets their item on the menu. Could be octopuses, a certain fish. Whatever.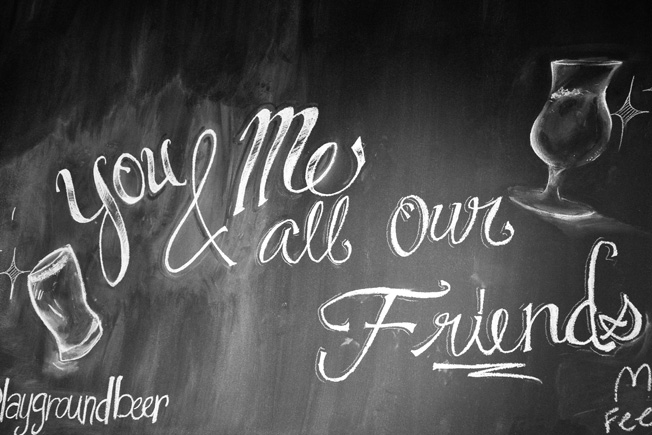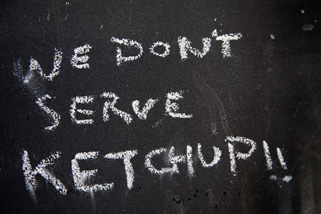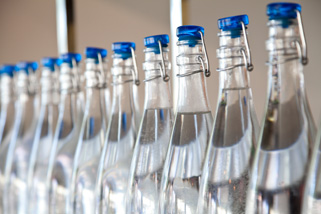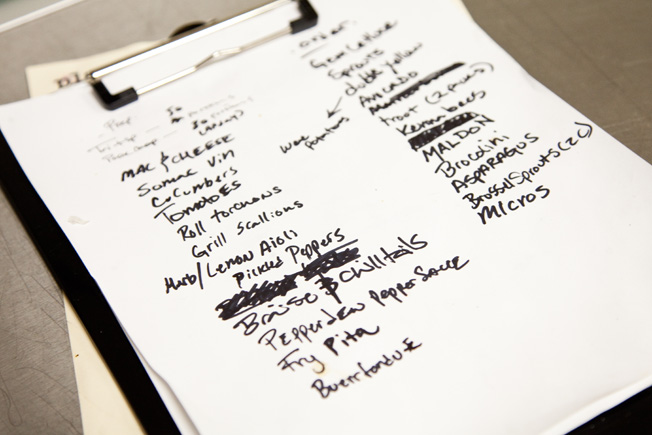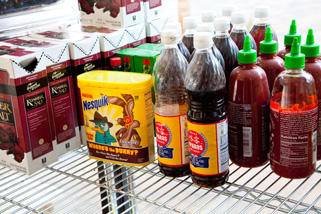 When did food capture you? It is so funny, it was such a unique moment in my life. Food was never important to me growing up. My parents were shitty, shitty cooks and I was a really picky eater cause they cooked like shit. Basically I was coming home from my chemistry class in college and I came home and found my friend watching Emeril Lagasse Live in 2005. I watched him make a brie and blue cheese quesadilla with a pear and brown sugar compote and I was like… that sounds amazing and it didn't look that hard. I can do that, so I tried it and it worked. It was perfect and it wasn't any harder than what I'm doing now, which was chemistry and mixing stuff together. That was when food captured me.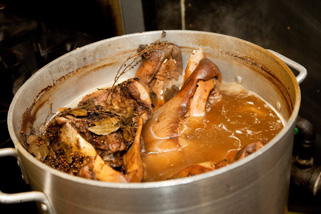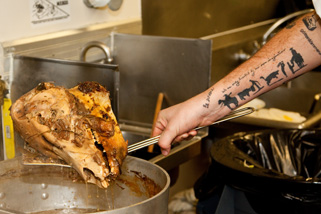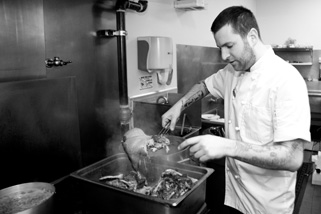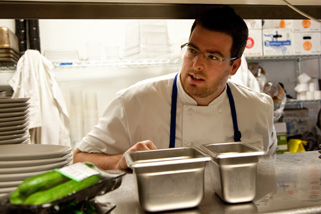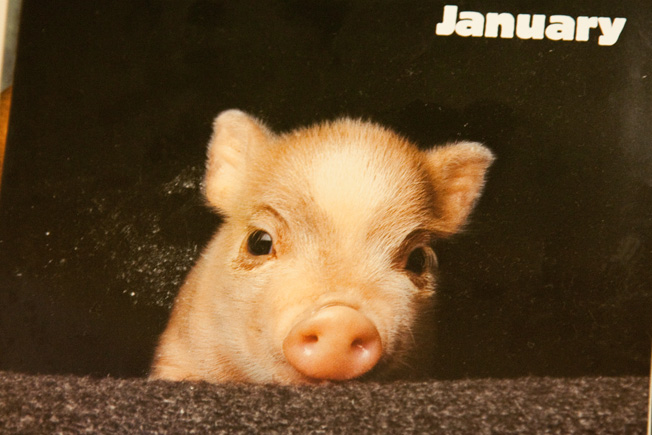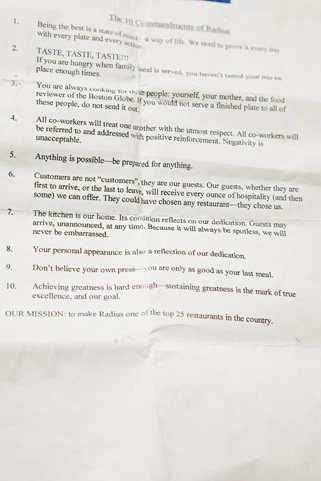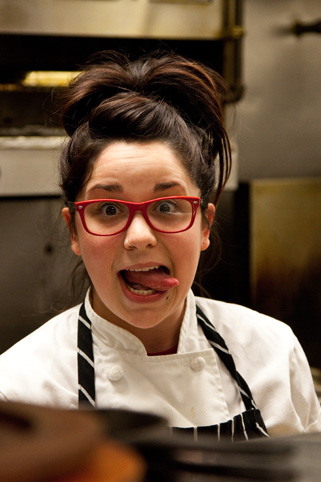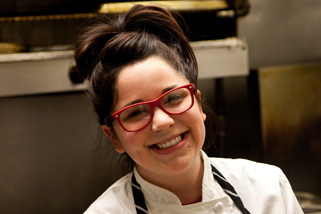 When did you know that food had power? Food has power when you feed someone and they… [Jason makes a funny face] change. I remember one day I was walking through the room and this guy says "Dang that was a good burger!" He was just talking to his friend and he didn't know I was there and it was 20 minutes after he ate it. That's so cool.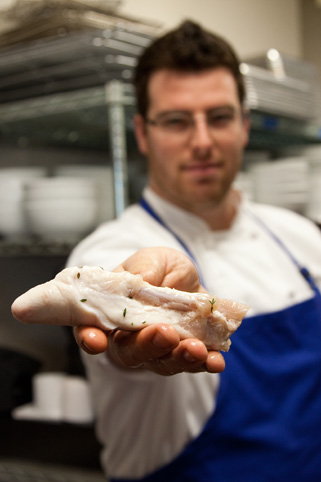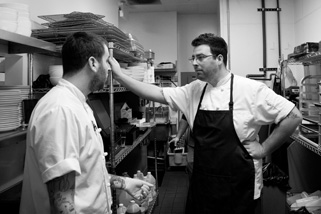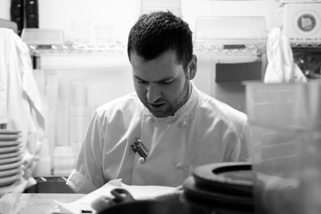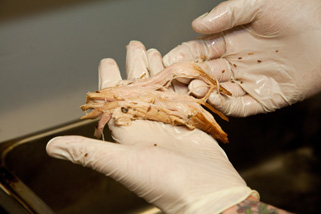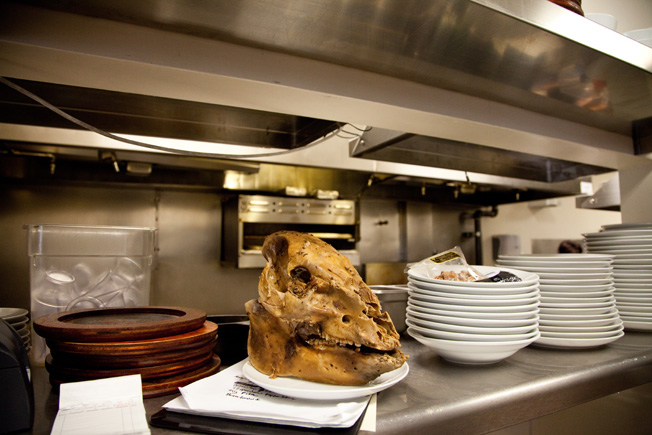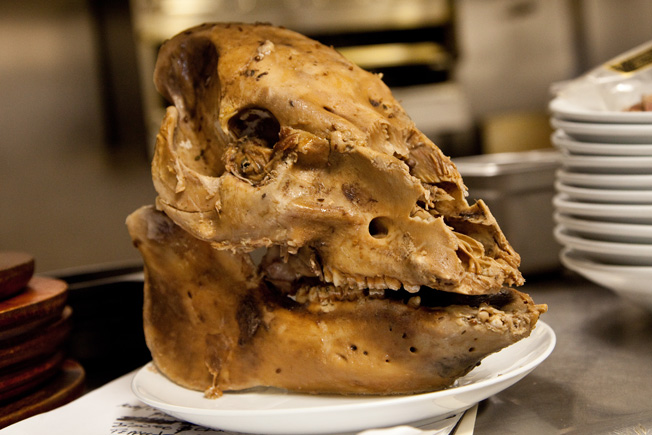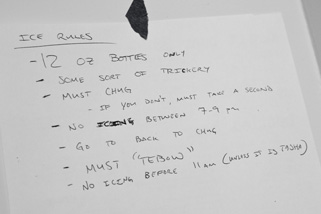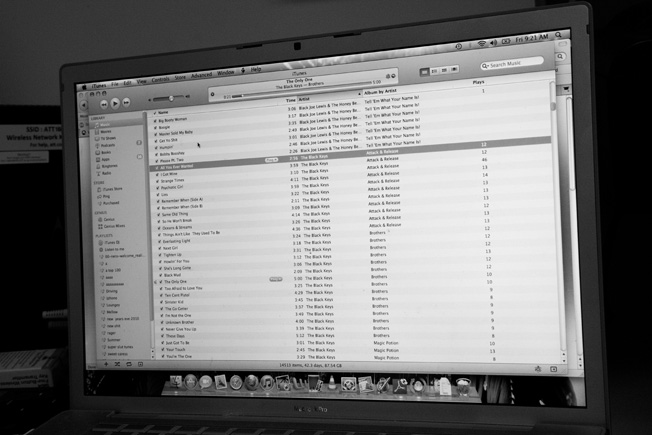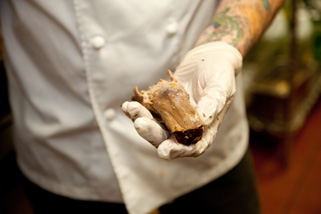 Now that you have a restaurant, what's next? [He sighs] Sleep maybe? I don't know. There is a second place potentially in the works. You know, you have to strike when the iron's hot.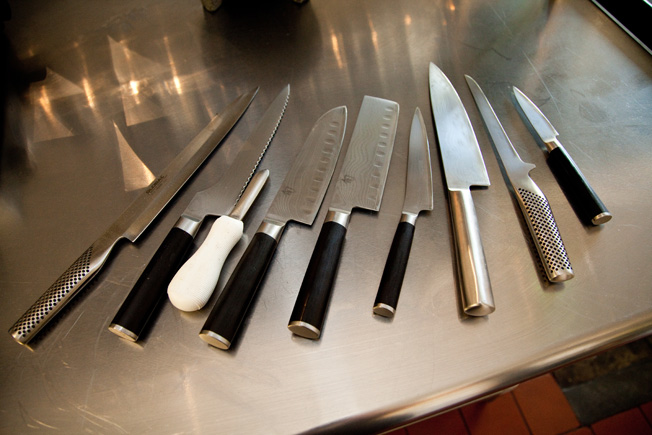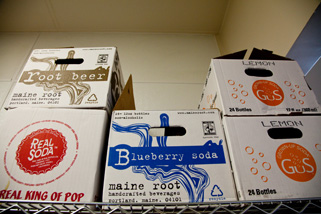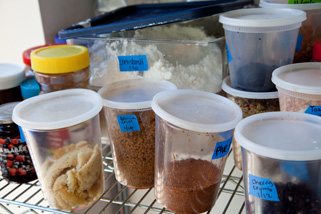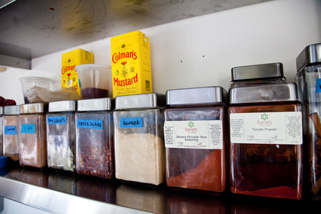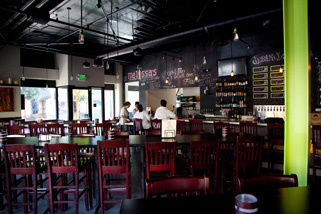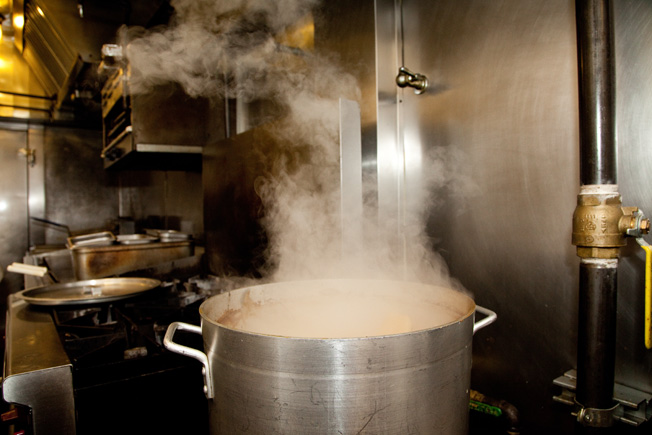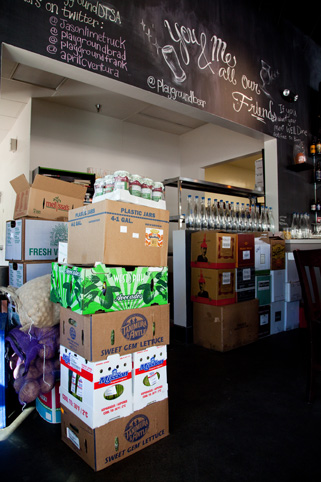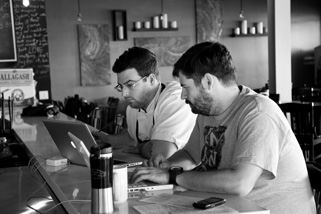 Who do you most admire in the world of cooking today? David Chang. Anyone who knows about him will know why and to the people who don't, I would recommend they read about him. He is the coolest dude and he did it his own way and it was real good. We try to do it in our own way and we try to make it the best we can and we stand behind what we believe in. This is without a doubt a chef driven restaurant. I remember after reading his book, it changed everything.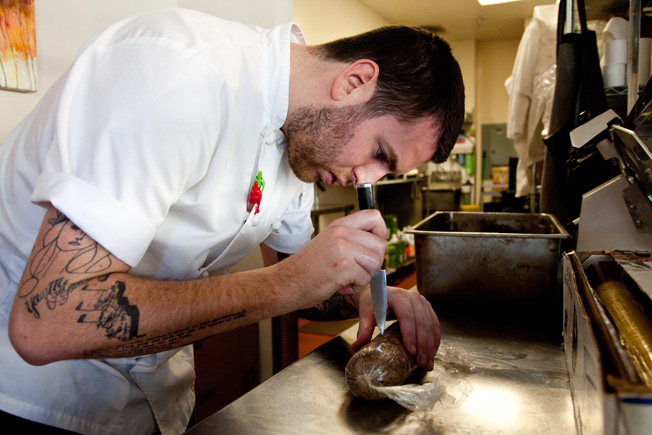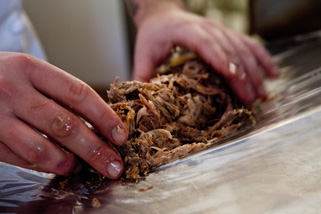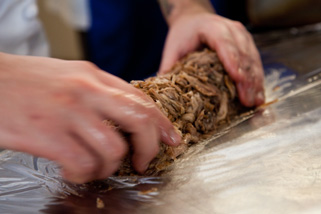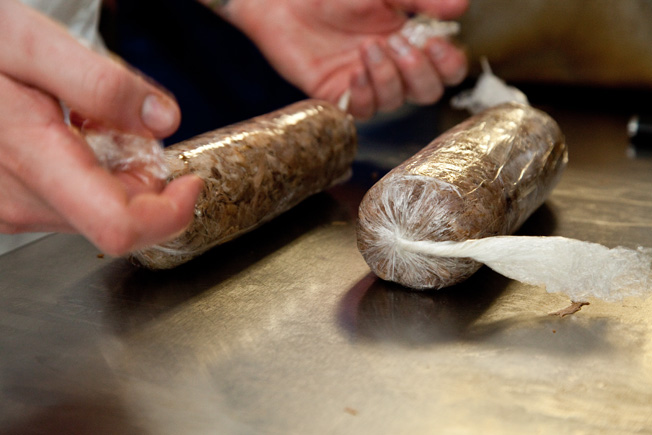 Who would you most like to cook for and why? Tom Colicchio because everyone is curious. Is my food good enough for Top Chef? I would love to have a definitive answer for that.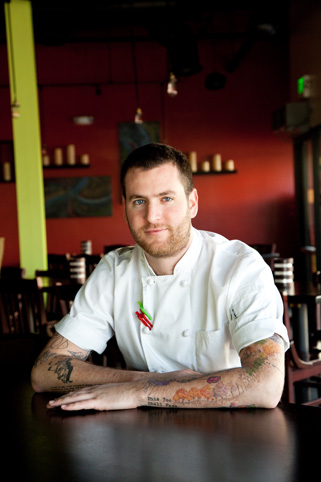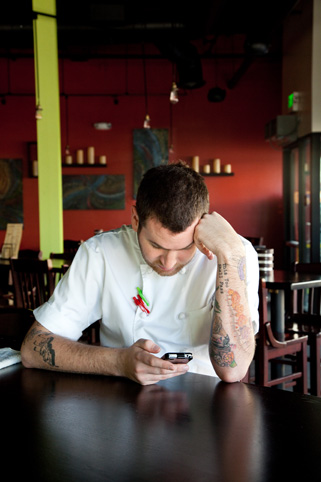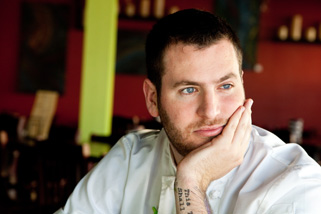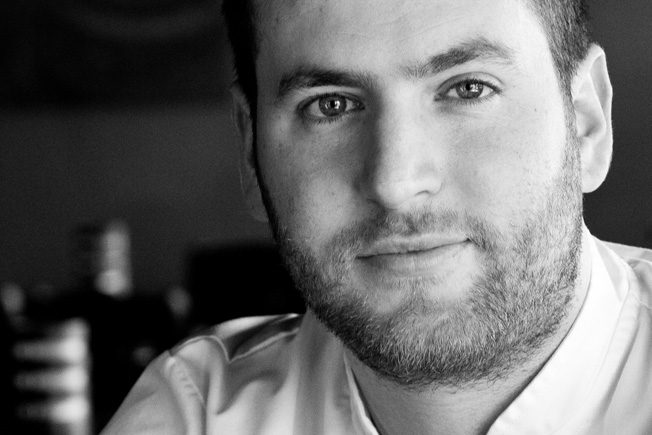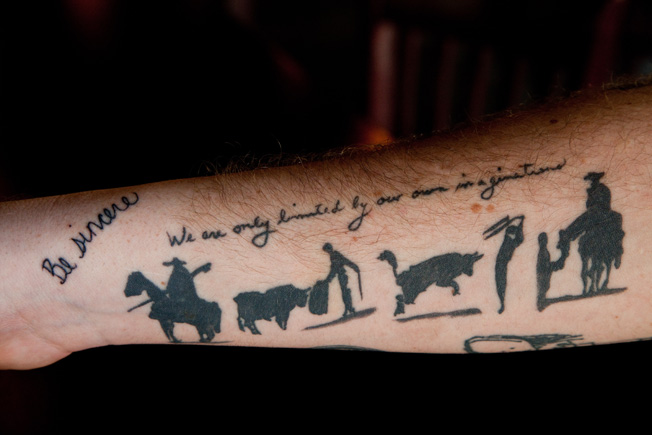 Where do you eat on a night out? Pizzeria Ortica is one of my favorite places. My fiance and I love asian noodles, ramen, pho, udon…. stuff like that. A ramen place. A porky broth with pork belly. Who's not going to like that? The Golden Truffle is my other favorite restaurant. It's stuck like in the 80's, but its so good. I could only hope to be big and jolly and cussing up a storm (like owner Alan Greeley).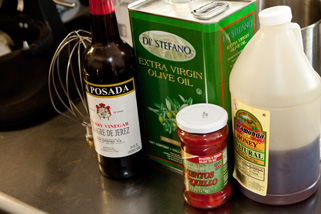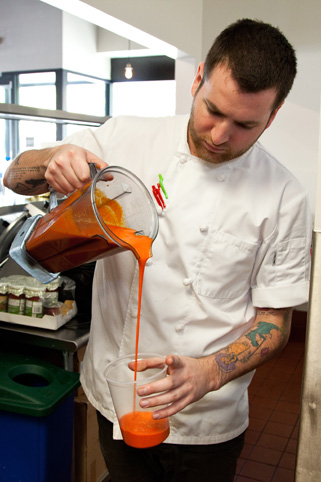 the recipe:
Crispy Pig Head Torchon
Editor's note:
We shot with Jason before we started telling our chef's we *need* a full recipe to publish with the photos... so here's our email exchange with Jason and his version of crispy pig head torchon.
We say go for it.
Cooking aint' science, it's art.
From: Bob Hodson
To: Jason Quinn
Subject: RECIPE
Yo Jason, I still need to get the recipe for the cow head cake + sauce ASAP! Thanks
From: Jason Quinn
To: Bob Hodson
Subject: Re: RECIPE
Haha we don't really have one. Simmer pig heads overnight with spices. Pick the meat, roll, chill, cut, bread, fry.
From: Bob Hodson
To: Jason Quinn
Subject: Re: Re: RECIPE
Perfect. You're hilarious. What about that sauce?
From: Jason Quinn
To: Bob Hodson
Subject: Re: Re: Re: RECIPE
Blend piquillo peppers with honey and sherry vinegar. Add salt.