featuring:
Paul Bauer
from:
recipe:

Chilean sea bass
Logan, Baker, Fairview, then the 73 to MacArthur to PCH towards Laguna. Passed main beach and arrived at Hotel Laguna on the right. Very cool. This joint is right on the cliff overlooking Main Beach. Can't get much better than that. And what a beautiful day for a shoot! Between the palm trees in the courtyard and the old rustic feel of the hotel, this is going to be a cool shoot.
As we walk up towards the front door, the sounds of bustling cars and people surround you. I love the action. You're greeted in the lobby and the smell of the ocean fills the room.
'We're here to shoot Chef Paul!'
We enter Claes Ovation and the view from inside the restaurant is peaceful… you can just hear the waves crashing on the shores below. We meet Big Bad Paul with a hand shake as we head to the kitchen. Let's get shooting.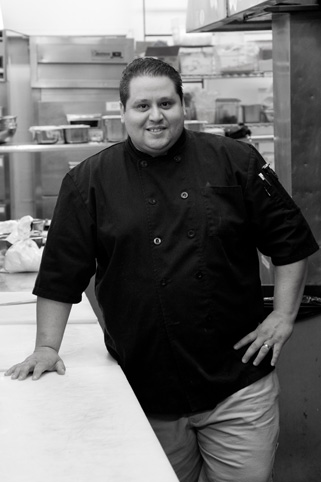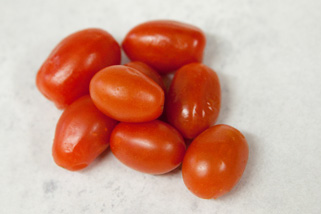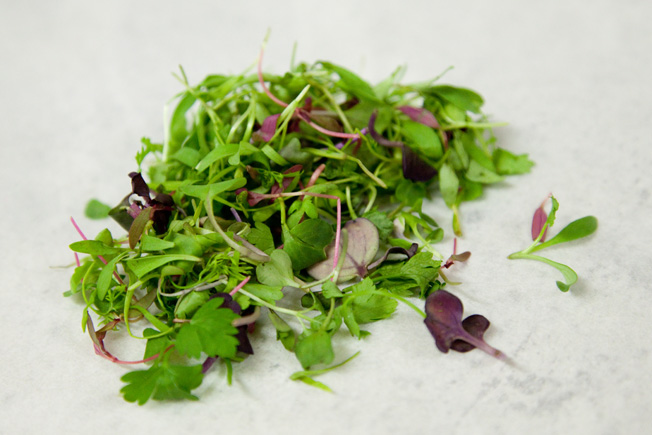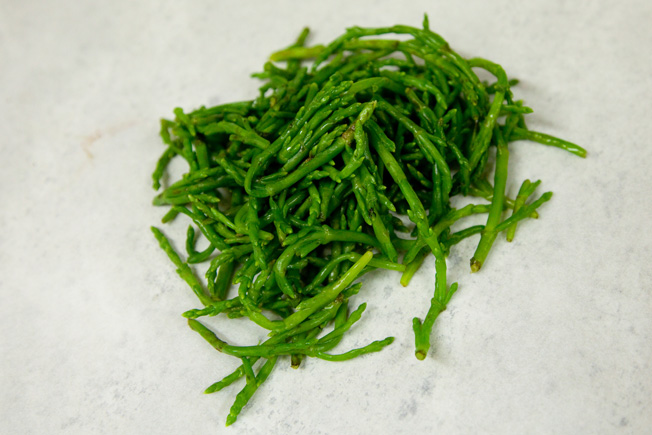 Are you a risk taker? Yes, sometimes. I try not to play it safe. I will definitely throw out some stuff on the menu that my normal guests don't see and if it doesn't sell I take it off. But I definitely try to open the eyes of my guests and get them to see new things and get them more involved in a new, contemporary style of cuisine.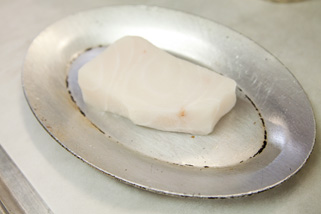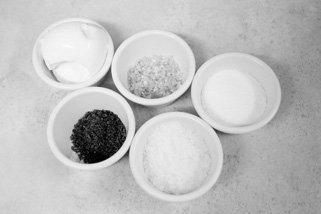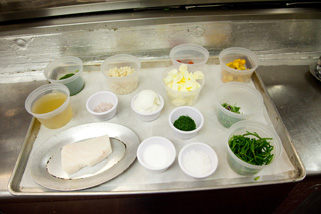 When did food capture you? I was probably 19 or 20. I would mess around at home a little bit growing up but nothing where I knew "this is where I want to be." I didn't really see a career anywhere, but I always loved to cook at home. It was my wife that pushed me into going to school.So it wasn't family-based? Absolutely not. She's gonna kill me, but my mom can't cook for shit. My grandparents cooked. My grandfather worked at the La Valencia Hotel in San Diego as a line cook and dish washer while he was working in the shipyard. It was just a job for him. I cooked at home because I needed to eat.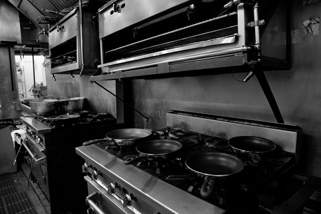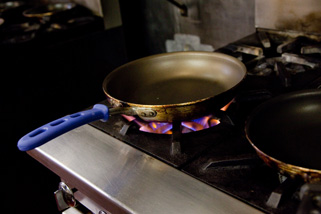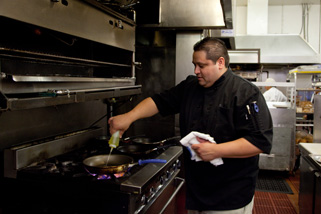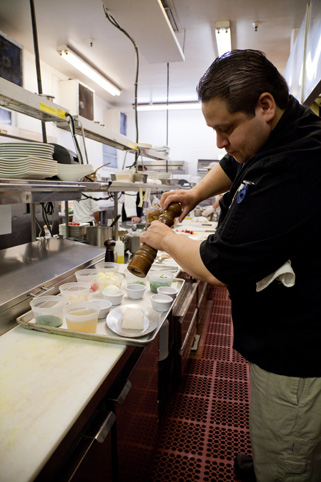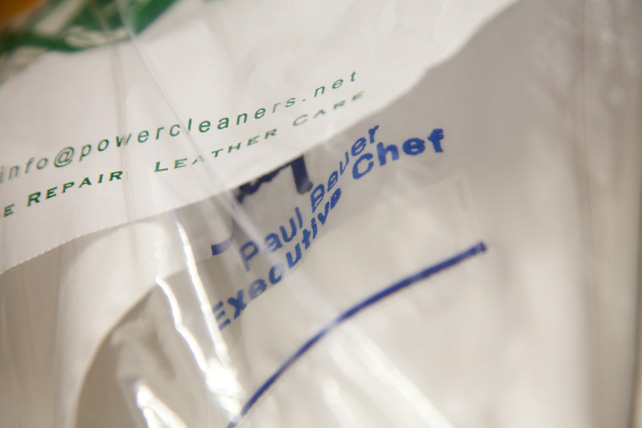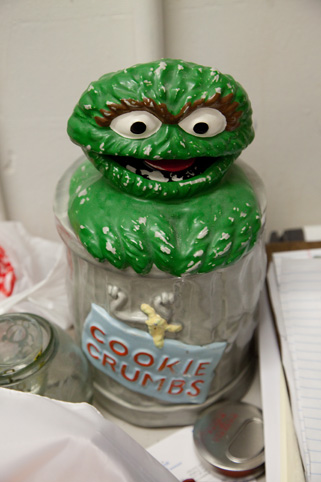 Is it true you shouldn't eat seafood on Monday? I have never heard that before in my life [laughs]. Never. I get my seafood in fresh everyday. My purveyor is 5 minutes from the airport. They pick it up at 6 a.m. and deliver it to me around 2 or 3. They don't have a plethora of fish stocked in a cooler.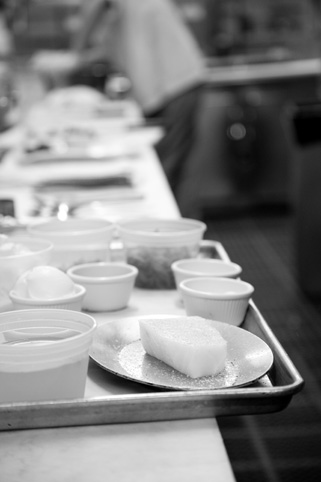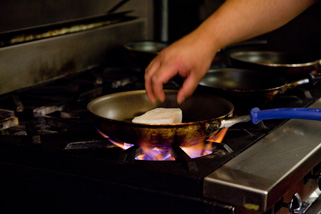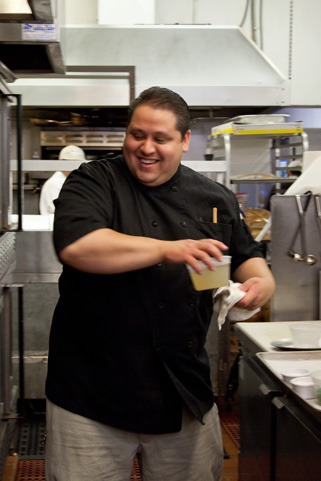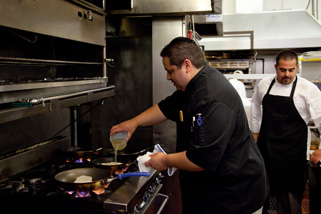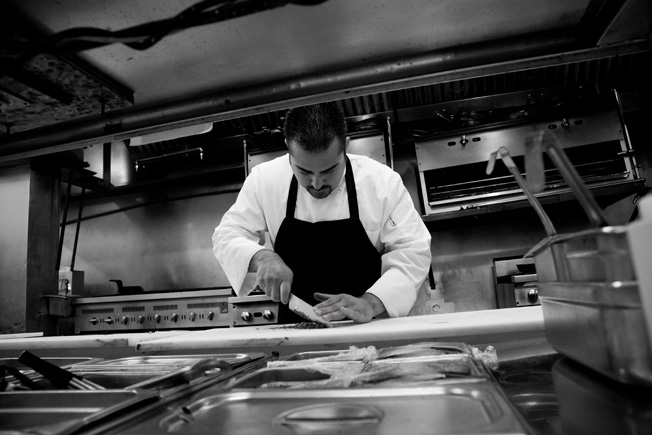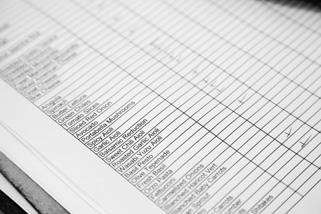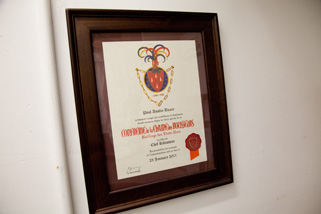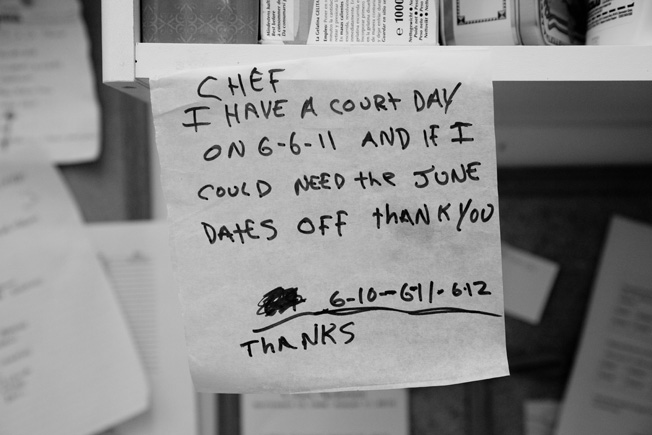 What topic would you talk about if anyone would listen? Baseball! [He laughs.] I love baseball.  I love the Padres. Any sport from San Diego, really. I could talk baseball for hours.Do you find people listen when you talk baseball? No! People don't care about baseball.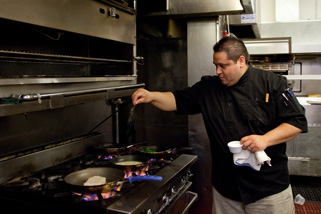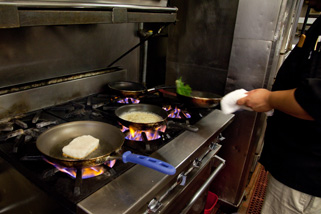 the recipe:
Claes Chilean Seabass
4-6 oz. portions Chilean sea bass
Lemon basil risotto (recipe below)
12 oz. sea beans (recipe below)
1 pint heirloom cherry tomatoes (recipe below)
Tomato emulsion (recipe below)
Pan sear Chilean seabass in extra virgin olive oil
Salt and white pepper to taste
Lemon Basil Risotto
1/2 lb. organic risotto
1/4 lb. unsalted butter
1 or 2 pats of unsalted butter to finish
2 oz. onion, fine diced
1/2 c. dry white wine
3 ea. lemons, zested
3 ea. lemons, juiced
5 c. vegetable Stock
2 tbsp. Basil purée (recipe below)
1 tsp. lemon oil
2 oz. parmesan cheese
2 oz. crème fraiche
Salt and pepper
Warm the stock in a sauce pan.
While that's heating up, sauté the onions in the butter until translucent.
Add the rice and cook until translucent at the edges.
Add the white wine, lemon juice and zest and reduce to au sec.
Add the stock about a 1/2 cup at a time, stirring constantly until the stock is absorbed and the rice is cooked al dente, about 15-20 minutes.
Stir in the cheese, basil purée, and lemon oil. Remove from heat.
Finish by stirring in the crème fraiche and salt and pepper to taste.
Basil Purée
1/2 lb. fresh basil
1 oz. champagne vinegar
1 tbsp. lemon oil
2 oz. extra virgin olive oil
Salt and pepper to taste
Blend together the basil, champagne vinegar, and lemon oil
Once combined, stream in extra virgin olive oil
The purée should be thick
Finish with salt and pepper to taste
Heirloom Cherry Tomatoes
1 pint heirloom cherry tomatoes
Extra virgin olive oil
Salt and pepper
Fresh chopped parsley
Sear the tomatoes in the olive oil
Season to taste with salt, pepper, and parsley
Sea Beans
12 oz. sea beans
Butter
1 tbsp. minced shallot
Blanche sea beans in water without salt (seabeans are naturally salty)
Saute with butter and minced shallot
Tomato Emulsion
4 ea heirloom or very ripe tomatoes
1/2 c. champagne vinegar
2 oz. honey
2 oz. dijon mustard
1 oz. shallot
1 clove garlic
2 c. extra virgin olive oil
Salt and pepper
Blend the tomatoes and the next 5 ingredients together until smooth, adding a little water if needed
Stream in extra virgin olive oil to sauce consistency
Season with salt and pepper to taste

wine pairing
w/ Organic Wine Exchange + guest wine expert
Alice Feiring says: This dish screams for Chenin Blanc. Sablonettes Petit Blanc 2010 (100% Chenin Blanc from France, Loire, Coteaux du Layon) is made by Christine and Joel Meynard, ultra-sweet vignerons in the Loire. The wine is perfect for this dish with its appley flavors with lifting lemon-like acidity.
Get Sablonettes Petit Blanc 2010 at Organic Wine Exchange for $19

Alice has been published in most of the glossies in this country as well as the New York Times. She is the author of two books: The Battle for Wine and Love (Harcourt) and Naked Wine (Perseus Books). When not on the road learning about wine, Alice is working on her personal writing, rereading Letting Go or Hudson River Bracketed, and dreaming about a cellar full of Domaine Romanée Conti. You can find Alice on Twitter at @alicefeiring, or her blog The Feiring Line.