featuring:
Tin Vuong
from:

Little Sister
Manhattan Beach, CA
recipe:

Douban Chili Crack Noodles
Manhattan Beach, right on. I'll drive. Oh right, Alhambra first for the backstory.
Finish our coffee as we pull up to a tree-lined street and find Grandma's address. It's the one with Tin on the front step, coffee and cell in hand.
Tin grew up right here, he says, and we head to the backyard to find the hidden treasures of the family home…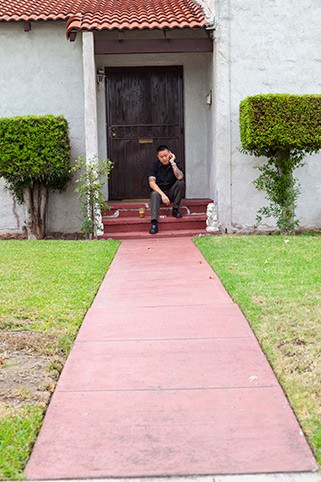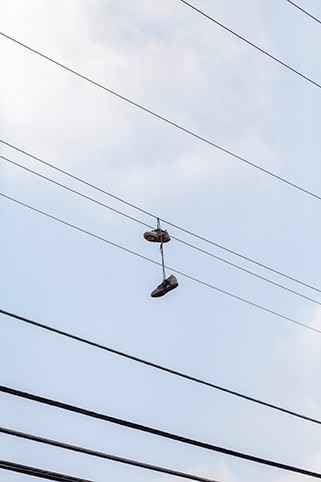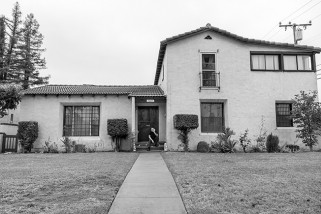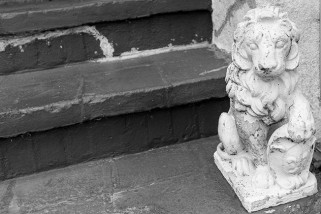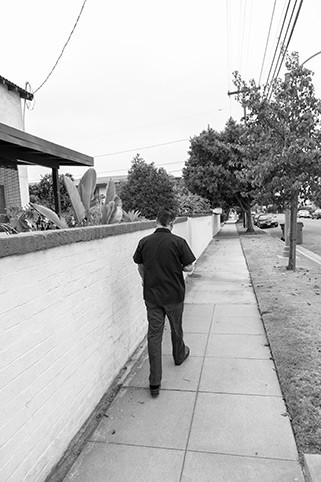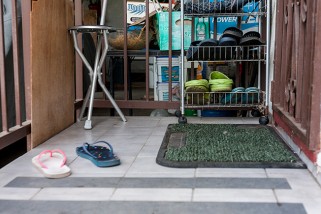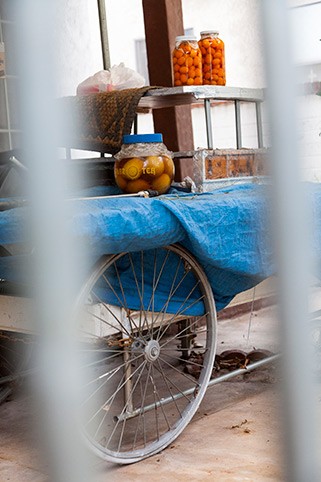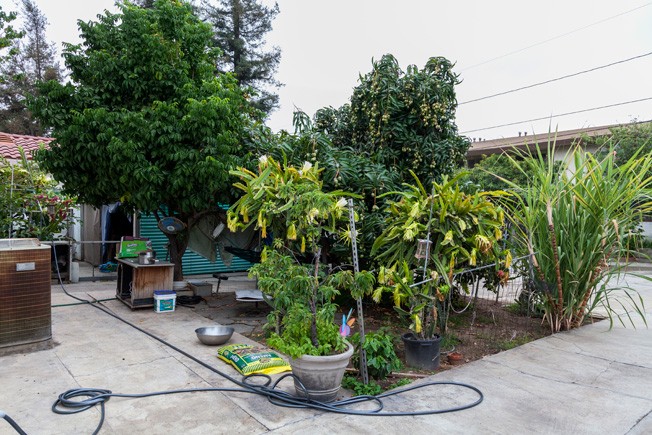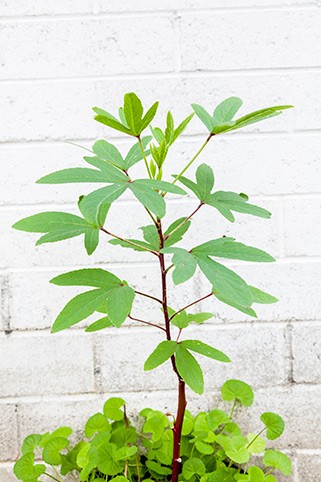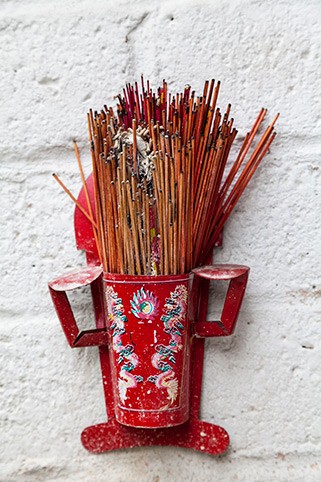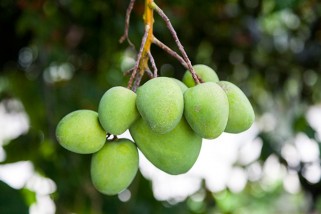 Who is the most influential person in your family?
My grandfather. He raised me. I mean, my parents were always working so he was babysitting me all the time, really. Telling me what's right, what's not. He's just old school. Taught me how to plant things and respect shit and he did what grandfathers do. Just watch out for you, teach you the right things.
Did he cook or your grandmother?
Both of them. They would say if you couldn't find it, grow it. What are you waiting for? [Laughing]. They moved here in the late '70s and they didn't have Asian markets around, so what do you do? You have to grow your own shit. So my grandfather just started growing things that we eat. You know what I mean?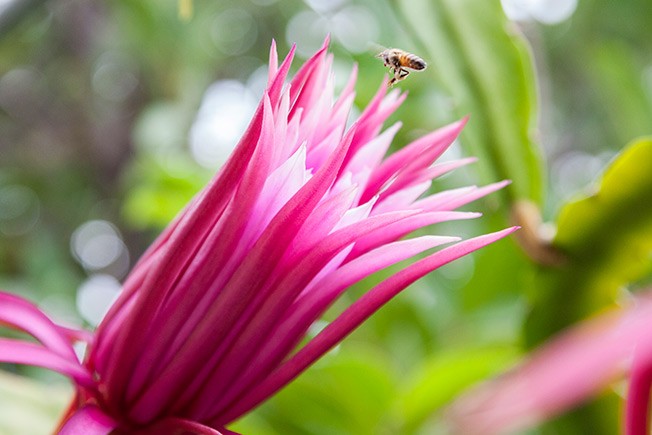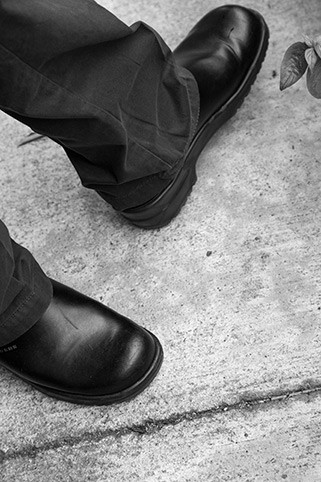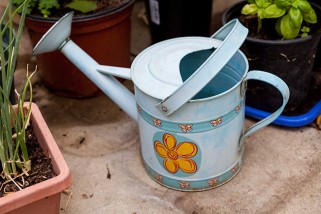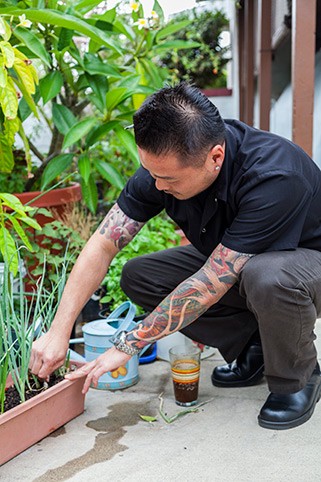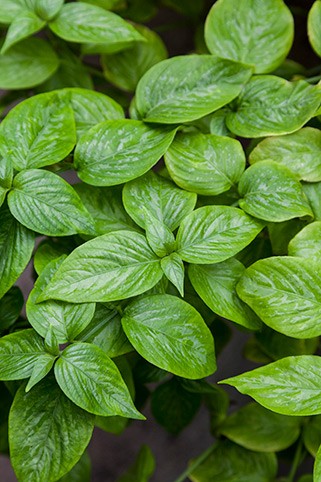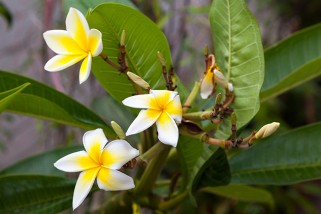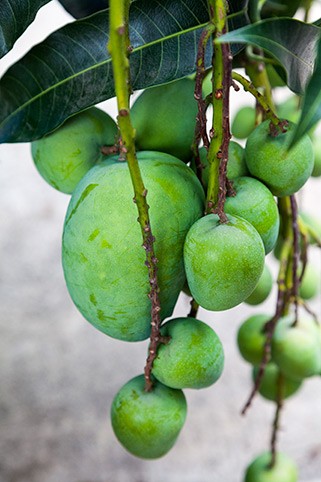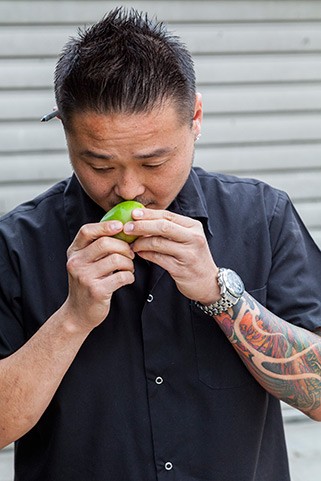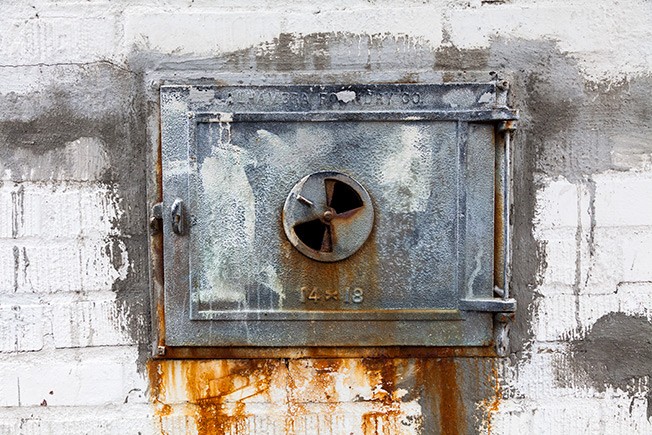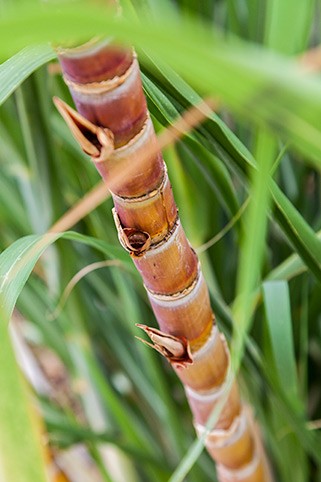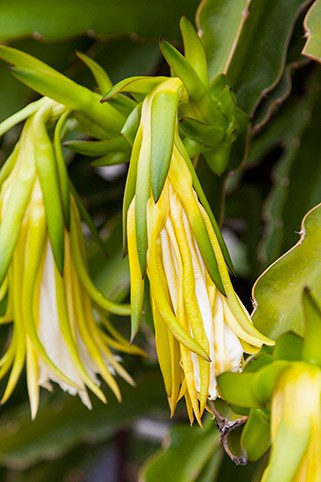 When did food capture you?
Probably in college, trying to find something to eat and kind of cooking for yourself and fending for yourself. Finding cheap eats, that's pretty much what it was.
You mentioned Costco's Chicken Bake in a top ten list somewhere. Is that one of your cheap eats?
[Laughing] Yeah. Really nothing more you can say about it. It's very inexpensive and it's really good. It's like a chicken pot pie, it's just good. Caesar dressing and rolled in a puff pastry and… it's good. It's like junk food but it's fucking good.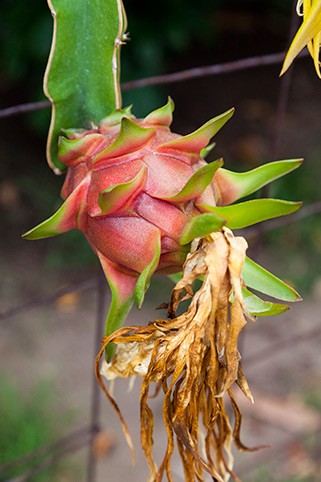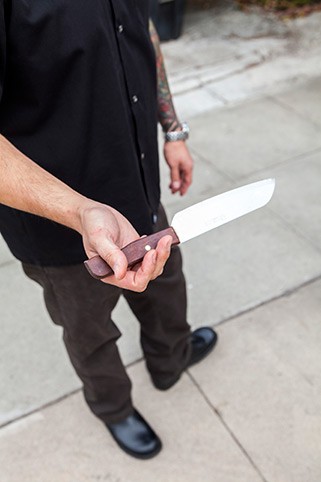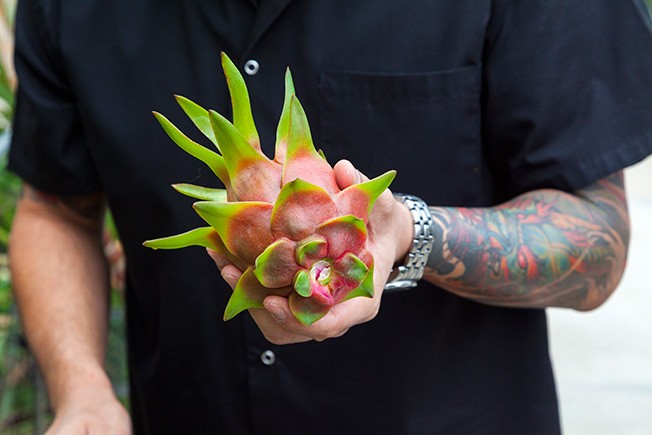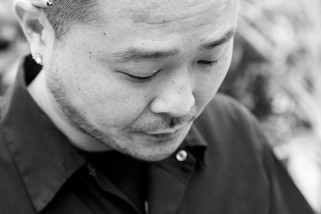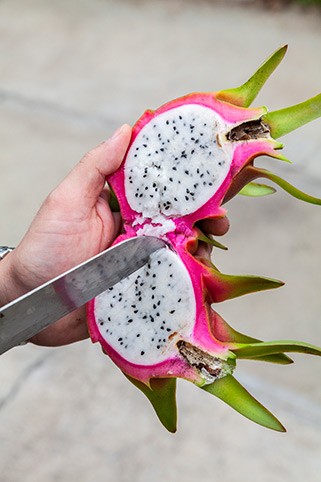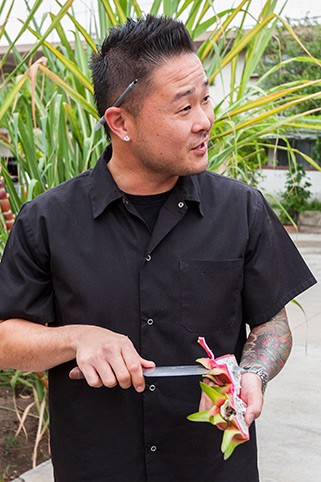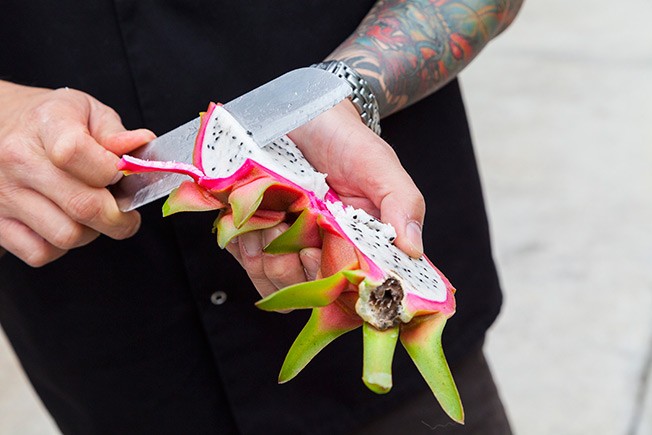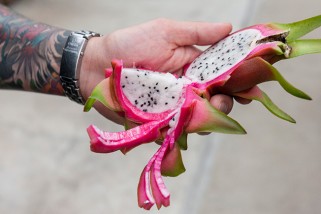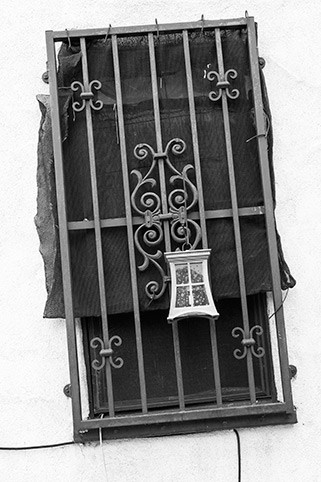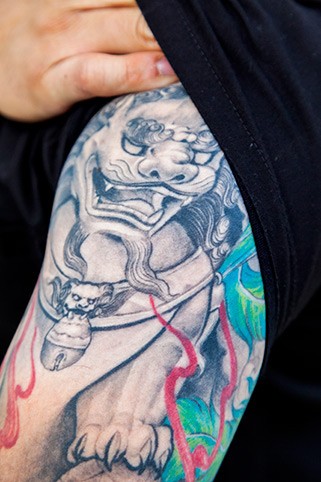 What are your favorite ingredients to cook with?
Chili's. Just because of the spice level and what it does to your food. Brings a whole new dimension to things, it brightens up a lot of things. It just has a very different aroma to it.
Is there a particular chili?
For me and the type of cuisine I do, it's probably bird's eye chili. I use a lot of it because it's very pungent, it's fragrant, it has a very unique flavor.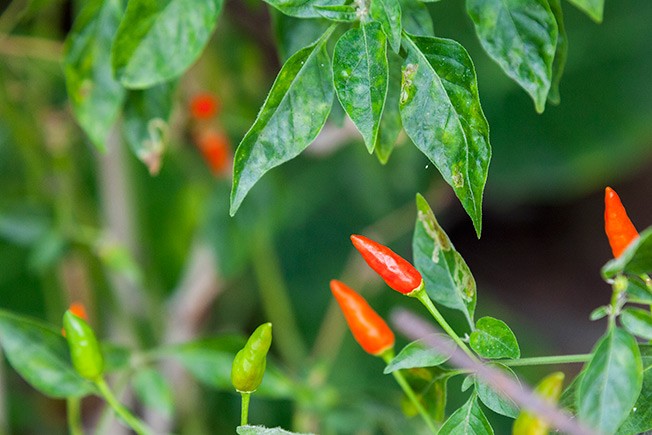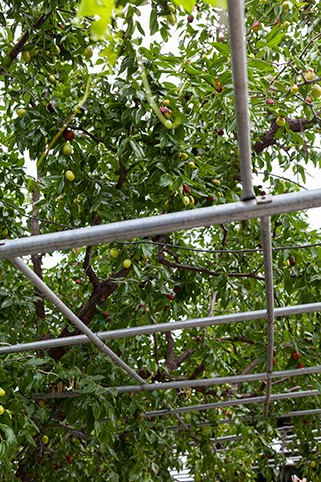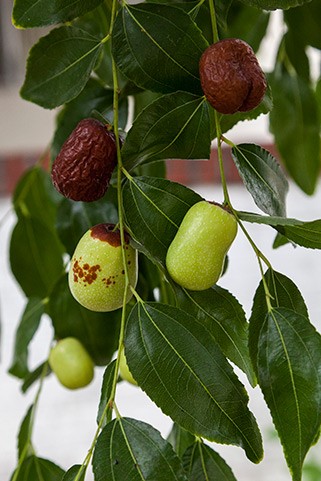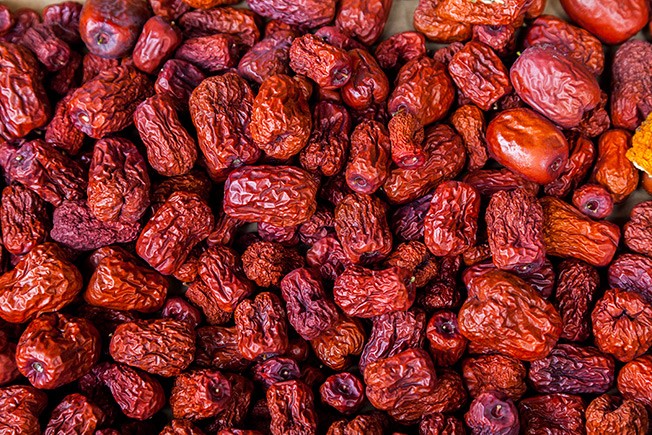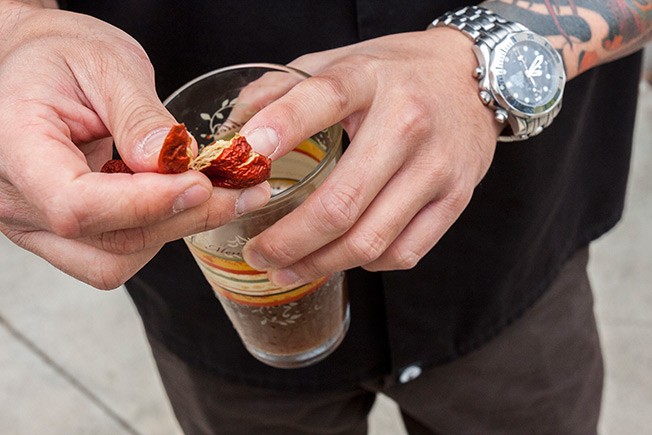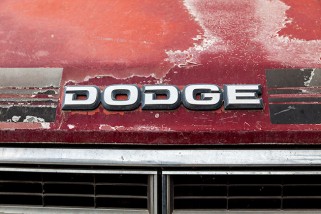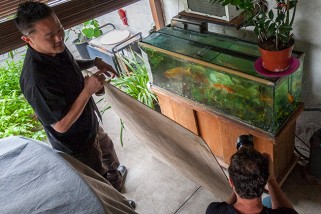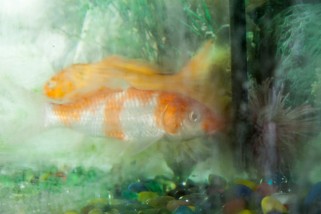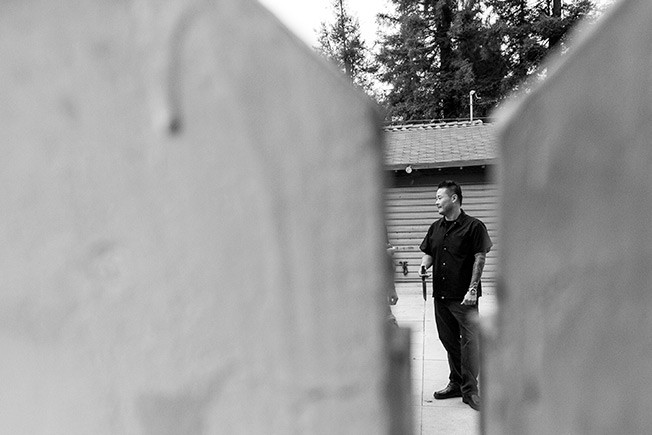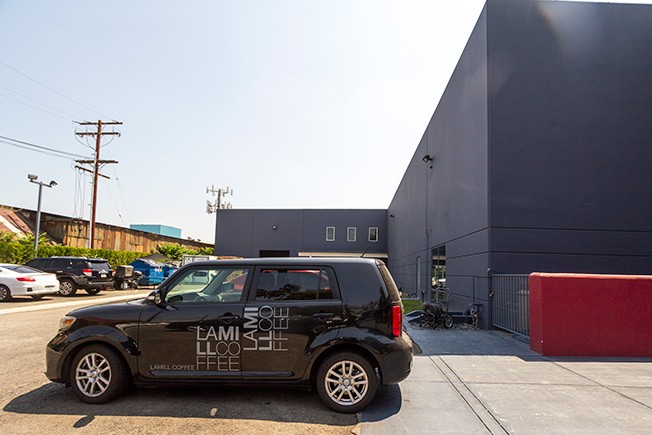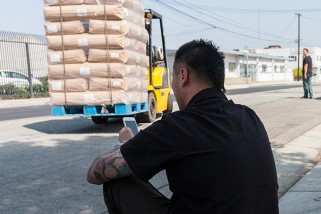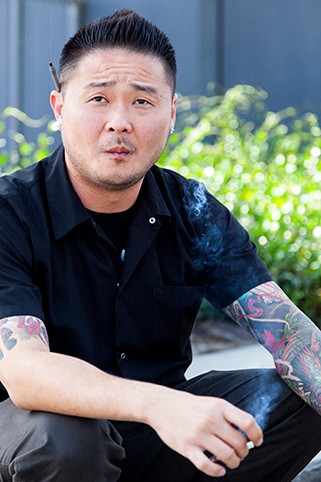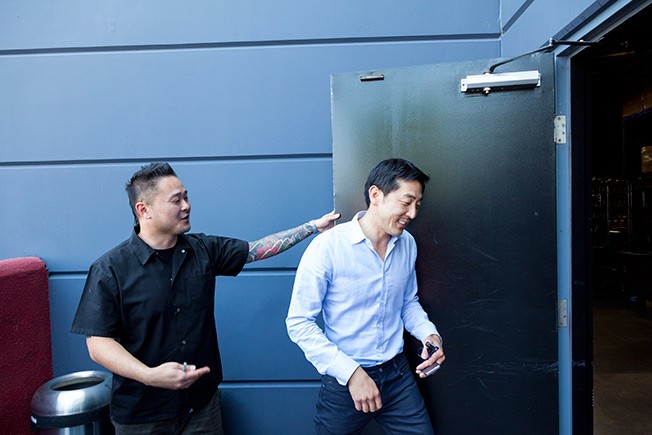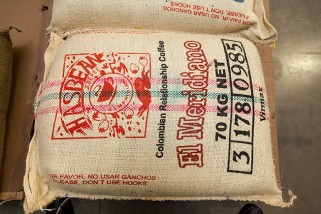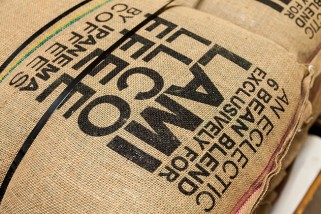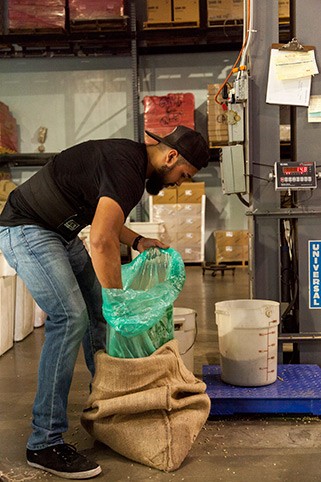 When did you meet Craig and why do you consider him a mentor?
I met Craig back in 2000. He was just starting his coffee business and I guess our friendship and our relationship kind of grew as we went through time. 15 years later he's where he's at and he's always been a mentor because he grew his business for himself and never really sacrificed his quality for anybody. He believed in himself and stuck with it, even in rough times. Never sacrificed his vision.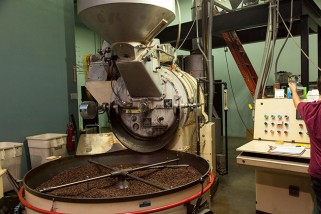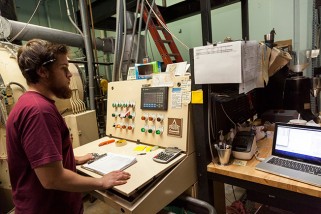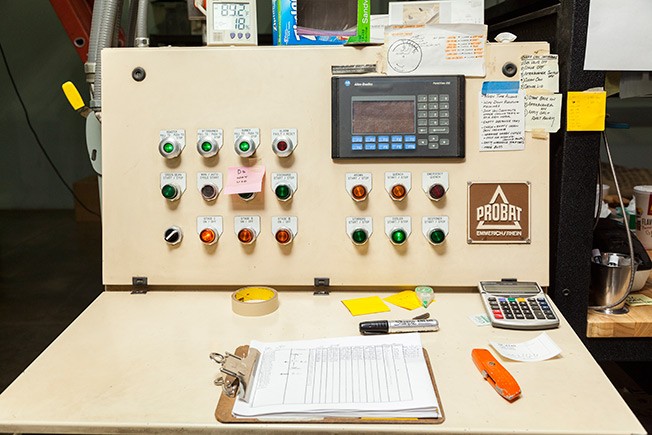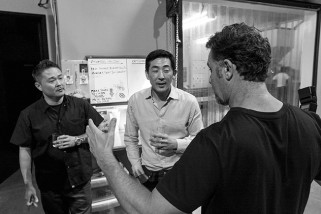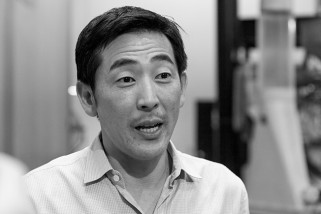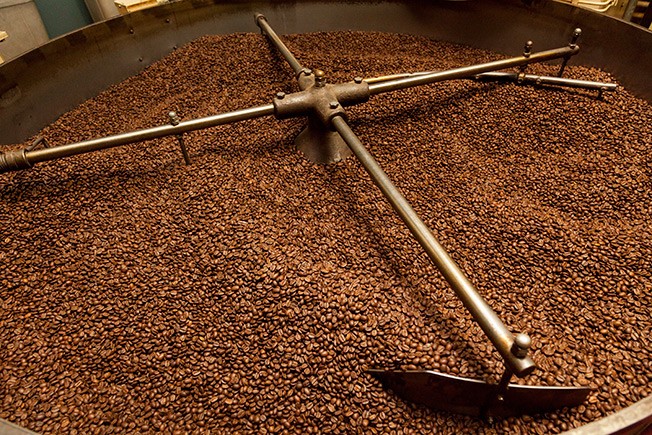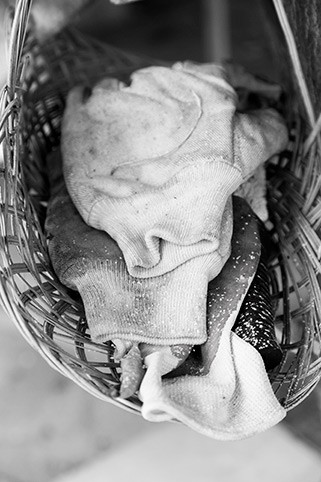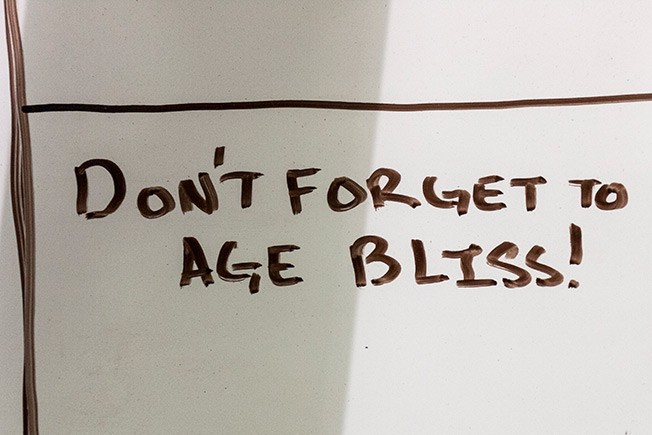 Which chef would you drop everything to stage with?
Marco Pierre White. He is the original gangster of culinary. He's just O.G., man. His drive, and his philosophy was just "you do you." Fuck what everybody else thinks. There's a lot of videos of him, they're just awesome. He's the original culinary gangster.
You ever met him?
No, no. He's just an icon, man. But he wasn't on TV doing all kinds of crazy things, you know what I mean? He stuck to what he was doing. It's pretty fucking rad.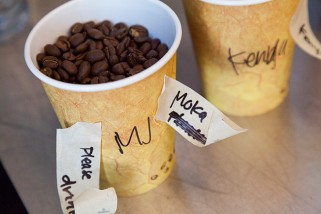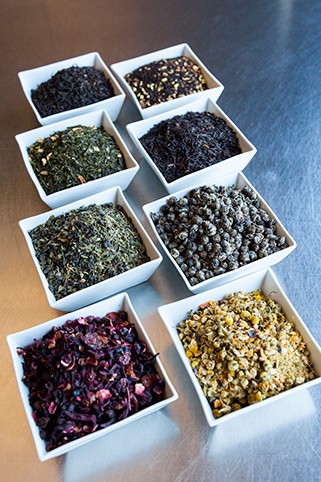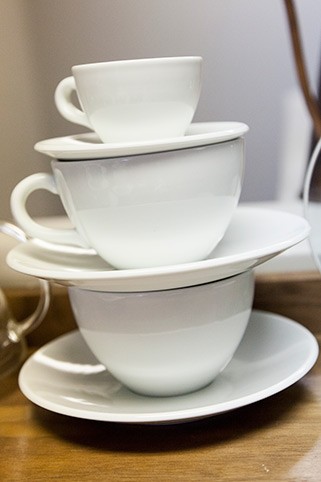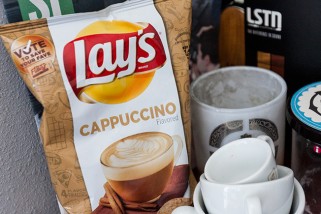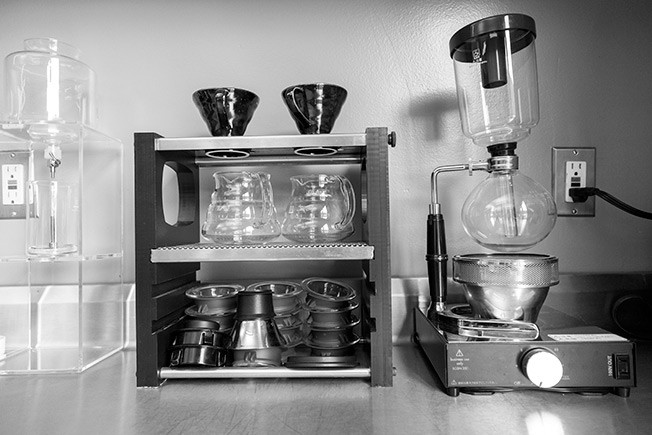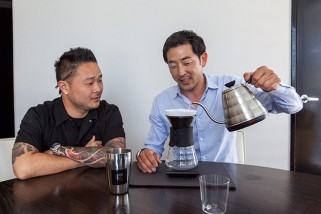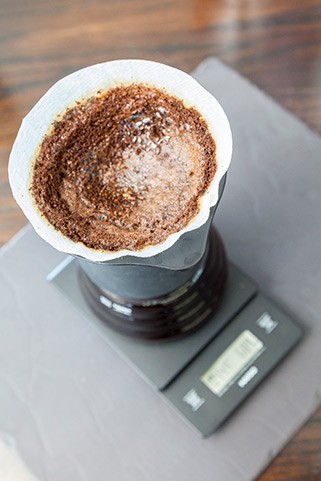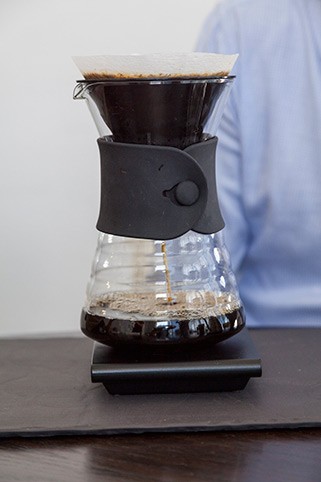 What keeps your interest in food so fresh?
Eating out, knowing there's a lot of restaurants that aren't very good and that you can do better. Or other restaurants are doing great things and that you want to do great things like them. Finding a void in certain genres of food that you know you can do or that interests you at a certain point. Just like anything, there's specific time frames in your life where you have different palates and your tastes are different.
Sometimes it's like clothing, you know? Sometimes you bought a shirt 5 years ago or 2 months ago and then you're like, "Dude, why did I buy this?" [laughing]. Food's like that, too. It's very personal. You wonder, "Why was I making this shit?" Some of the menus I look at from like 5 years ago, I have no idea what the fuck was I doing. Thinking this is dumb, what was I thinking?
Makes total sense.
It comes with age and experience and life. Anything that happens to you or comes into your life expresses you. Building Little Sister was an expression. It was doing the food that I cared to do most. It wasn't for anybody, it was for myself. It was to showcase a food that was underrated.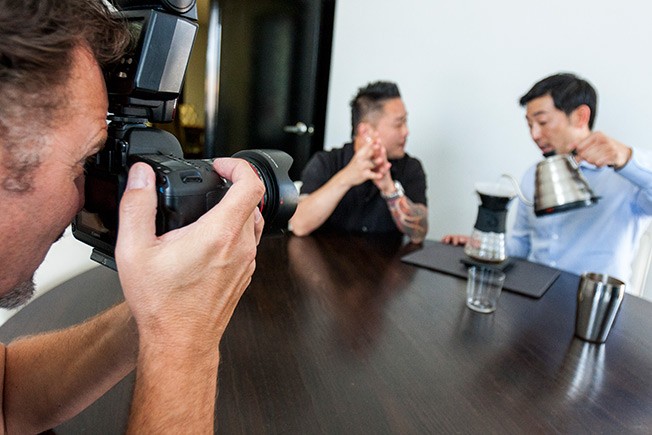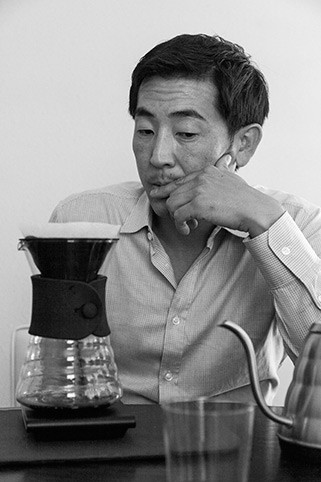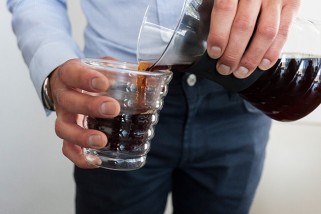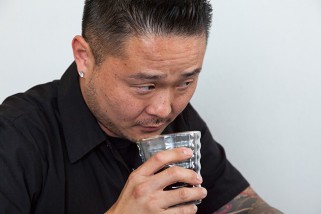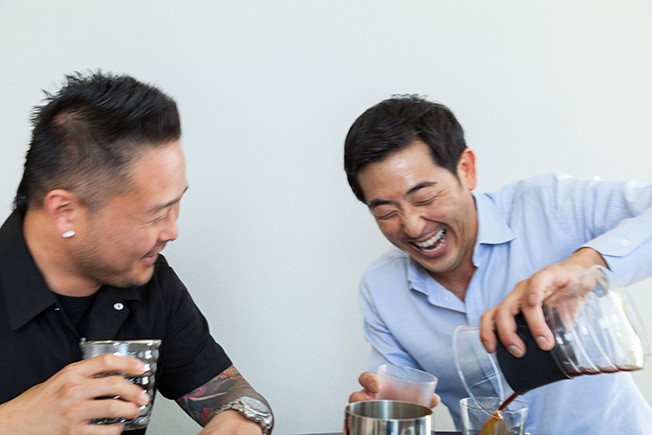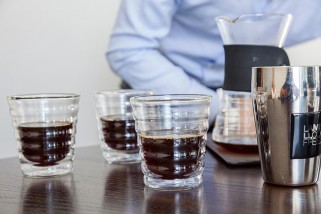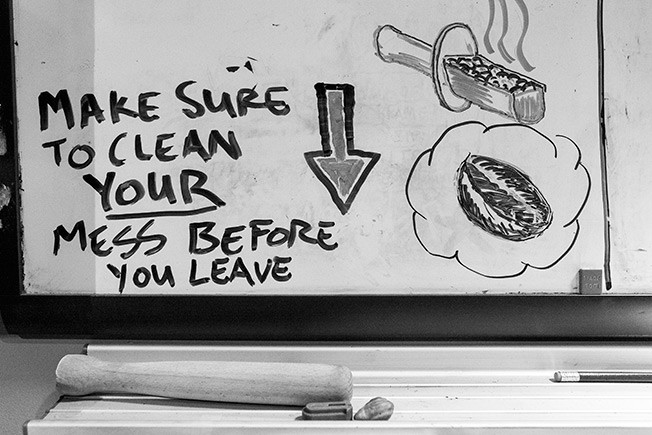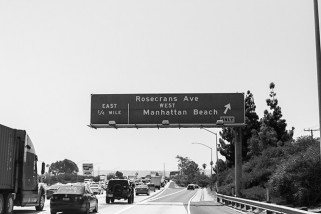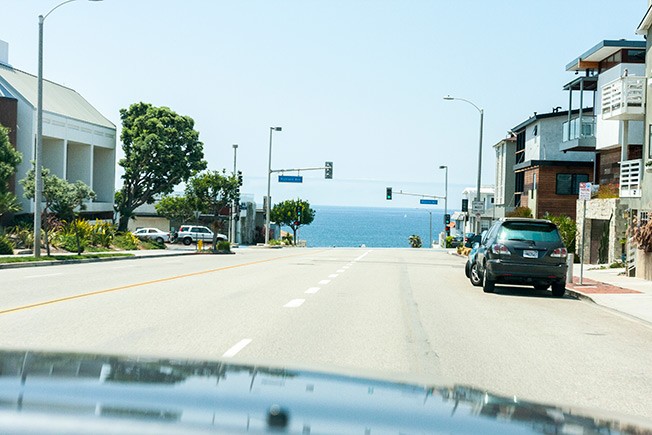 Park. Hike. Soak in the view. Just another day in LA as we meet Tin at Little Sister. Now the fun begins.
The size screams get here early and the decor says come in we don't bite (hard). After some homemade green tea (fantastic) and a click of ingredients, the heat of the kitchen draws us in…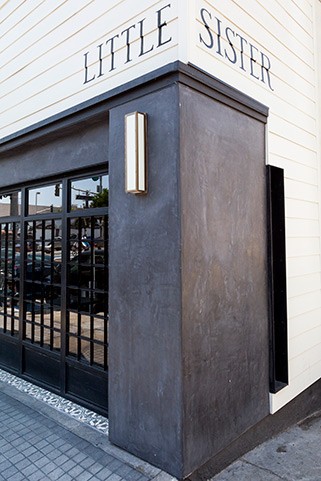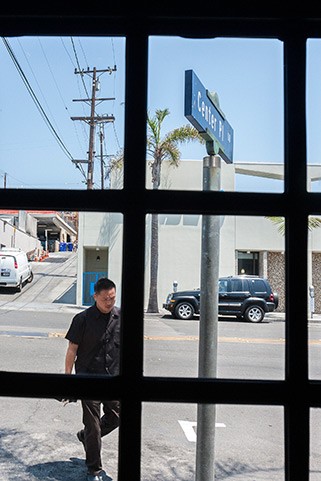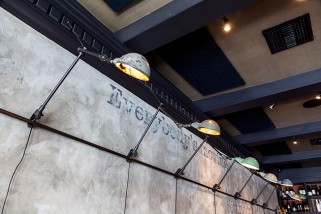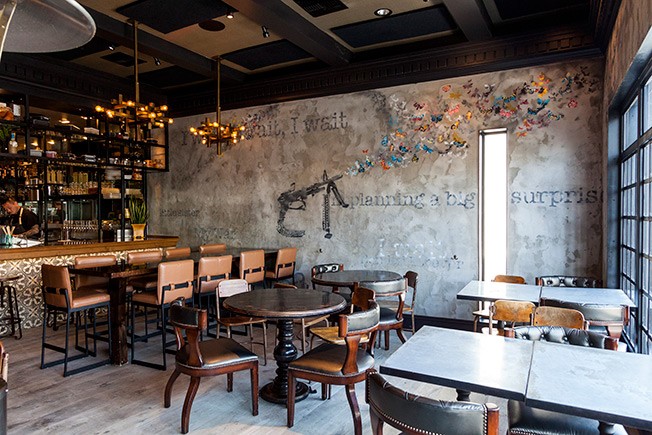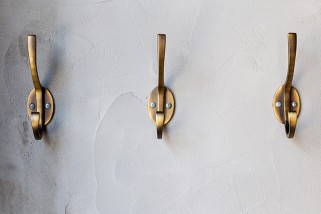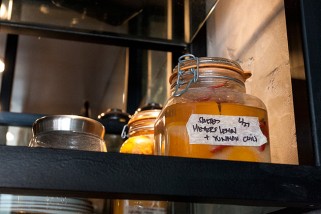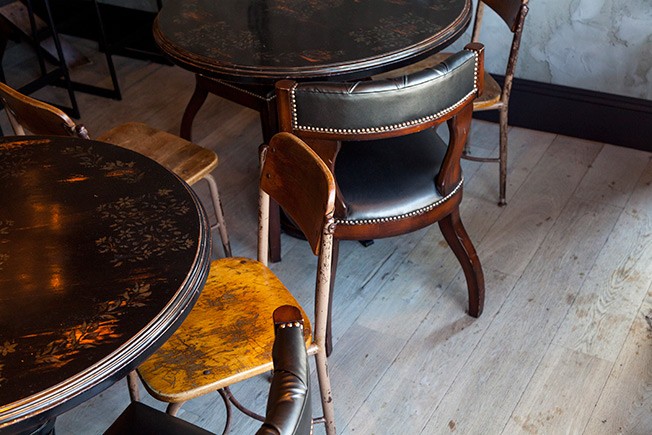 How did you choose the locations for your restaurants?
Organically. Sometimes it just happens. Broker tells me there's a space open and it just happens. Everything up to now has been organic. This space came up, I wasn't looking for it, but it just came up and had to hop on it. It's expensive rent [laughing] but if you want to do it you have to take a risk.
Yeah, that seems to be the thread through you.
If it happens, it happens.
If there's a "go with the flow" guy, it's you.
Just go with it. Planned things don't always work out, either, and you're just going to get disappointed. Sometimes in your career you just have to just trust in yourself, in what you do and hope for the best.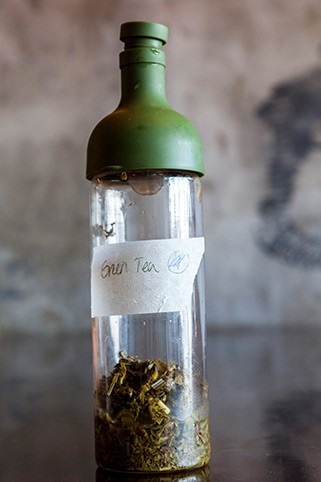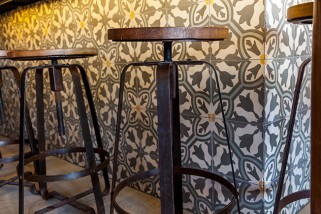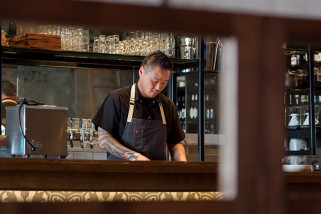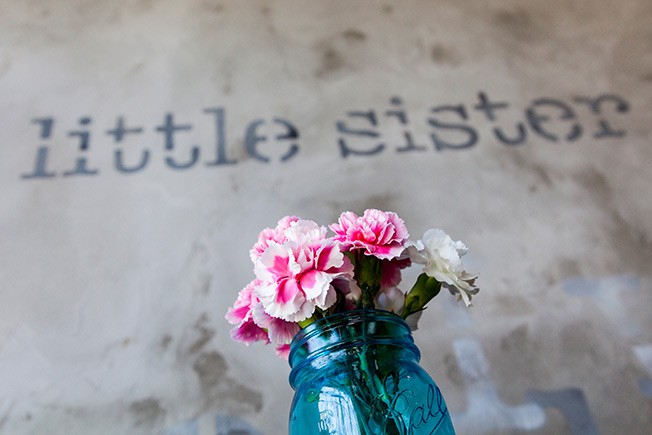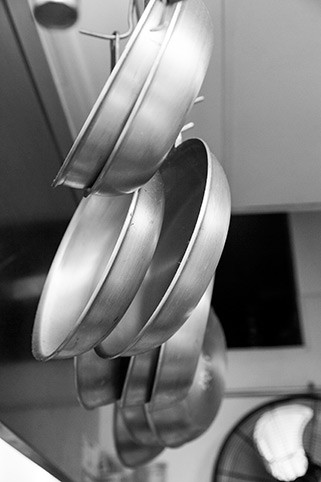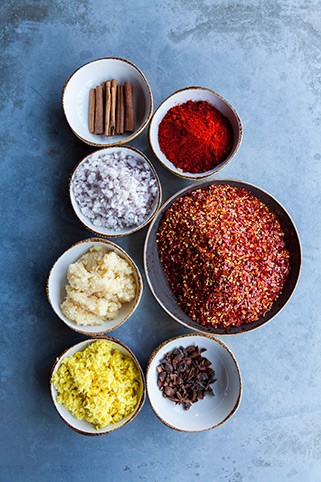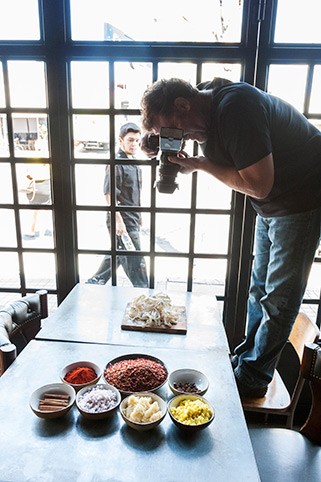 Describe your cooking.
My cooking is very thoughtful. I try to hit a lot of flavors to balance things out. No particular direction sometimes. For me it's more about making sure that it tastes good and it's exceptional. Make sure the flavors aren't masked and not over complicated. No more than 5-ish ingredients, just keep it really simple and nice.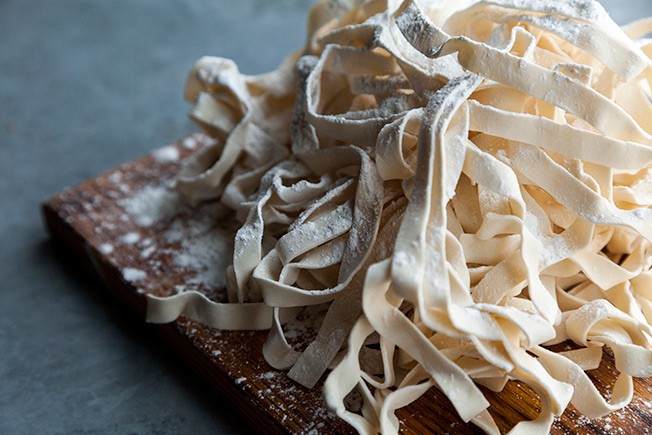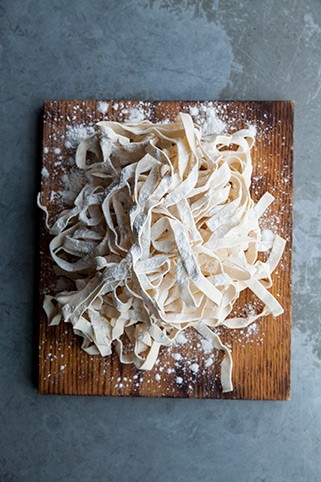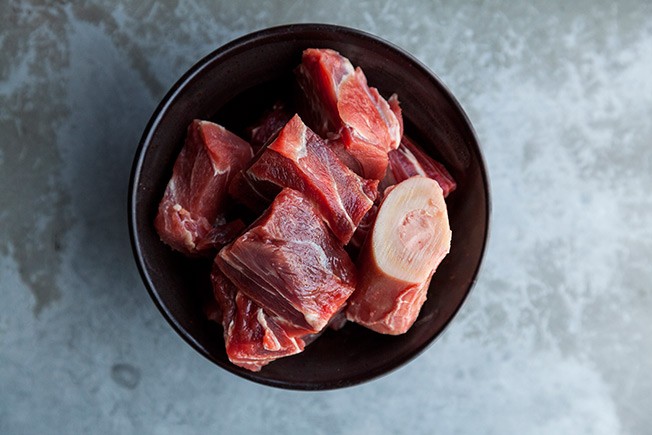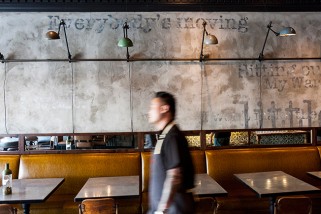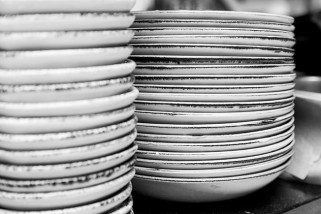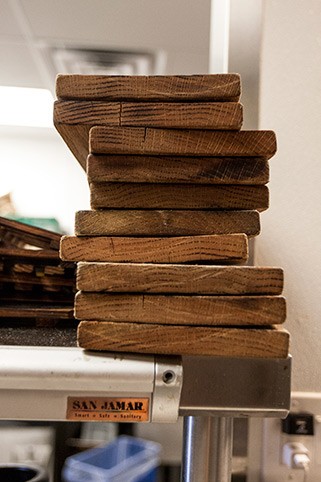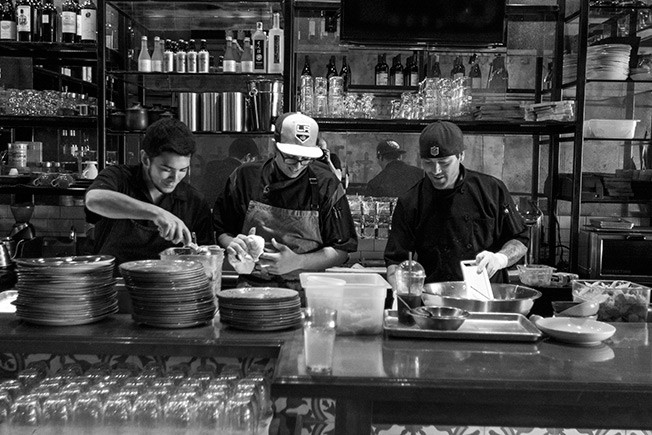 What are a few words your sous chefs would use to describe you?
That's something you have to ask them.
Not even a hint? [To Mikey, prepping behind the bar] Hey Mikey, give me a word? 
[Mikey:] Relentless.
There we go.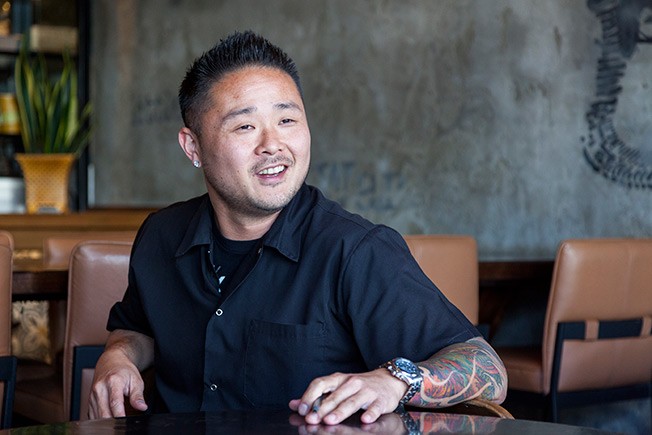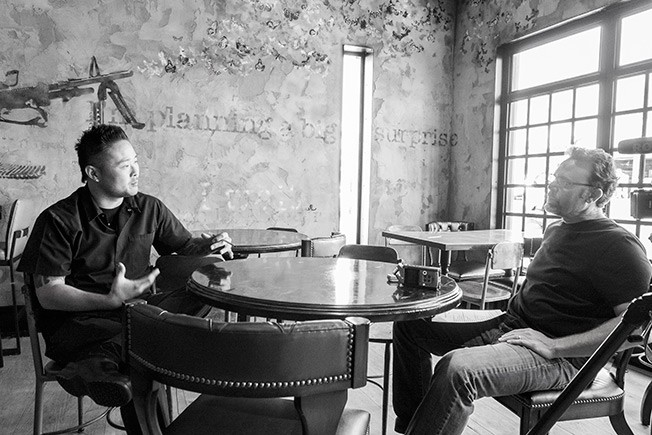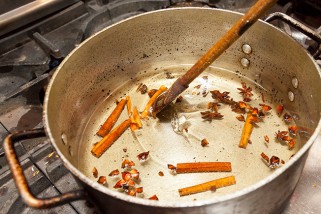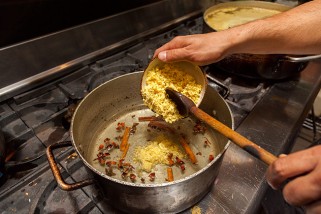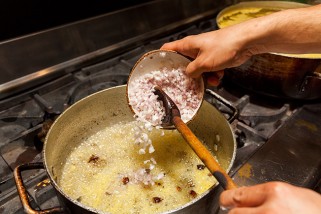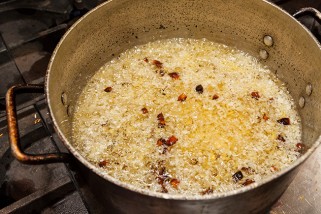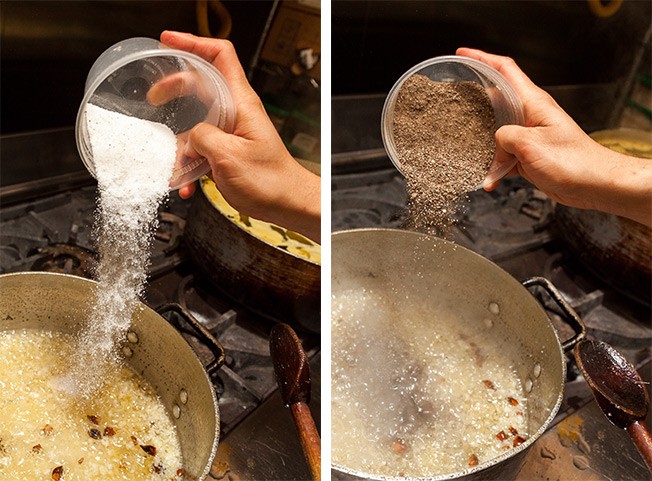 Can you explain the process of creating dishes?
I cook things that I want to eat but couldn't find, especially in the South Bay. A lot of family meals or staff meals become the menu. You cook things that you care for, that you crave, things that are simple and good and thoughtful.
So is Little Sister one of those simple, home-cooked places?
It sounds that simple, but it's really not. It's a lot of layering flavors and understanding flavors. Experienced chefs understand why you layer flavors, it's just not throwing things together. But it's food for the soul, it's food for thought, it's food for you, it's food for me. It feeds a need. Makes you feel good.
It's a thing you can always go to.
Yeah like it just makes you feel good.
When you need that certain something.
That's what it is. When you leave here you're like, I don't know what I ate, but whatever I ate was good.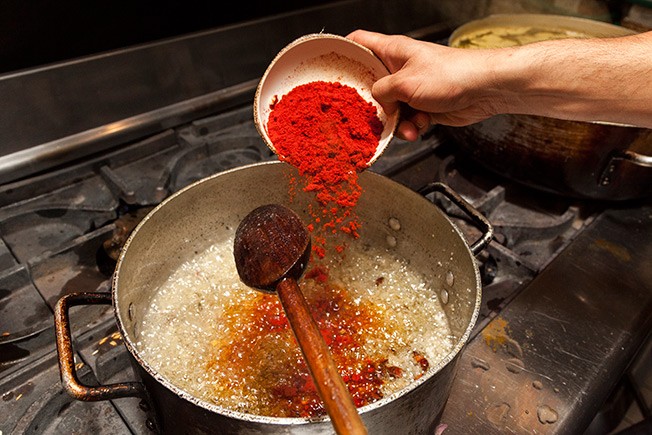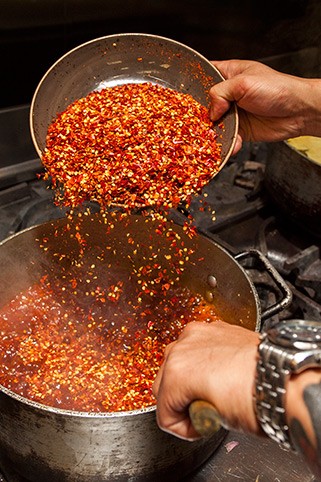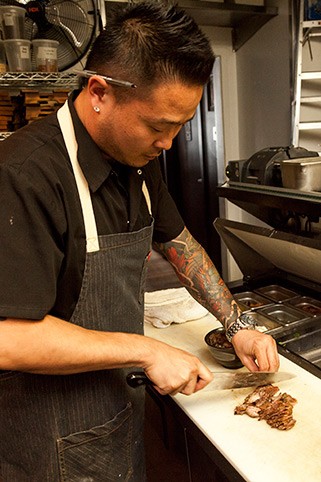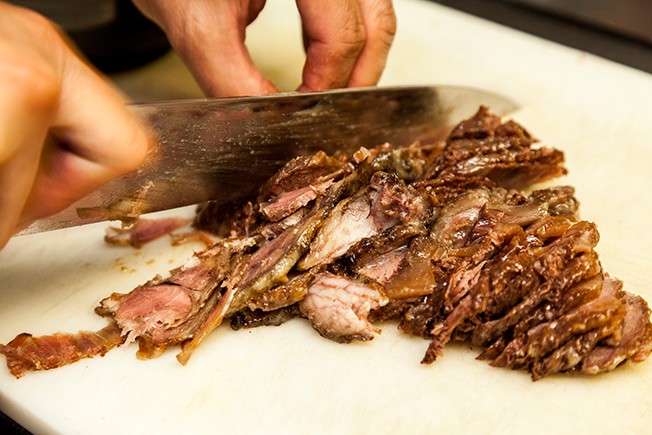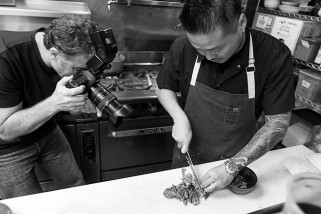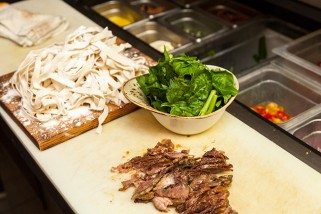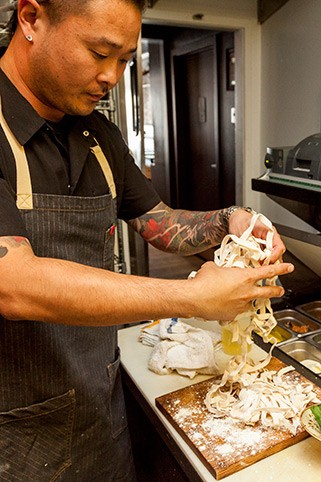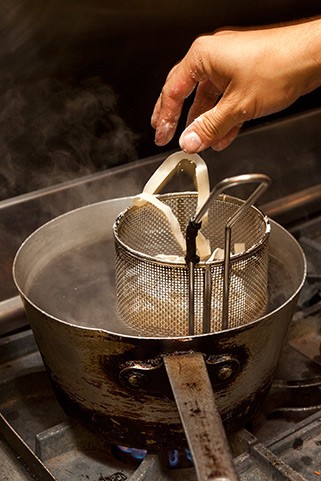 What are the influences behind Little Sister's food?
My upbringing, culturally. Like I said, finding a restaurant that does this type of food well is hard. I have a lot of clients or customers who come in like "Dude, you nailed it." Like that's how their mom used to make it or that's how it was in a certain region. I'm not trying to change anything else really, just trying to find the right flavor combination that represents that culture.
I have to eat something a hundred different times or a hundred different ways before I know how I'll make it. It's like chicken pot pie, everyone makes it different, but especially in a certain region it needs to taste a certain way. It's like hotdogs. Everybody has a style.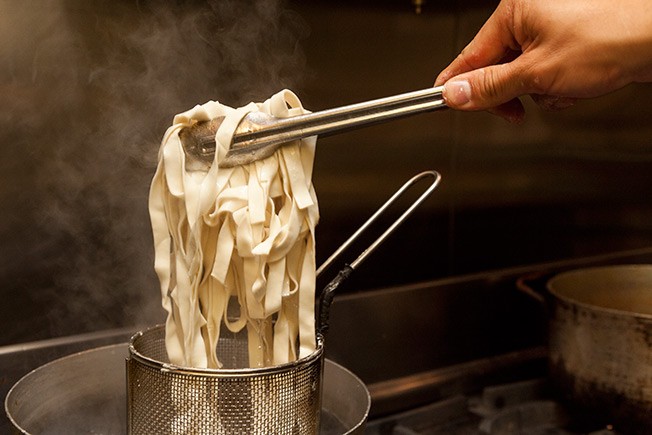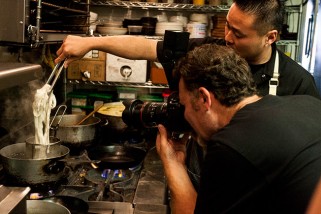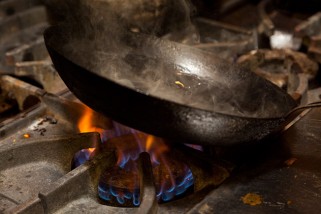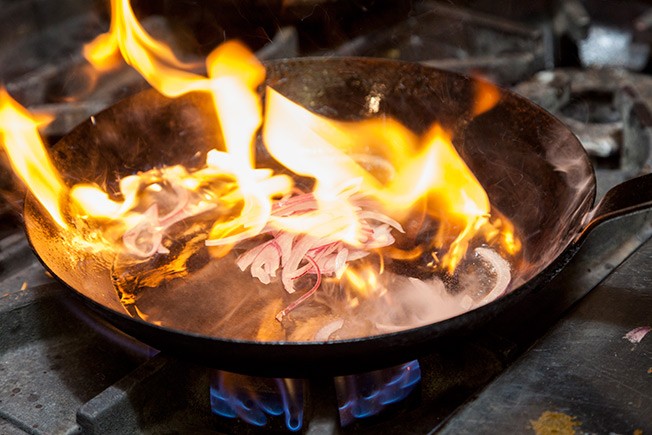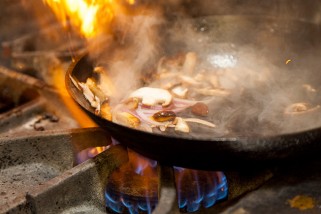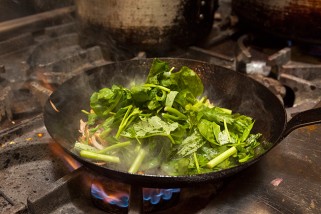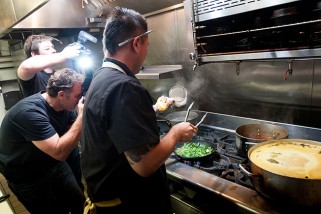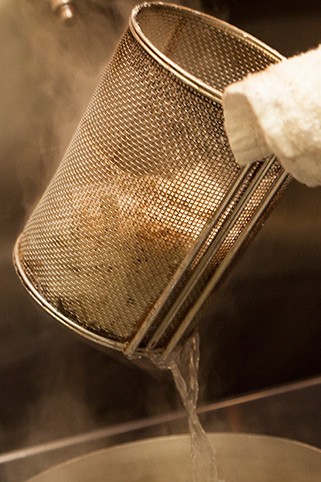 Early in your career you were centered in Orange County. Why did you choose to open restaurants in L.A.?
L.A. has always been my home. I mean I grew up here, it's what I know. I always knew I was going to come back to LA. Just like anything, it felt right. Being transplanted somewhere else you just can't call it home, but especially knowing L.A. has just been changing diversely and I think it was the right time to come back. I have a lot of support here and it's great to do it with friends and family and it's just cool walking down the street and you know where you're going. It just feels right.
Any plans of opening anything back that direction?
I do. There's always something you want to go back to and fill that void, you know. It's exciting because you leave a footprint where you've been and you get the urge to go back, but only with a project that makes sense. Part of the problem sometimes is that certain pockets support what you do and certain pockets won't get it. And I'm not here to educate people so either you like it or you don't. It's not for everybody.
I love that.
Yeah. I don't educate people. It's not my job.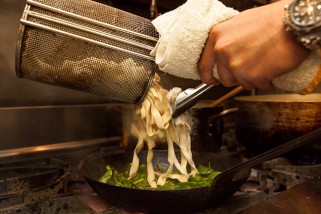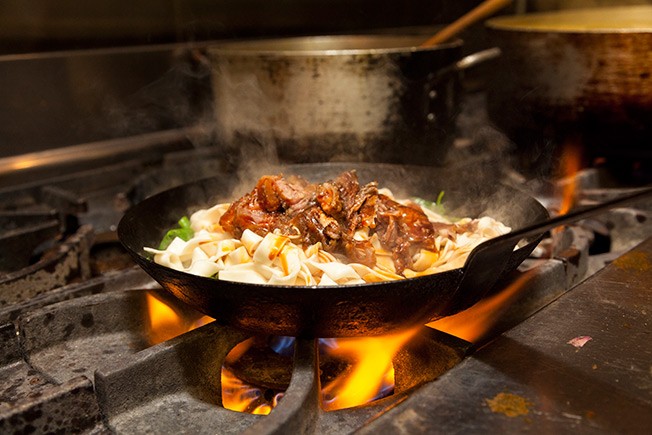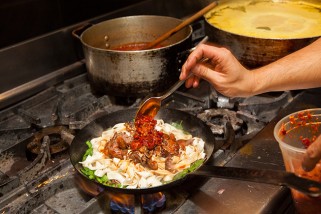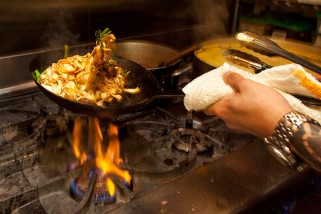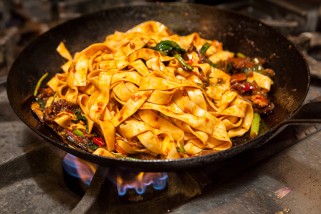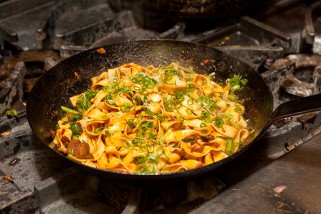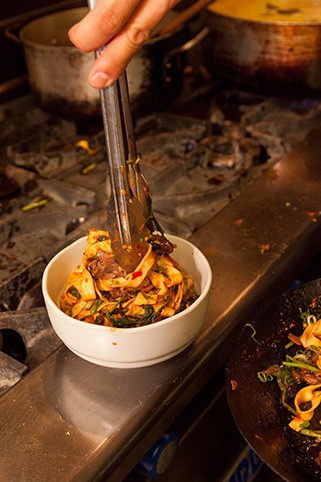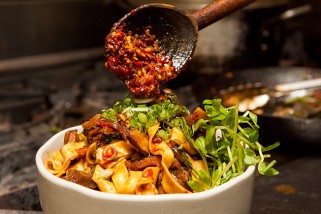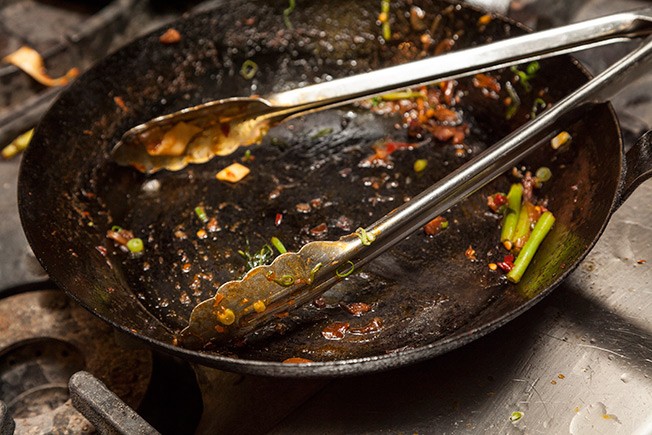 What are your priorities in life?
Do good shit, man.
Do. Good. Shit.
Just do good shit. That's pretty much in everything.
Right on.
Just do it right.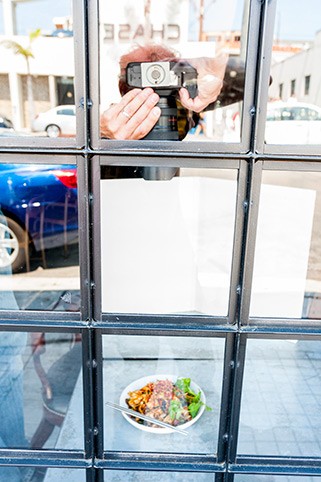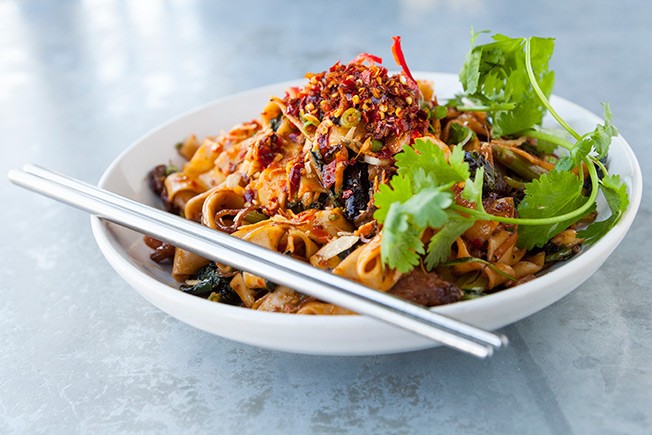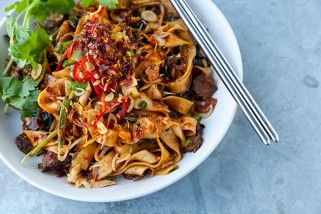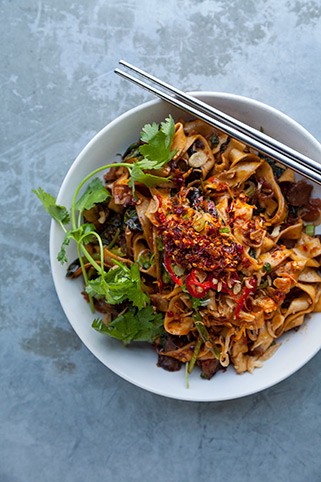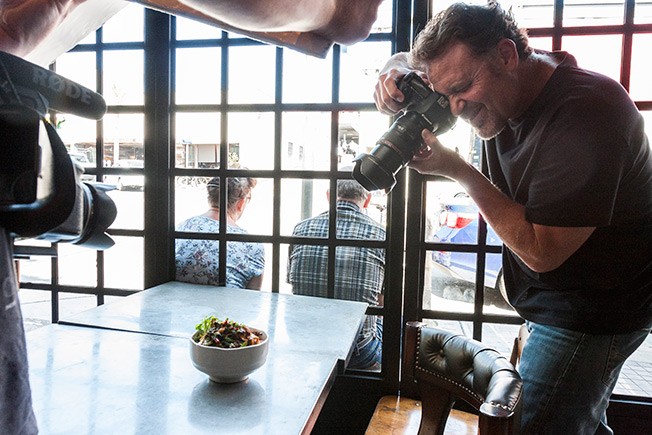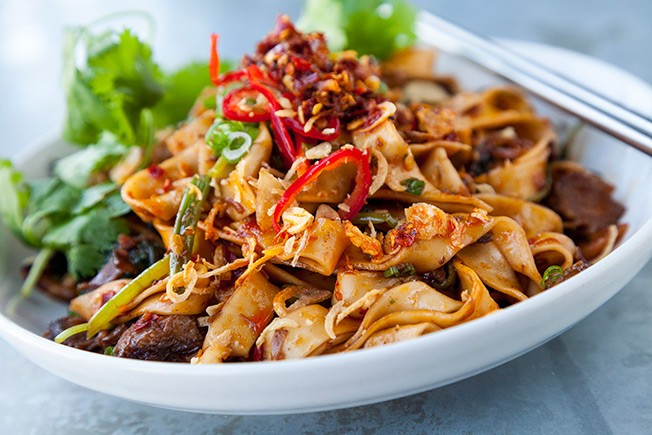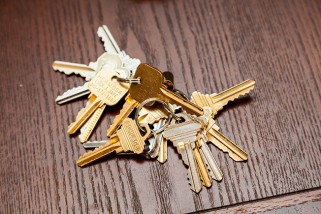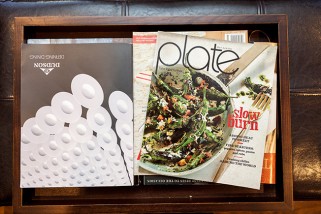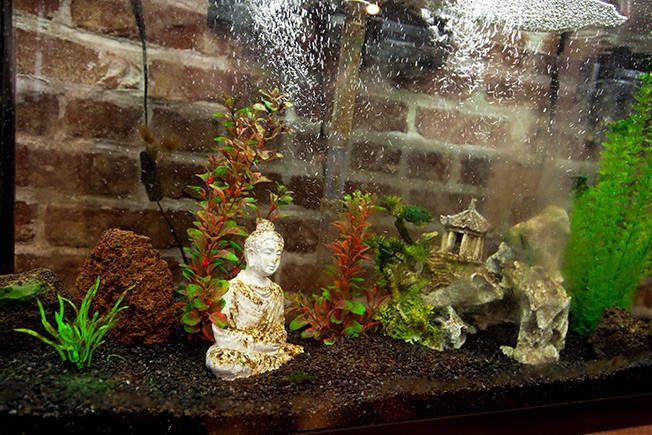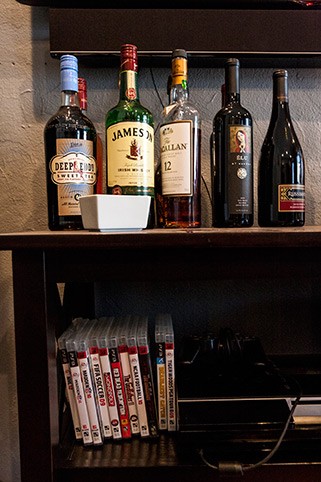 You have several seemingly disparate restaurant concepts. Where's it all going? What's your ultimate goal?
Good question, I have no idea. Different concepts are feeding different needs for my personal need of being a chef. I'm in a place where I get to do what I want to do, but I want to make sure that it feels right. There's always someone going to judge you and that's okay because when they stop talking about you that's the problem.
Especially now when you're kind of in the driver's seat, you want to do thoughtful things, things that feed you. Until that stops, I don't know. When it stops, stop. Don't force it. How's that?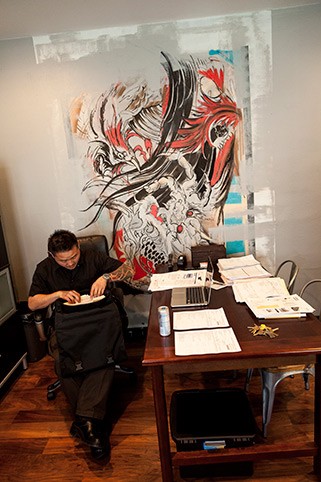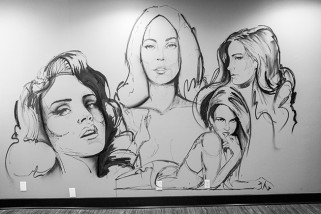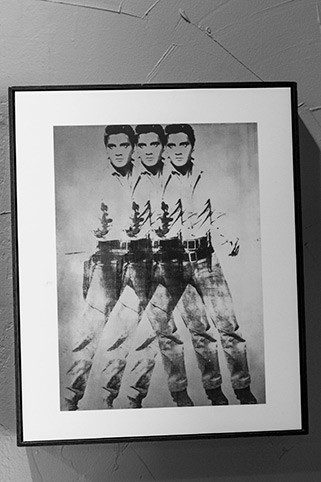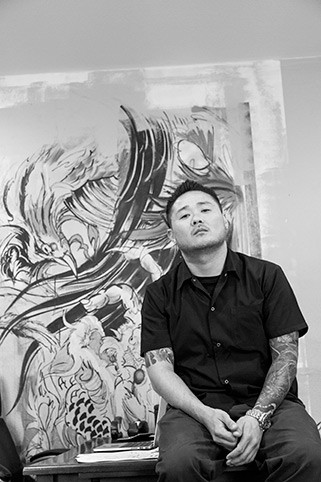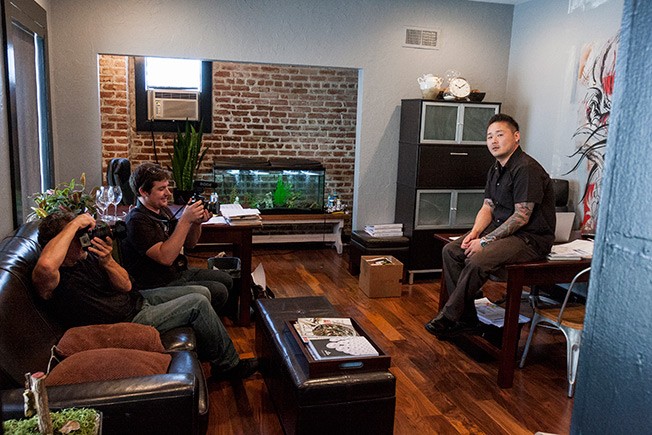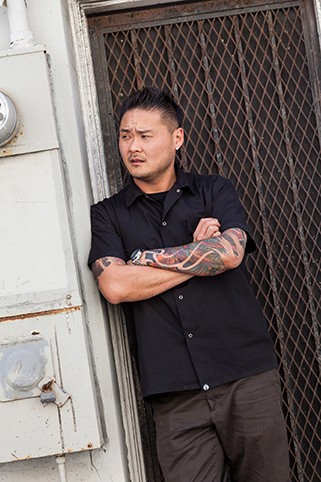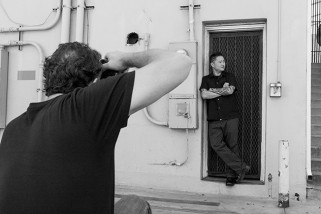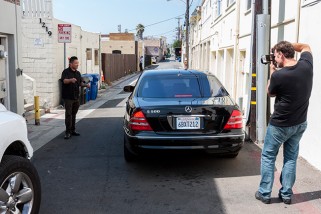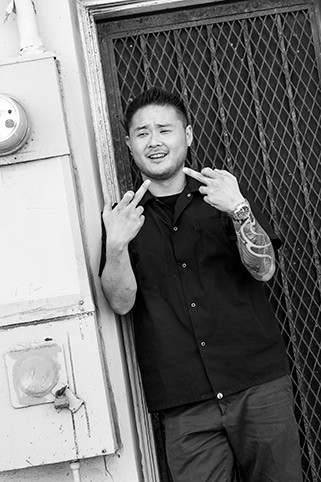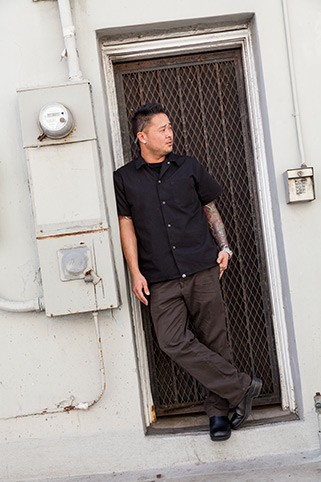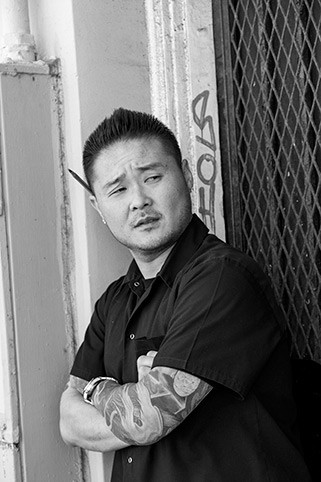 the recipe:
Douban Chili Crack Noodles
By Chef Tin Vuong
2" cut bone-in beef shanks
Fresh Taiwanese noodles
For marinade:
Salt
Black pepper
Light soy
Broad bean chili paste (douban chili)
Sichuan pepper (ground)
Fennel (ground)
Cumin (ground)
Cinnamon (ground)
For braising:
Cinnamon (whole)
Star anise (whole)
Black peppercorn (whole)
Allspice (whole)
Clove (whole)
Dried Yunnan chili
Ginger
Garlic
Shallot
Scallion ends
Carrot
Demi glace
Tendon liquid (when available)
Chicken stock (to cover)
Soy mixture in equal parts
Dark mushroom soy
Sugar
Sweet soy
Red vinegar
To pickup:
Chili oil
Chili paste
Greens (pea tendrils, water spinach, etc.)
For garnishing:
Sesame seeds
Salted mustard greens
Fried shallot
Chilis
Garlic oil
Cilantro
A note from Chef's Insight:
Is this recipe missing quantities for most of the ingredients? It sure is. That's the way Tin sent it but we're confident you can take his outline to make a killer bowl of noodles.>
Marinade beef shanks (with ingredients at left) overnight
Braise (with ingredients at left) for approx. 4 hours at 300℉
Pull shanks when ready and cool completely before thinly slicing
Strain the braising liquid and set aside for later
Cook noodles until bloomed and spongy but not overcooked and set aside
Sauté chili oil and chili paste until fragrant
Toss in greens and cook 1 min.
Add braising liquid to deglaze and reduce slightly
Add noodles and toss until most of the liquid is absorbed
Add sliced shanks and soy mixture
Adjust seasoning/sauce texture with stock until glazed and delicious
Transfer to bowl and garnish

wine pairing
w/ Organic Wine Exchange + guest wine expert
Ann Rabin Arnold says: With this high chili heat dish, I chose the 2013 semi sweet Chacewater Riesling, produced with grapes grown from an organic vineyard in Lake County, CA. The slight sweetness of this wine compliments the heat of the cracked noodles without overpowering it.
At 2.4 percent residual sugar, the Chacewater Riesling has just enough sweetness to balance its fresh acidity. The silky smooth tropical fruit leads to a crisp, refreshing finish that pairs perfectly with Tin's dish.
2013 Chacewater Riesling at Organic Wine Exchange

Ann Rabin Arnold is a 3rd generation wine enthusiast, that grew up in the retail wine business, that began with her grandfather in 1938. As Ann reentered into the wine scene, she noticed a niche that was not clearly defined or well represented. This lead her on a path to bring together two of her passions:  wine and organic products.  The dream of representing organic vineyards and wines from around the world is now a reality.
On any given day you can find Ann visiting wineries, finding new recipes to enjoy with her family or simply having fun with her 5 year old daughter who may soon be the 4th generation wine aficionado.
You can find Ann on LinkedIn or any of the Organic Wine Exchange's social media sites.